Find the keys to a longer, healthier and better life at Koko FitClub Nashua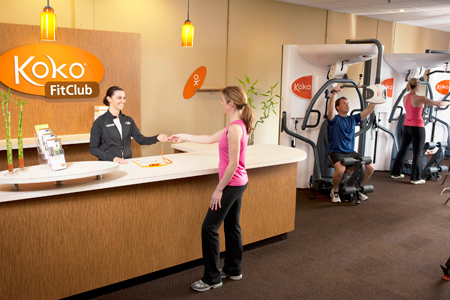 EAT RIGHT AND EXERCISE
It's the key to health and are words we've all heard before. It's a simple instruction for a better life, yet many fail to follow it as evidenced by the growing obesity epidemic in our country.
If you're one of the millions who have been disillusioned by big box gyms, by the cost of a personal trainer or regret spending money on home fitness equipment only for it to collect dust, Koko FitClub of Nashua is the solution for you.
Koko FitClub's Smartraining System is an innovative, scientific and comprehensive approach to health and wellness that makes it simple for men and women to get healthy and stay healthy.
ONE SMALL STEP IS A GIANT LEAP FOR A BETTER LIFE
It all starts with a step onto Koko FitCheck. This simple and quick process measures a member's lean muscle level and monitors changes in body composition. This allows Koko to customize an exercise and nutrition program specifically to a member's body, ability and fitness objective. Koko FitCheck is done at every visit to allow Smartraining technology to capture and track each member's progress and make adjustments to their fitness plan in real-time. It is a simple process that takes the ability to optimize a member's workout and nutrition plan to a whole new level.
KOKO STRENGTH
Using Koko's Smartrainer, a patented weight training piece of equipment capable of performing more than 100 different exercises, members receive a customized, full-body workout in just 30 minutes. For both men and women the goal is to build and protect lean muscle. More lean muscle means a faster metabolism, so members burn more calories throughout the day. Members never repeat the same workout twice, which helps keep the body challenged and the mind engaged.
KOKO CARDIO
At Koko FitClub, cardio workouts are designed to increase your heart rate by using various inclines intelligently. It's not about speed, it's about calories
burned. The interval treadmill and elliptical programs, which are coached through audio recordings by Koko FitClub's Chief Fitness Officer, Michael Wood, CSCS, keep members moving instead of zoning out. Koko Cardio's 15-minute interval training sessions are much more efficient with twice the calorie burn of traditional cardio.
KOKO FUEL
This revolutionary nutrition program differentiates Koko FitClub from every other health and fitness program in the market today. With Koko Fuel, members' fitness plans don't end after their workout. Koko Fuel is designed for members to fuel their bodies for fitness, and for life. It's not a diet. It's a meal plan, built with healthy whole foods easily found at any grocery store. The exciting differentiator? Fuel is integrated with each member's customized Smartraining fitness plan and is optimized for their goal. This ensures that they maintain their healthy lifestyle outside of the Club and get the best results possible from their exercise program. Meal plans, shopping lists and tasty recipes are all available for members online.
To help members keep these three keys to a healthy lifestyle in balance, Koko FitClub literally hands members a key. The Koko Key is a flash drive that connects them to the patented exercise equipment and personalizes their workout.
Members are also given a Key Card so they can use the Club's facilities during unstaffed hours. We are equipped with high-tech security to ensure that members are safe. This is just another way that Koko FitClub of Nashua removes fitness roadblocks and makes it easier for people to get healthy on their schedule.
In addition, each member is given a secure, private, personal website where they can measure and track key performance metrics, as well as download exercise and nutrition programs. This way, members can see their accomplishments over time and stay inspired.
Step into Koko FitClub of Nashua to experience your "Koko Keys" for a healthy life with a FREE workout today. Then, eating right and exercising properly will no longer be hollow words, but words you can simply live by.
Joseph Vasquez is a freelance writer with a journalism degree from Hosftra University.
This business profile is part of a special advertising section.