Festival draws thousands to Milford Oval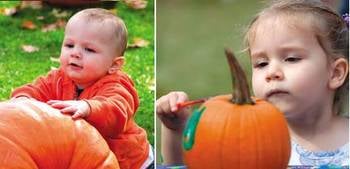 MILFORD – Thousands of people converged on the Oval for the 15th annual Great Pumpkin Festival on Saturday afternoon. Side streets were turned into sidewalk fairs with tables full of homemade candles, pillows, sweaters and jewelry for sale. Massive pumpkins took over the sidewalks, and little sugar pumpkins were strewn across the lawns.
Autumn saturated everything about the town's center. The trees' leaves are dipped in shades of gold, cherry red and orange. A toddler in pink corduroy overalls tumbled through a pile of hay as her mother looked on. Apples overflowed from wooden crates.
Local restaurants got into the great pumpkin act with tables full of pumpkin pie and muffins. The French Bistro, which opened a few weeks ago on Elm Street, was even serving pumpkin risotto from a tent next to the restaurant.
The festival is organized by the Milford Main Street Program and the Souhegan Home and Hospice Care. The three-day event raises money for the two nonprofit organizations and boosts business for many local shops and restaurants in downtown Milford. According to the festival's Web site, visitors have been estimated to be upward of 15,000 over the three days of the event.
The Great Pumpkin Festival wouldn't be complete without a great pumpkin. The winner of the great pumpkin weigh-in on Saturday was George Reimiller of Hillsboro with his 1,146.8-pound pumpkin. Reimiller took home a trophy and $600.
A representative of the New Hampshire Giant Pumpkin Grower's Association explained to a rapt audience that pumpkins can grow more than 30 pounds a day. The representative also said Reimiller's pumpkin is the eighth-largest pumpkin in the country this year.
But the fair offers plenty to do besides gawking at behemoth pumpkins. For $12, festivalgoers can design their own scarecrows. There are racks of clothes to choose from, as well as fabric for the face and different types of hats.
Kristi Bryson of New Boston came down with her daughter Kara, 4, and son Noah, 2. Their grandmother Marie Bernard of Weare was there also – stuffing hay by the handfuls into her soon-to-be-scarecrow.
Kids flocked to the pumpkin painting table, where they became artists with paint, glitter and string. Some focused intently on painting a face on their pumpkins, while others tossed glitter gleefully, hoping to get some on the surface.
Joanie and Mark Moscatelli of Brookline brought their brood to enjoy the fall festivities. Sons Teddie, 1, and Troy, 8 weeks, were taking in the sights and sounds from their stroller. Their son Michael, 3, was looking forward to experiencing everything the day had to offer.
"It's the best place," Michael said. "We can get our faces painted!"
His sister Miranda, 6, said she would get her face painted with "designs and stuff."
Saturday's activities also included a chili roundup, a pumpkin lighting and a haunted trail. The event continues today from 8 a.m.-5 p.m. A detailed schedule is available online at www.milfordnh.com/pumpkinfest.