Female inmates in New Hampshire
Study shines light on state's incarcerated population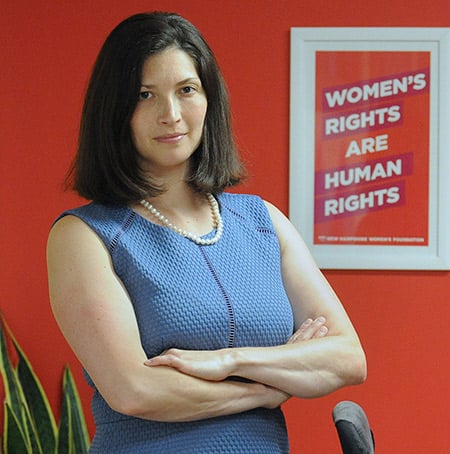 After decades of lawsuits, court orders and false starts, the NH Correctional Facility for Women in Concord officially opened in late March, with inmates arriving in mid-April.
The $50 million facility was built to house up to 224 individuals and, according to the NH Department of Corrections, will offer an array of programming and treatment opportunities to help residents better prepare for post-incarceration life. The new facility will also have a full-service health services unit, a large educational area, expanded Correctional Industries space and a "Family Connections Center." It will use state-of-the-art technology to maintain a safe and efficient security operation, the department says.
The newly built prison comes three decades after a federal judge ordered the state to provide the same services for female inmates as it does for males. The NHDOC said that 147 women were moved from the old location in Goffstown, which had a capacity of 104 when it opened in 1989. The 101,000-square-foot Concord facility is three times larger than the one in Goffstown.
"Generally, I'm not excited about creating new prisons, but there's no reason not to have a top-notch facility for women," said Elliott Berry, managing attorney of the Manchester branch of NH Legal Assistance. The new Concord facility "looks impressive and there's a lot of promise of what the administration intends to do."
Demographic snapshot
Berry has had a legal front row seat to the long and politically fraught road to the opening of the Concord women's prison.
"Goffstown was initially a temporary facility," he said. "It was vital to the community to get a facility in the state." Berry was co-counsel to Alan Linder in the 1988 case that led to Goffstown.
Elliott Berry, managing attorney of the Manchester branch of NH Legal Assistance.
In 2011, he represented female prisoners in a class-action suit claiming that programs, services and training were not similar to those offered to men. That suit again prompted the legislature and state officials to finally move forward to fund a new facility which broke ground in 2014.
A new study by the NH Women's Foundation provides a demographic snapshot into the approximately 237 women incarcerated by the NHDOC for felony convictions (almost 300 women convicted for misdemeanors are kept in county jails for misdemeanor convictions). "New Hampshire's Incarcerated Women: 2018 Snapshot" follows other studies in 2004 (which detailed numerous rehabilitation program shortcomings) and 2008.
Though small compared to the male inmate population, the study shows a 21 percent jump in the female prisoner population (196 to 237 prisoners) from 7.4 percent of total prisoners in New Hampshire in 2012 to 8.7 percent in 2017.
By comparison, during the same period, the male population grew by 1 percent, to a total of 2,478.
"For a long time, Goffstown was so overcrowded it was hard to offer much in the way of rehabilitative services," said Sarah Mattson Dustin, director of policy for the NHWF about the importance of the new study. "Now that we have a new facility, it's important to understand who these women are and what we don't know about them."
The findings include:
• Some 70 percent of female inmates are between the ages of 25 and 44.
• The 237 prisoners were convicted of 431 offenses. Theft-related offenses were the most prevalent, followed by drug-related offenses. Twenty women were convicted of second-degree murder.
• According to a 2016 study by the NHDOC Family Corrections Center, 116 female respondents reported having a total of 225 children 17 years old and younger.
• In 2017, more than half the inmates (121) were subject to "medium custody" guidelines while three were subject to maximum security (22 hours a day in their cell) and 17 are under "close custody" restrictions. Another 41 were at the Shea Farm halfway house and in administrative home confinement.
• There are an estimated 25 minimum security female inmates housed at Strafford County Jail. The NHDOC said there are plans to have them all moved to Concord in the coming months.
The study also notes the long-term impact of substandard services for female inmates.
"The long pattern of gender discrimination in corrections means that generations of incarcerated women have faced enormous obstacles to rehabilitation and reentry," according to the study. "The limitations of the temporary Goffstown facility, including overcrowding and lack of programming space, shortchanged education, vocational training, work and recreational opportunities. Lack of services complicated women's ability to plan for rejoining the community. Meanwhile men have been provided a considerably more robust array of educational and vocational services, such as preparation for higher-paying jobs."
The NHWF study does not include recidivism rates, but Mattson Dustin said the new prison offers a chance to break from the past.
"Everyone is hopeful for a new era," she said. "We believe that Helen Hanks [corrections commissioner since November 2017] and the DOC have worked very hard to put a priority on gender responsive services."
New Hampshire is different from most states. According to the Washington D.C.-based The Sentencing Project, the state is in the bottom 20 percent when it comes to the number of incarcerated women (33 per 100,000; Oklahoma is at the top with 142 per 100,000, while Rhode Island has the fewest with 12 per 100,000) and lower rates of violent crime (the national average is 37 percent for female inmates).
Though its growth rate is substantially lower, New Hampshire is not immune to the national increase in overall female incarnation. According to The Sentencing Project, there has been a 700 percent increase in female prisoners nationally from 1980 to 2014. The Prison Policy Initiative estimated that in 2017, there were 219,000 women incarcerated in the United States — including 99,000 in state prisons and 14,000 in federal prisons. Of the 96,000 in local and county jails, 58,000 have not been convicted and are awaiting trial or unable to make bail.
"New Hampshire has a real patchwork system, and there's a significant correction system at the county level," Mattson Dustin said. "We should be thinking of all people who are incarcerated in New Hampshire. We believe the study is important because though this group of women is small it is growing and it's vital for policy makers and members of the public to understand who these women are and their needs" to reintegrate themselves into society following release.
"I think everything that shines a light on the needs of a population that generally has a myriad of challenges is a good thing," said Berry about the NHWF study. He said an overwhelmingly majority of female inmates have identified mental health issues as a need, and hopes the new facility will be able to be more responsive to this critical need.
In its conclusion, the study calls for "more and better information about incarcerated women," especially in regards to parental status.
"We are concerned that shortcomings in data collection and availability will prevent the state from fulfilling its long-neglected obligation to provide parity between men's and women's corrections," the authors write.
It took decades to get a new women's facility and while Berry is cautiously optimistic, he has concerns about proper staffing and budgeting for essential programs in the years ahead. "Now that we have a functional facility, my major worry and it's always an issue, is who controls the purses' strings [in the legislature] because of the state's limited revenue streams," he said. "I am hopeful because I believe the NHDOC is very motivated and that sends an important message to the House Finance Committee."
Read the study at https://nhwomensfoundation.org/research-item/incarcerated-women-2018-snapshot.