Federal, local grants help build housing – but NH still has a long way to go
Despite cluster of funding sources, development of affordable housing is getting 'more difficult'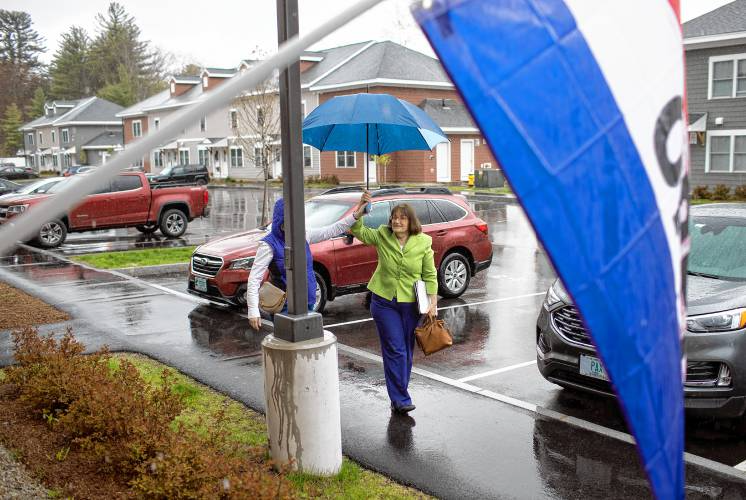 For 35 years, Ignatius MacLellan has volunteered in food pantries in Concord. For the first decade, the question for people coming through the door was simple – "What do you get for assistance?"
With the cost of living skyrocketing, rent at an all-time high and day-to-day expenses stretching paychecks thin, that question has evolved. Now, it's "What do you do for work?"
It's a small change of the wording, but one that carries weight.
"We live in New Hampshire where people who work full time, families who work two jobs, because of the rent have to come in for assistance," said MacLellan, who is managing director of New Hampshire Housing, where he oversees multifamily housing.
It's no secret that the state's housing shortage has morphed into a crisis of low availability and high costs, pricing out many families and keeping new workers from moving here. While renters are stuck with high monthly costs, rising interest rates and market prices put homeownership just out of reach.
New Hampshire Housing and Concord-based CATCH Neighborhood Housing are two nonprofit partners looking to provide more housing options, at different price points, to both renters and homebuyers statewide.
A recent housing analysis illustrates what a tough feat this is, since the state needs an estimated 60,000 units by 2023 and 90,000 by 2040.
Meeting these benchmarks not only takes cooperation from developers, planning boards and state leaders, but it also requires piecing together local and federal funding to make projects happen.
"We're in a unique time in New Hampshire, where everyone agrees that more housing is needed," said MacLellan.
'More and more difficult'
The Low Income Housing Tax Credit is a federal tool that has helped finance affordable housing developments since the 1980s.
For CATCH, it's been a key piece of the funding puzzle for new developments like Rosemary's Way in Penacook.
The $10.3 million project broke ground in 2021. Now it is home to 42 rental units – with one, two and three bedrooms – off of Village Street in Penacook.
With the federal tax credit, CATCH received a $800,000 allocation for the project.
The complex offers 11 units where rent is set by market rate prices. But the majority of units offer affordable, income-restricted rent. This means tenants must meet a certain threshold, and then can rent units with set prices.
For example, if a two-bedroom unit at $1,190 is available for two people who earn less than 60 percent of the median area income – tenants would have to earn a minimum of $37,920 annually, and a maximum of $44,940.
Rosemary's Way is one piece of CATCH's 389-unit portfolio. But when talking about the need to continue to add thousands of units, the tax credit also can be limited, as the state is only able to fund a handful of projects per year.
"Several years ago, the tax credit and a few other pieces from New Hampshire Housing could fund the construction. Now that's more and more difficult," said Tom Furtado, president and CEO of CATCH. "We're always looking for two, or three or four other funding sources to bring in, in order to be able to make up the ground of the increased costs."
Using funds from the American Rescue Plan Act, state leaders introduced a new housing fund, InvestNH, that supports new, much-needed development. With $100 million available, the fund is providing grants to both developers and municipalities to help accelerate projects.
For many towns in the area, though, the U.S. Department of Agriculture's rural development team could provide a solution, according to U.S. Congresswoman Annie Kuster. With different funding avenues, the department may have the ability to support housing developments in the state's rural towns.
For Woody Hollow, a manufactured housing cooperative in Boscawen, rural development funding helped finance a new infrastructure system for the community.
For CATCH's next housing project, a 48-unit complex on Sheep Davis Road in Concord, $750,000 from InvestNH and $880,000 from the Low Income Tax Credit will be used to finance the development.
When Rosemary Heard led CATCH Neighborhood Housing for almost two decades, she had one goal – to continue to add to the housing stock in the area, with both income-restricted affordable options, alongside market-rate developments.
And after Heard's sudden death in 2020, the organization has continued to expand its portfolio.
On what would have been the late director's 63rd birthday, Kuster visited the housing complex that pays homage to Heard – Rosemary's Way.
"Rosemary would be so proud," said Kuster. "As we turned in, I was thinking about her and just about how proud she would feel of this whole project."
This article is being shared by partners in The Granite State News Collaborative. For more information, visit collaborativenh.org.