FairPoint buyer starts with a cleaner slate
Outlook looks more hopeful for Illinois telecom firm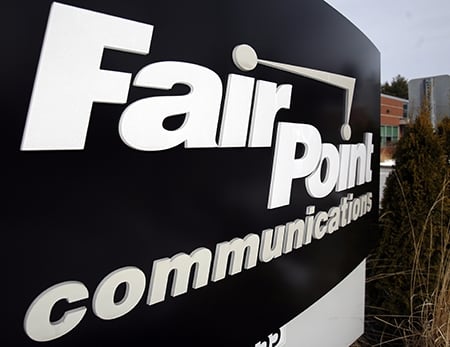 What will happen when Consolidated Communications acquires FairPoint Communications, after the $1.5 billion all-stock deal announced last month closes as expected by the middle of the year?
Except for a name change, nothing — at least not at first.
There won't be a change in service or in any contracts. Even the email domains will remain the same.
And that, stressed everybody involved, would be a welcome improvement compared to 2008, when ownership of the bulk of the telephone landlines in northern New England last changed hands. That was when FairPoint embarked on what turned out to be the disastrous $2.4 billion acquisition of Verizon's assets in New Hampshire, Vermont and Maine.
This time around, the buyer is in much better shape and will be acquiring a more robust communication system with fewer expenses in a more favorable economic and regulatory environment in all three states.
Indeed, New Hampshire has deregulated telecommunications so much that it no longer has to determine whether the deal is in the public good, just whether it is financially viable.
Sour notes
The near billion-dollar drop in the sale price alone indicates that things didn't go well for FairPoint after that 2008 acquisition. The North Carolina-based company faced immediate technical, billing and regulatory issues, followed by bankruptcy filing in October of 2009.
Even after it emerged from bankruptcy and wrote off $1 billion in debt in 2011, FairPoint continued to lose more than $700 million in 3 1/2 years. Then there was the bitter four-month strike in 2014, as the company strove to reduce expenses by cutting workers' benefits.
And 2016 ended on another sour note, even after FairPoint bounced back in 2015 with a profit of $90 million. In December, the firm announced the Christmastime layoff of 110 employees, half of them in New Hampshire. The company is also $916 million in debt.
The merger will result in creating the ninth-largest fiber optics company in the nation, with 35,000 fiber route miles in almost half of the states in the country. Consolidated shareholders would own about 70 percent of the new company and FairPoint shareholders will get the rest.
"The present transaction differs markedly from the Verizon acquisition both structurally and financially," testified Michael Reed, FairPoint's Maine state president in an opening statement read at proceedings held Jan. 10 in Vermont.
"There is no 'cutover' as was experienced in the original asset sale of the Vermont network from Verizon to FairPoint," said Gabe Waggoner, Consolidated's vice president of operations, in testimony submitted to the same proceedings. "From a network perspective, FairPoint's Vermont wholesale customers will experience no changes following the closing."
Better equipped
FairPoint also promised a smooth transition more than eight years ago. The company was a traditional phone company that had acquired several companies even before the Verizon acquisition, which more than quintupled its size. Consolidated, which dates back to 1894 when it was the Mattoon Telephone Company in Illinois, also has made a number of acquisitions over the years, such as North Pittsburgh in 2007 and Surewest in California in 2012. And, as with FairPoint, the northern New England purchase is its biggest transaction in corporate history.
But there the similarities end.
"FairPoint was a mouse swallowing an elephant," said Steve Soule, business manager of the New Hampshire local International Brotherhood of Electrical Workers. "I would not use that description of what was happening today."
FairPoint bought a company about five times its size. Consolidate is buying a company slightly larger than it in some ways, but smaller in others.
FairPoint has 50 percent more fiber, but Consolidated has a third more customers. Consolidated, with $2.1 billion in assets and a positive equity of $211 million, reported $567 million in revenue in the first three quarters of 2016, with a profit of $15 million. FairPoint's revenue during the same period was $620 million, with a net income of $88 million, but it has $1.2 billion in assets and $41 million in negative equity. FairPoint, though it only started in 1991, was primarily a traditional phone company when it acquired those northern New England landlines.
Consolidated is more than a phone company, it says.
"We are more like a integrated broadband service provider, maybe even better compared to the cable companies these days than the historical telco, and that is where we will continue to focus," said CEO Bob Udell, in a conference call following the merger announcement.
Landlines constitute about a tenth of Consolidated's revenue, and they provide a third of FairPoint's revenue. Consolidated is also less labor-intensive, with 1,783 employees at the end of 2015, almost 1,000 fewer than FairPoint.
Consolidated also doesn't just sell voice or even data services, it offers video to customers as well. It's already switching to provide "over-the-top" video (video that's not provided by a cable or satellite company) via the Internet.
Consolidated also hopes to make bigger gains selling services to businesses.
"Consolidated has an aggressive sales force when it comes to corporate and institutional sales," said Barry Sine, an analyst with Drexel Hamilton who has followed both companies.
And, said Sine, while FairPoint may be Consolidated's "most challenging acquisition" to date, thanks to FairPoint's rocky relationship with unions and regulators, "I see it going smoothly." His optimism results from the belief that both the unions and regulators would "rather have Consolidated than FairPoint."
In better shape
Another reason for the optimism is that there won't be a cutover this time.
In 2008, recalled Reed, FairPoint didn't acquire Verizon's back-office functions so it had to "cut over from the legacy Verizon system to the newly developed FairPoint system."
This time, Consolidated promises, everything will be left in place, to be gradually integrated over the next two years.
Second, Reed noted, FairPoint had to borrow heavily to pay for its $2.4 billion purchase, which occurred just as the capital markets slowed and interest rates shot up. The bankruptcy filing didn't help matters. The company is now stuck with an average interest rate of nearly 8 percent. Consolidated's purchase — which is nearly $1 billion cheaper — is a stock transaction. The only thing that has to be financed is its debt, which it has been able to finance at half the rate.
Consolidated also hopes to take advantage of $55 million in synergies from the merger and $300 million in net operating loss tax benefits.
Consolidated is also inheriting a system that is in much better shape. Despite FairPoint's turmoil, it did manage to build up its fiber market, partly to meet the tough regulatory requirements of the Verizon deal, partly because it was accepting federal money to do just that. For instance, FairPoint was able to meet its New Hampshire goal of providing fiber to 95 percent of customers.
Indeed, said Udell, FairPoint's "top-notch fiber network … really caught our attention."
And, thanks to deregulation, states can't require Consolidated to build fiber in rural areas.
Back in 2008, the NH Public Utilities Commission and its Consumer Advocate were able to hold up approval of the sale if it wasn't seen as being in the "public good." But, under a law passed in 2012, the Consumer Advocate no longer plays a role in any hearings. The PUC just has to determine if Consolidated is "technically, managerially and financially capable of maintaining the obligations of an incumbent local exchange carrier."
In Maine, telecommunications were deregulated a little more gradually, so Maine's Public Advocate office can still weigh in, which it has. At a Maine PUC hearing on Jan. 11, the Public Advocate said it was trying to slow proceedings down so it could get a better look at the Consolidated-FairPoint deal.
"It seems more solid," Elizabeth Wyman, an attorney for the office, told NH Business Review. "But they are still a bit of a mystery. We have to be cautious and find out all the details."
Vermont still has the "public good" standard that New Hampshire eliminated, but its chief regulator said the standard is less stringent than it used to be.
Labor issues
Consolidated said it reinvests 16 to 17 percent of revenue back into its system, both to fulfill the requirements of the federal money it receives and to remain competitive.
But it would need more employees to continue to do so, said IBEW's Soule.
FairPoint's labor relations with unions were contentious from the get-go. Unions opposed the sale in 2008 and went on strike in 2014, after FairPoint cut pensions and sought more control over workplace rules. Both sides said they got what they wanted out of the resulting settlement, which made FairPoint more attractive to Consolidated.
"The concession or the improvement they got with the last labor negotiation and the reduction in the OPEB (other post-employment benefits) and pensions liability I think is very meaningful to how we look at it on a go-forward basis," said Consolidated CFO Steve Childers during the conference call announcing the deal.
The IBEW has also sought to reverse the 110 layoffs, almost a tenth of the workforce, saying that they will hurt customer service and employee morale.
Soule went a bit further, telling NH Business Review, "I don't think this deal would have happened if it wasn't for the layoffs," which he said would help Consolidated achieve the $55 million in synergies.
Indeed, according to the company's investor presentation, some of those savings would involve "combining work groups" and the "elimination of duplicative functions and overhead."
FairPoint insisted that the layoffs have nothing to do with the deal, but this charge was echoed in letters to both FairPoint, by Vermont's U.S. Sen. Bernie Sanders and Congressman Peter Welch, who wrote FairPoint that the layoffs were made "presumably to make the company more attractive for sale."
"As any prudent business would, we have reduced our workforce to match our workload and the size and composition of our revenue," FairPoint wrote back.
Consolidated said that it could not interfere with FairPoint's business until it takes over. Soule, however, said it was in the company's best interest to hire the laid-off employees back.
"We are operating now on such bare bones that if you call to get basic telephone services you are waiting two weeks. You can't be competitive with that type of service," said Soule.
While Consolidated doesn't have as many unionized workers throughout its system as FairPoint — 27 percent of its workforce as opposed to FairPoint's 60 percent — Soule has said that, so far, he likes what he has heard from his counterparts at the Illinois-based company.
"That's why I am cautiously optimistic," he said.