Failed Concord Steam project claims a victim
Spinoff company files for bankruptcy after expansion effort dies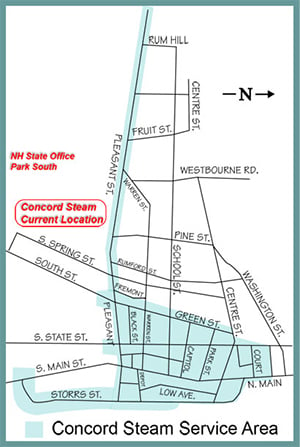 [Updated] Concord Power and Steam LLC – the spinoff of Concord Steam Corp. that was supposed to operate a new steam plant on the South End of Concord – has declared bankruptcy to shield itself from creditors, two of which have sued the company for a total of $580,000.
Concord Steam has been supplying steam to area businesses since 1938 and to government entities since 1980. It was attempting to build a plant that would both generate electricity and supply more steam to customers. The city of Concord was counting on that expansion as part of its Main Street redesign project to warm the sidewalks and streets during the winter, in order to melt the snow instead of having to plow and shovel it.
However, the plan fell through in December after Concord Steam could not obtain long-term contracts and financing in time and the cost of the project climbed to $100 million.
"We worked for six or seven years, and we were not able to make it happen, and now some people are trying to get blood out of a stone," said Peter Bloomfield, president of Concord Steam, which operates the existing steam plant. "But there is no money there. The project is dead. We lost a lot of money on that project."
Indeed, Concord Power and Steam's the April 14 Chapter 7 bankruptcy filing claims that the company literally hasn't a penny in assets and owes nearly $5 million. Yet almost $3.3 million of that is owed to P&M Realty, which is managed by Bloomfield. Another $203,000 is owed to Bloomfield himself, and nearly $18,000 is owed to Concord Steam Corp., also managed by Bloomfield.
Concord Power and Steam is a wholly owned subsidiary of BS Energy LLC, which is managed by Bloomfield as well.
Bloomfield claims that all of the entities have different ownerships and different partners, so that it isn't really just one operation, and it's real money that is owed.
Bloomfield declined to name the partners involved.
Methuen Construction Company Inc. filed a breach-of-contract suit for $516,000 in Rockingham County Superior Court against Concord Power and Steam, Concord Steam P&M Realty and Bloomfield. The suit also alleges there was a "substantial interrelatedness" among the parties, noting that previous payments were made by P&M and that permits were obtained under both names.
"In regards to Peter Bloomfield's claim that the Chapter 7 bankruptcy protection was to protect his company from MC's legal action, we find that assertion to lack credibility," said Joe Barbone, CEO of Methuen Construction, in a prepared statement to NHBR.
Wagner Business Development and Consulting LLC – headed by William Wagner – also has filed suit, claiming that it is owed $65,400 for designing the project.
The other major creditors — Hongyuan Concord LLC and Martinata LLC, both with the same address in Mt. Laurel, N.J. – claim that they are owed $760,000 and $151,000, respectively.
Bloomfield said that none of these claims is valid, since the agreements they entered stipulated they would only be paid if the project should succeed.
And now that it has failed, Concord Steam plans to upgrade its existing plant and the city of Concord is considering whether it is worth installing a steam system under the sidewalks.