Expanding Dobles offers Chevys, Buicks and Hummers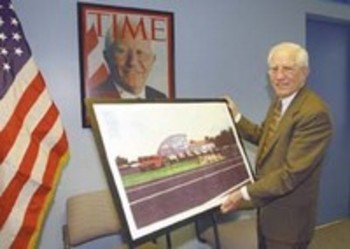 The people at Dobles Chevrolet Buick Hummer are driving their business forward this spring with a host of new expansion projects.
The Manchester auto dealer has purchased available parcels adjacent to its location at the 1250 South Willow block and will be expanding its commercial specialty vehicles area and Hummer dealership.
A new 40-by-30 office building is planned for Dobles' commercial Truck Center.
"It will provide greater access for specialty vehicle customers," said Gerard "Monty" Montembeault, Dobles' president and general manager. There also will be a larger area to display specialized trucks and vans.
The Hummer dealership also will be getting some new space. Dobles has planned a demonstration track that prospective customers can drive on — or climb — with their new H1 or H2, which are known for their legendary ability to climb a 60 percent incline. In addition to the test track, Dobles is planning a 1,100-square-foot showroom.
The dealership, which opened in 1955, was originally located on Granite Street in Manchester. Since then, the company moved to its present location on South Willow Street and expanded its Chevrolet inventory to include Buicks in 1993 and Hummers in 2002.
Long recognized for customer service and quality, the dealership has won numerous awards, including the New Hampshire Better Business Bureau Torch Award in October 2002 for marketplace ethics. In February 2003, Montembeault was named New Hampshire recipient of the Time Magazine Quality Dealer Award, presented by the National Automobile Dealers Association.
Dobles Chevrolet Buick Hummer carries a full line of new and pre-owned vehicles and factory-recommended parts and accessories. Its state-of-the-art service facility features the most current diagnostic and repair equipment available, and the dealership's highly skilled factory-trained technicians will deliver the most efficient and quality vehicle care.
The Dobles Web site provides customers with a new and exciting way to shop for their next vehicle. Customers also can pre-qualify for a loan, make an appointment for service and order parts for their vehicle on line.
For more information, call Dobles at (603) 669-2450 or visit www.dobles.com.