Expanded Medicaid boosts community health centers
More insured patients means drop in uncompensated care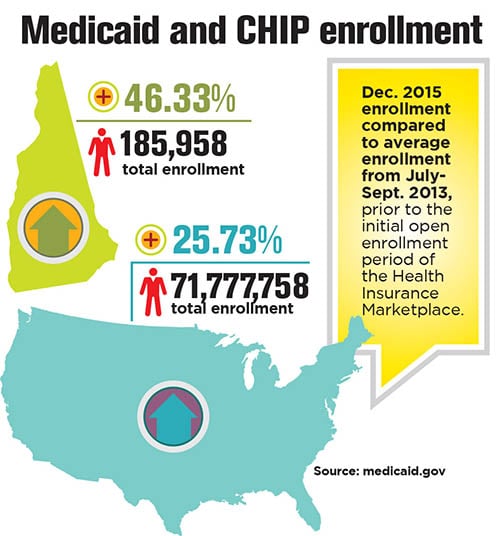 As the NH Legislature continues to debate renewing expanded Medicaid coverage for more than 48,000 low-income adults, advocates for expansion say the current program has spawned a wave of success stories at the state's 11 federally funded community health centers.
"It's been wonderful for our patients," said Greg White, CEO of Lamprey Health Care, which has centers in Newmarket, Raymond and Nashua. Since 2014, White said Lamprey has seen an increase of more than 2,400 insured patients due to Affordable Care Act health insurance exchanges and expanded Medicaid through the NH Health Protection Program. That increase has almost halved the number of Lamprey's' uninsured patients, from 5,300 in 2012 to 2,900 in 2015.
For the estimated 900 Lamprey patients who have benefited from the NHHPP, White said, it has meant the ability to utilize the full extent of primary care programs, with follow-up treatments and prescriptions to potentially head off more seriously chronic and costly conditions, such as diabetes and hypertension.
Patricia McMurry, executive director of White Mountain Community Health Center in Conway, said the biggest change has been a better level of care for formerly uninsured patients.
"It's been a big difference for our patients," said McMurry, whose organization has 3,000 patients in northern Carroll County and western Maine. "In the past, if they were on our sliding fee scale, and if we recommended them for testing, many of them couldn't afford to get it done. With Medicaid for adults, they are able to get the tests, and we make can make a better diagnosis and treatment plan."
"I would say it's the greatest single development we've had in my 20 years here," said Kris McCracken, president and CEO of Manchester Community Health Center, which serves more than 15,500 children and adults at four locations in Manchester. "Many of these patients are the working poor who haven't had insurance coverage for years. We've had multiple stories of the newly insured break down and cry because they are so grateful and appreciative."
Last resort
According to January data from the NH Department of Health and Human Services, 43 percent of the state's Medicaid expansion enrollees were employed and three-quarters reported incomes below the federal poverty level ($16,243 for a single-person household and $33,465 for a four-person household).
"The uninsured tend to concentrate in community health centers," White said.
The state's community health centers are often the last resort, short of the emergency room, for many of the state's uninsured residents. They serve more than 111,000 patients, and in addition to their primary care functions, they have been front and center in dealing with the state's opioid and substance abuse crisis.
In March, U.S. Sen. Jeanne Shaheen, D-NH, announced $1.2 million in mental health and substance abuse grants through the ACA to four health New Hampshire Health centers: Goodwin Community Health in Somersworth ($379,167); Harbor Homes in Nashua ($325,000); Indian Stream Health Center in Colebrook ($221,049); and Mid-State Health Center in Plymouth ($316,279).
In announcing the grants, Shaheen cited the role health centers play on the "frontlines of the opioid pandemic. … Every day, these health centers are putting lives back on track. Unfortunately, our treatment providers are overwhelmed and far too many Granite Staters who desperately need treatment can't find it."
Supporters of Medicaid expansion in the state's business community point to the health and economic impacts of continuing the program. As much as $2 billion of federal money will flow into the state's economy if the program stays in place through 2020 and beyond (it is then that the state will be responsible for 10 percent and the federal government for 90 percent of the expansion costs going forward).
A sizable bipartisan majority of the NH House passed a renewal proposal in March. It included a dropout proposal if federal funding were to fall below the 90 percent margin. It also added work and premium co-payment requirements that will need to receive federal approval.
In testimony before the Senate Finance Committee, Business and Industry Association of NH President Jim Roche said "In addition to the humanitarian cost, there is a business cost associated with allowing the program to sunset. The very real costs of uncompensated care by uninsured patients will be borne by the rest of us. This amounts to an invisible tax paid in the form of ever-increasing health insurance costs and premiums."
Leveraging funding
For larger health centers, such as Lamprey, uncompensated costs add up, and revenues savings from increased insurance reimbursements can be meaningful. "We strive to be innovative, but sometimes it's hard to do if there is budget uncertainty," White said.
Since the advent of the ACA and Medicaid expansion, Lamprey has seen its uncompensated care costs decrease from $1.8 million annually to $1.3 million in 2015. White said they have invested saved money and leveraged federal grants into expanded services and hours; hired more translators and bilingual staff for the Nashua location, where more than 55 percent of the patients do not speak English; hired drivers to transport patients in need of transportation; and hired a quality care manager to enhance overall care and decrease emergency room use.
White said Lamprey has also expanded its behavioral health program as a foundation for substance abuse treatment. "We are proud to have leveraged this money into hiring more people and expanding services," White said.
In Manchester, McCracken said they have leveraged funding to also hire more translators to serve the 7,000 patients who don't speak English as a first language but do speak one of 62 other languages. They have also been able to expand mental health and substance abuse treatment services, which have become an increasing part of the day-to-day reality of community health centers.
"This crisis has been building for years and years," she said.
Tess Stack Kuenning, president and CEO of the Bi-State Primary Care Association, said the advent of the NH Health Protection Program has led to some surprising developments.
"At a recent legislative breakfast, Manchester Community Health Center shared that they have seen an increase in the number of postpartum women accessing primary and preventive care," she said. "Prior to the enactment [of NHHPP], postpartum women lost their Medicaid coverage 60 days after giving birth. Due to the NHHPP, these patients have been able to maintain care with our health centers and access critical postpartum and primary care."
Different experience
New Hampshire is one of the 32 states and the District of Columbia that have opted for varying forms of Medicaid expansion. In Maine, the situation for community health centers is much different.
Republican Gov. Paul LePage has vetoed multiple bipartisan legislative efforts to expand health care coverage for some 70,000 state residents through Medicaid expansion.
Vanessa Santarelli, CEO of the Maine Primary Care Association, said the state's 20 community health centers have been hit through increased uncompensated care costs as the LePage administration also tightened regular Medicaid eligibility requirements and had two rounds of cuts of 40,000 residents. Overall, one in seven Maine residents, or 200,000 people, access health care through community health centers.
"These centers already deal with the barest amount of reimbursements rates," Santarelli said. "Having not accepted these funds has been a challenge for the health centers and hospitals who are dealing with exacerbated levels of chronic conditions with uninsured patients."
She said the uninsured patient rate has reached 50 percent at one of the largest and busiest health centers in Portland. According to a recent survey, she said, many of the centers said they have only 30 days cash on hand for operations, and recruiting primary care physicians has become a challenging two-year effort for many of the centers.
"We are disappointed to be the only state in the Northeast not to have expanded Medicaid for its residents," Santarelli said. But she is cautiously optimistic that the opioid crisis in Maine may finally lead to a breakthrough to expand Medicaid that will increase mental health and substance treatment funding.
Lamprey's Greg White said renewing Medicaid expansion in New Hampshire would be wise on a number of fronts, but mostly because it's smart policy. "The uninsured aren't going away."