Ex-N.H. AG Delaney joins McLane law firm
He's taking a job at the firm his successor, Joe Foster, just left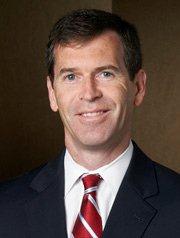 Mike Delaney, who recently stepped down as New Hampshire attorney general, has joined the Manchester-based law firm of McLane, Graf, Raulerson & Middleton – the firm that his successor just left.
Delaney, who will be a director in the McLane firm's Litigation Practice Group, served for the past four years as attorney general. He was succeeded by Joe Foster, a former state senator who was sworn in on Wednesday. Foster had headed up McLane's management committee as well as its Bankruptcy Practice Group.
Delaney was appointed AG by former Gov. John Lynch in 2009, and spent the decade before that in various jobs in the AG's office and then well as Lynch's legal counsel.
Before his government experience, Delaney worked for five years at the former Wiggin & Nourie law firm in Manchester, where he specialized in business litigation.
"Mike joining us and our litigation group is really exciting," said Dick Samuels, McLane's managing partner, who pointed particularly to the value of Delaney's litigation and government experience and its application in regulatory and compliance matters.
Delaney will start work at the firm on May 28.