Ex-Jaffrey resident talks about her life as Supreme Court Justice Jackson's assistant
In Amos Fortune talk, Jennifer Gruda traces her 10-year relationship with the judge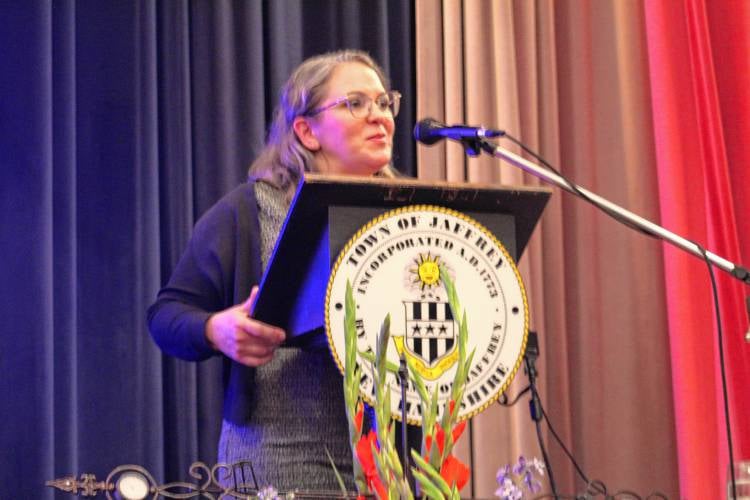 Former Jaffrey resident Jennifer Gruda was the final speaker at the Amos Fortune Forum series on Aug. 18, giving insights on her trajectory from growing up in a small town to her current position, serving as senior judicial assistant to U.S. Supreme Court Justice Ketanji Brown Jackson
In her talk, "A View From Behind the Bench," Gruda spoke both on the inner workings of the court, and some of the processes at work in the district and federal legal systems, as well as her own personal journey to her current position.
Gruda's family moved to Jaffrey while she was in elementary school. She attended St. Patrick's School and graduated from Conant High School. She said she can recall when the Market Basket in Rindge opened, and before the five-way intersection downtown had stoplights.
Gruda noted that looking back, she finds it funny the string of decisions that led her to her position today.
She attended Brandeis University, at the recommendation of her Conant High School English teacher, Marjorie Margolis. That led to a post-graduate degree at Georgetown University in Washington, D.C.
"I joke now that inertia took over," Gruda said, because after obtaining her degree, she had a choice to move and find a job, or to stay in D.C., skip the moving and just focus on the job search.
Her first position was at the firm Crowell & Moring – a position she initially took on the recommendation of a friend who worked there, in part because he promised to buy a round of drinks for their friend group if she accepted their offer among several she was considering.
Gruda said that was a domino leading to her current position. She clerked for Judge Rosemary Collyer at the U.S. District Court in Washington, D.C., a connection that would eventually lead her to applying for a position as a career clerk for another judge in the district system – Ketanji Brown Jackson. Though Gruda didn't know it then, over the next 10 years she would follow Jackson through confirmations to the U.S. Court of Appeals, and eventually to the U.S. Supreme Court.
Gruda said that early in her career with Jackson, she balanced work as a law clerk and a judicial assistant, essentially helping to manage Jackson's day. Currently, she said that job is heavier on the assistant side, essentially fulfilling a role similar to a chief of staff for Jackson.
Gruda spoke on the process of Jackson's confirmation to the Court of Appeals and particularly the confirmation to the Supreme Court, which she said was particularly grueling. The lead-up to the confirmations included itemizing every event Jackson had appeared at and every speech she'd given, and every decision she'd drafted, of which there were hundreds. While the workload was enormous, Gruda said it was also not public, and she and Jackson were the only ones in her office who knew it was underway, and she could not even tell her family why she was working all those late hours.
"There is so much scrutiny around this," Gruda said.
To view Gruda's talk, or talks given by any of this year's Amos Fortune Forum speakers, or to donate to the forum, visit amosfortune.com. This article is being shared by partners in the Granite State News Collaborative. For more information visit collaborativenh.org.