Event puts NH's aging workforce on display
Panelists agree, employer involvement is essential to attract young talent and retain older professionals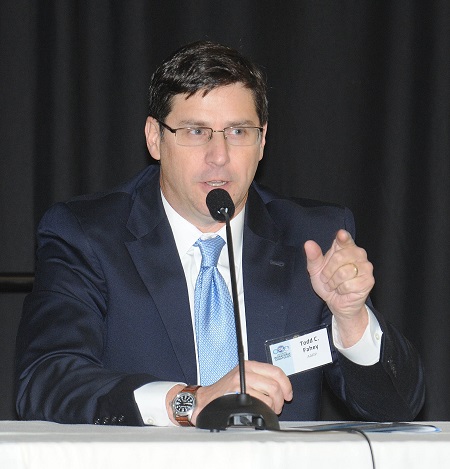 Most discussions addressing the shortage of workers focus on Millennials. The Nov. 9 Winning Workforce Strategies event – a collaboration of NH Business Review and the NH Center for Public Policy Studies – dealt with Millennials too, but also looked at those at the other end of the age spectrum.
"People don't just drop off the cliff once they reach 65," said Todd Fahey, state director for the American Association of Retired Persons.
And it's a good thing they don't. Because while the number of young people in the state is decreasing, the number of those reaching retirement age is growing, and that's bad news for an economy that desperately needs not only bodies, but bodies with skills, according to the opening presentation by Greg Bird, economist for the NH Center for Public Policy Studies.
Held at the Manchester Country Club, the room was packed with human resources professionals desperately trying to hire in this full-employment state.
Bird's summary of the state's demographics offered little comfort. The workforce population ages 25 to 59 is expected to decrease by 53,000 between 2015 and 2025, while the 65-to-74 population is expected to increase by 52,000. But the latter group is much less engaged in the workforce. Engagement will hopefully increase, but it still presents a problem.
Attracting and retaining more Millennials, of course, is key. Some 60 percent of high school graduates leave the state, the highest percentage in the country, according to Mike Decelle, dean of the University of New Hampshire at Manchester and chief workforce officer for the Advanced Regenerative Manufacturing Institute or ARMI.
Bird's workforce out-migration, puts New Hampshire only behind Vermont, but we are right up there with the rest of the region. That's partly due to high-income students going off to college to explore the world and make their fortune, while their poorer counterparts in the South are more likely to attend public colleges close to home.
Will Stewart, executive director of Stay Work Play, hopes to win some of them back, the "boomerangers," he called them, by showing them how the area has become more vibrant.
But the way things are now are pretty grim.
"It's bad," Bird said. With productivity at a standstill, "we need more people working more hours. We will continue to struggle with growth, because there will be a point where businesses are going to go elsewhere because they can't find qualified employees."
Mentoring relationships
Fahey, however, took issue with concept of a static workforce bracketed at 65. First, the age of full retirement has crept up to 66. Second, employees want to work longer. And third, many have to.
Perhaps, Fahey suggested, the state could turn this aging population image on its head. Older workers have the experience that younger workers need. Perhaps they can stay on, at least part-time, in a mentoring capacity.
"We could rebrand it, and sell it as a competitive advantage," he said.
But how to persuade older workers to stay on longer, or get them to come out of retirement?
Formalizing the mentoring relationship would help. Workshops or a discussion on such things as a health care plan that dovetails with Medicare is another. And just plain commonsense recruitment would be a third: don't just put pictures of young people in the help wanted ad, or don't put an upper limit on experience.
But older workers sometimes want the same thing as Millennials, such as flexible hours and the ability to work from home. Older workers might not be taking care of their kids, but they often do take care of their grandkids or their ill spouses.
Some of the themes carried over to the next panel. When Hitchiner Manufacturing Co. Inc., recently started offering part-time hours for the first time at its Milford plant, it was mainly older workers, not the younger ones, who took advantage of it.
And mentoring also goes beyond older vs. younger, pointed out Eric Herr, the Center for Public Policy Studies' board chair, who worked with a number of high-tech firms, including Autodesk.
Decelle remembered when he started out working at Bell Laboratories, "The first thing, when I walked in the door, I was assigned to a mentor." But workforce development, he said, is sadly neglected in the modern workforce, "because nobody feels they have the time."
'Skin in the game'
But workforce development was not neglected in this workshop. Indeed it was among the main focus, especially a closer relationship between educational institutions and businesses. Stay Work Play talked about their internship website.
"Anything that we can do to connect young people make connections, the better," said Stewart. "It's not just learning the skills, it's establishing friendships, maybe even meeting someone and getting married and settling in the state."
Hitchiner, after once searching for talent across the nation – only to lose them "once they learn that it snows in New Hampshire," said Tim Sullivan, vice president of corporate affairs and services at the company – now mainly recruits locally and trains from within, offering a stripped-down engineering program in partnership with Keene State College. The company will pay the full cost of tuition if it's related to advancement in the company (though they do have to promise to pay it back if they quit the company to go someplace else).
Exeter Health Resources has worked out a deal with Great Bay Community College to transform a two-year associate degree into a 12-week boot camp certification for aspiring medical assistants.
"We needed a more aggressive approach, to get people to learn faster and train up quicker," said Christopher Callahan, vice president of human resources at Exeter Health. "We couldn't wait two years for medical assistants. We need them this afternoon."
These are the kind of things employers need to do, summed up Sara Colson, director of Workforce Accelerator 2025, a program of the Business and Industry Association and the NH Charitable Foundation that is trying to bring 84,000 college-educated workers into the state.
"What is not working is not doing anything," she said. "To solve workforce needs you have to have skin in the game."
Immigrant workers
But panelists really didn't have too many suggestions regarding what the state used to do to solve its labor problems: hire more immigrants. John Clayton, a former Union Leader columnist who now heads the Manchester Historic Association and Millyard Museum, told the tale.
When Amoskeag Manufacturing Company needed thousands of workers to fill its mills in Manchester, it recruited refugees from the Irish potato famine, sent recruiters up to Quebec, sent agents to Germany for engineers and to Belgium for those experienced with lace. The company built parks, supported dental clinics and theater troupes, all in an effort to attract some 17,000 workers (the number of employees at the company's height) from around the world.
"They were proactively seeking workers to help the company. Immigrant laws are different now, but it's important to know it has been done before, so it can be done again," Clayton said.
The state has a net influx of 2,000 people per year from other countries, compared to domestic migration that has been relatively stagnant, Bird pointed out.
But there isn't the same concentration of immigrants, and too many legal restrictions to make that a viable solution to workforce issues, said several panelists.
There are many talented people around the world, said Herr, but for most large companies, it's easier and cheaper to expand overseas rather than try to move them here.
"People would love to work here, and would come if they could get in," he said. "It's just too hard to get in."