Ernest J. Simmons Jr., Contour Design Inc.
2012 Financial Executive of the Year winner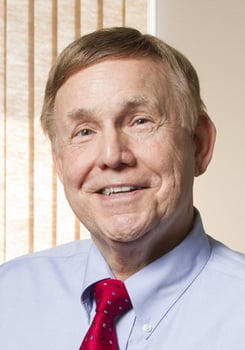 Ernest J. Simmons Jr., better known to most as Joe, has
worked as a Russian and math teacher and has successfully taken companies public. He's served in the Marine Corps and has consulted at the executive level with businesses of all sizes, specializing in turnarounds, startups and IPOs.
But since 2009 he has been CFO of Contour Design Inc. in Windham, which manufactures ergonomical pointing devices and protective cases and accessories for mobile electronics, including iPhone cases for brands such as Kate Spade, Tory Burch and Fender.
Already the Rhode Island native has made several major contributions that "were critical to the ongoing success of the company," wrote Conrado DeJesus, his nominator and senior accountant at the company.
One such contribution came when Contour's exclusive manufacturer of 15 years misappropriated the company's technology, secretly marketing copies of Contour products and cutting off its manufacturing by refusing to return its specialized molds.
In response, Simmons devised the company's legal strategy to stop the foreign company, hiring and supporting attorneys and managing the company's legal activities across multiple international venues.
Thanks in large part to his efforts, jurors ruled in favor of Contour after a six-day trial, awarding the firm $7.7 million in damages and avoiding an estimated loss of $4 to $5 million.
And thanks to Simmons' management of employees' health insurance, the company has continued to pay 100 percent of employee health premiums without any rate increases, at a time when most companies' premiums are increasing in leaps and bounds each year.
The Andover, Mass., resident also served for 21 years on the board of the Mental Health Center of Greater Manchester, including several years as chairman, helping the center to establish a patient work program that grew into a business that did more than $1 million a year in subcontract business.
"E. Joseph Simmons is clearly an exceptionally competent businessman. More importantly, he is an exceptional human being who, in his own quiet way, has made a difference," wrote Kendall Snow, vice president at the center. "I wish there were more like him."
Q. How did you end up where you are today in your career?
A. Out of high school I went into the military first, then went to college after that. I really wanted to be a teacher, so I started teaching — math, science and Russian. But you couldn't make very much as a teacher, and my father passed away, so I had to go into business to make some money.
Because of the math background I went into a large corporation, and was able to make some significant contributions immediately, and I got promoted rapidly.
Eventually I decided to go into business on my own. I consulted for some very large companies, and some small companies as well.
What happened was, the project at Contour was just another project. They wanted to have something done that was specialized, I had specialized expertise. I came on board, and it worked out better than we all thought and they offered me a permanent position.
Q. What has been your proudest accomplishment during your tenure at Contour Design?
A. Something I'm really proud of — Contour pays 100 percent of the employee health insurance premiums. We've done that through a lot of hard work, and at the same time, where everybody over the last few years has seen significant increases in their health insurance costs, ours have gone down two-tenths of 1 percent less than it was four years ago. That enables us to pay 100 percent of the premiums — and we have a really good plan.
Q. What have been some of the biggest professional challenges you've faced in your career?
A. There are common challenges that always occur in every job. The first is keeping current in your field of study or expertise, and at the same time understanding the markets, the products and the business of the company, where you dedicate yourself. That's an ongoing process.
The next thing is developing a team, because everything's a team effort. Nobody does anything by themselves, really.
Q. What are your hobbies/personal interests?
A. I love to play the piano. I arrange and I'll play at church at times, and sometimes at nightclubs and things like that. I'm not half bad. I try to stay in decent shape, doing Tae Kwon Do. And I write — I'm writing a book right now on 20th century nihilism. One of my degrees is in philosophy. The arts are important — they bring joy.
Q. Looking to the future, what are some of the challenges and opportunities that you see on the horizon for Contour?
A. I think Contour is poised for growth and diversity. I really believe we can grow significantly in the next few years, and there are a series of problems associated with rapid growth and many companies have difficulties when they try to grow too fast. We have the team and infrastructure in place to handle significant growth.