EPA highlights Brownfields program in NH
Latest grant awardees include Somersworth, Winchester, Hinsdale and the North Country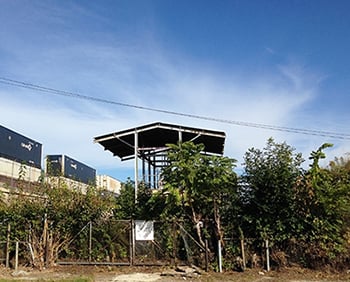 Monday's visit from Environmental Protection Agency official highlighted the latest of three additions to the agency's Brownfields program, which aims to transform an old industrial wasteland into a somewhat of a clean slate for commercial redevelopment
It was one of the many environmental programs targeted by President Donald Trump for substantial cuts that actually got a boost in the long-term omnibus budget agreement that the president reluctantly signed in March. The EPA budget submitted would have cut the Brownfields program by a quarter, but the U.S. Congress actually ended up doubling Brownfields spending for the next five years – and allowing it greater flexibility – by passing the BUILD Act.
Since 1997, the EPA had awarded some 56 brownfield proposals totaling about $46.6 million in the Granite State. The result of the latest three grants, totaling $700,000, may be a new commercial tract in Somersworth, a large solar array in Winchester, a commercial property in Hinsdale and resources to help Main Street revitalization efforts in North Country communities like Berlin and Colebrook and Northumberland.
The three proposals beat out five others in this round of funding. The unsuccessful applicants were Nashua, Rochester, two other proposals by Strafford Economic Development Corporation (which included Somersworth, Rochester and Dover) and another by the Upper Valley Lake Sunapee Regional Planning Commission, which included Claremont and Lebanon.
EPA New England Administrator Alexandra Dunn came to Somersworth to officially award the city $200,000 to put the finishing touches on the former Breton's Cleaners property. The parcel, slightly larger than a half acre, has a long history of environmental degradation, starting as a railroad freight depot owned by Boston and Maine Railroad in the 19th century, as a Prime Tanning mill in starting in 1974, and a commercial laundry and dry cleaning facility in the 90s. By the time the city acquired the property in 2016, it laced with tetrachloroethylene and toxic metals.
City manager Robert Bellmore call the parcel 'prime piece of property located at a Gateway to our Downtown adjacent to the Salmon Falls River.'
The $200,000 grant, awarded to Southwest Regional Planning Commission, would be used for sites in Winchester and Hinsdale. The Winchester grant would mainly be spent on former AC Lawrence Tannery campus sprawling across two parcels totaling 18 and a half acres. The tannery, which dated back to 1908 shut down in 1987, leaving behind residues of Varsol, a petroleum solvent used to remove wool grease from sheepskin called as well as various other contaminates. There is not much money available for an extensive clean up J.B. Mack, Principal Planner who oversees SWRPC's Brownfields Assessment program.
But, Mack said "the site is an excellent fit for a solar array (it is south facing, with relatively few trees blocking the path of the sun, flat, and most of the structures on the property have been demolished leaving large concrete foundations)."
Mack thinks that there is room for more than a Megawatt, enough to exceed the needs of the town and turning into an energy exporter.
The 2.52 acre McGoldrick Paper Company in Hinsdale on the Ashuelot River, close to downtown was last utilized to make tissue paper. Before that it was an auto salvage business. The town has yet to assess the contamination, but since it is close to downtown, it would be an attractive place for businesses to locate. At least one business, Mack said, was interested.
The $300,000 in grants to the North Country Council is a bit unusual, as it doesn't specify a specific site. The council hopes to use the money to examine vacant buildings or lots in downtowns of Berlin, Colebrook and Northumberland and perhaps other towns the North Country as well.
"It's a different approach," said Michelle Moren-Grey, co-executive director and CEO. "It could enable us to remove potential barriers to redevelopment. I think they were interested in trying something new.