EnviroVantage tackles lead, asbestos, mold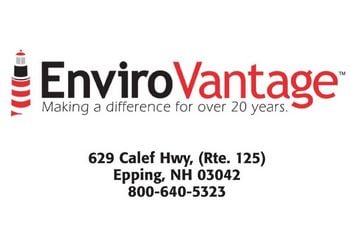 Getting the lead out is just one of the many services EnviroVantage in Epping offers owners of both residential and commercial properties.
"The biggest part of the company's business these days is in asbestos removal, but mold remediation is becoming an increasingly significant part of environmental cleanup work," said Frank Ronan, EnviroVantage business manager.
"Right now, it's about 15 percent of our business," said Ronan. "If you'd asked me a year ago, I probably would have said less than 2 percent."
EnviroVantage has seen residents and businesses in New Hampshire grow more aware of mold problems after heavy rains and flooding soaked much of New Hampshire in the spring of 2006.
"We did a big job recently with the Pelham Fire Department," said Ronan. "With all of the moisture on the hoses, they had an infestation of mold that was making some of the firefighters sick. Moisture in the basement of Town Hall in Allenstown allowed for mold infestation there," he said. "People were getting sick in Town Hall.
"A year and a half ago, we were down in Beaumont, Texas, doing a mold cleanup after Hurricane Rita," said Ronan. "We went to the first hotel where we could find a room, and three-inch tall mushrooms were growing out of the carpet, an example of what mold can do."
EnviroVantage continues to do lead abatement on older buildings. The Portsmouth Naval Shipyard, where some of the buildings are more than 150 years old, has been a steady customer. The company has also been removing layers of paint and restoring old lighthouses, from the Canadian border to Newport, R.I.
Schools and government buildings are often in need of asbestos abatement. EnviroVantage recently completed a massive asbestos removal project for Plymouth State University; Phillips Exeter Academy has been a client for nearly 20 years.
"Asbestos," says Ronan, "remains among the most dangerous of environmental hazards."
"You can have a tiny fiber in your lungs for 20 years that suddenly flares up and you can be dead in a matter of months," he said. "There are solid financial reasons for tending to health hazards within a building sooner rather than later. Many insurance companies will require abatement before a property can be sold," Ronan said. "And if you knowingly sell or rent a building with an environmental hazard, the legal liabilities can be staggering."
EnviroVantage started out as Lead Source before adopting a new name that better reflects the wide range of environmental services the company offers. "The advantage of doing business with us," said Ronan, "is that if we're doing an asbestos abatement and lead, PCBs or mold is discovered, the project does not have to shut down while they find another licensed contractor. We can take care of it for you.
"We do the job on time, on budget, and with virtually no callbacks," says Ronan.
The NHBR Business Profiles section contains content provided by New Hampshire Business Review advertisers.