Engelberth picked to build Plymouth State's new residence hall
350-bed Merrill Place will feature conference facilities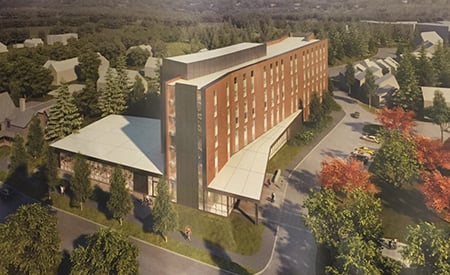 Engelberth Construction of Keene has been selected as the contractor for Plymouth State University's planned Merrill Place Residence Hall and Conference Center, a new 350-bed residence hall to accommodate growing enrollment and the need for on-campus conference facilities.
Sitework is expected to start later this month. The building is slated to open in the fall of 2017.
The seven-story, 95,000-square-foot, $33 million building will be built on Merrill Street, across from Hyde Hall, using advanced energy-efficiency and sustainability methods, according to Steve Taksar, PSU's vice president for finance and administration.
"Merrill Place's design is in line with the evolving housing preferences of today's college student—fewer students per room and more bathrooms," said Taksar. "Other amenities include air conditioning, bike storage, a central, communal kitchen, a student lounge and a game area."
The building will feature a first-floor, 4,300-square-foot multi-use space that can host group events. "The conference center will accommodate up to 500 students or summer guests for lecture-style events or up to 300 people for dinners and other special events," said Taksar.
He said Merrill Place has been in the planning stage since 2014. PSU last constructed a new residence hall in 2006 with the opening of Langdon Woods, which was also built by Engelberth. When Merrill Place is completed, PSU's eight residence halls and 166 student apartment units will accommodate approximately 2,700 students.