Economically, it's still sunny in New Hampshire
But trade war, workforce shortage are looming clouds on the horizon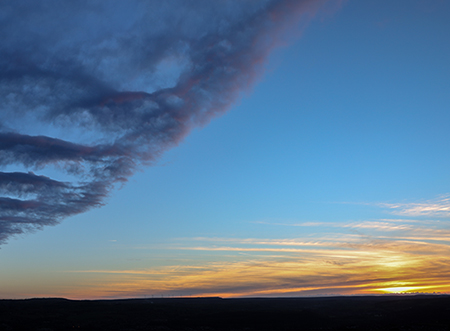 As 2018 comes to a close, these might be ranked as the best of times for the state, economically at least. The worry is whether worse times are yet to come.
Economic activity has risen by 3 percent in each of the last two years. Business taxes (even with a cut in the business tax rate) have risen 23 percent since the summer. Unemployment — at a seasonally adjusted 2.6 percent in October — is the third lowest in the country, just behind Hawaii and Iowa. The state added 15,340 jobs in 2018 and a third of them were in manufacturing and construction, which usually pay better than service jobs, where the growth often occurs.
Hotel occupancies are up 3 percent. Rooms and meals tax revenues are up by over 5 percent. And bankruptcy filings are the lowest point in this generation.
And yet …
"First of all, 2018 was a great year for the state," said economist Russ Thibeault, president of Applied Economic Research in Laconia, before adding, "I sense some rumbling in the U.S. economy. Trade, the stock market and interest rates are all causing uncertainty in 2019."
And there is the problem of lagging wages.
Workers were getting more money in 2018 by working more hours, not by getting paid more per hour.
"Corporations have been doing great, but people aren't," Thibeault said.
Real Estate and Construction
Home sales have slowed as housing becomes less available and affordable. New car sales are off, as people tend to buy used instead. The labor shortage is inhibiting growth. People are working longer hours, without making much more. And now, even the stock market is shaky.
"I don't think we are not going to fall off a cliff, but I think business is going to be very tough up ahead," said Dan Keith, general manager of Selectwood, a lumber supplier in Portsmouth.
Workers were getting more money in 2018 by working more hours, not by getting paid more per hour.
Keith and several other businesses are worried about the repercussions of the effects of tariffs, perhaps because Keith sees it firsthand. What began as a continuation of a longtime squabble with Canada over softwood that he didn't even buy suddenly escalated at the beginning of this year into a 25 percent increase on red and white cedar that he depends on.
"I can't get it in the U.S., especially in New England," said Keith. He has had to pass on the tariff cost to customers "so now we are selling less," mostly to those who build high-end homes.
There has been some more commercial construction, explaining some 2,600 new construction jobs since last year, but that's mainly in concentrated areas, like the massive Tuscan Village mixed-use project in Salem or projects near the Manchester-Boston Regional Airport in Londonderry as well as at the former Macy's site in Bedford, said Thibeault.
But it is limited because both the price of materials — particularly steel — and labor have driven up costs, said Chris Norwood, a commercial real estate broker and president of NAI Norwood Group in Bedford.
Still, new construction is sometimes necessary. Current needs don't always fit into old inventory. Warehousing often needs higher ceilings than found in old mill buildings.
But on the residential side, construction permits actually fell slightly year to date. The increased costs of materials and the shortage of labor have pushed up the price of a home by 10 percent, estimated Lynette Rogers, president of the NH Home Builders Association.
"There is a lot of renovation, but new construction is mainly senior housing," she said.
There were 4,922 homes for sale in November, about 700 fewer than a year ago and 1,500 fewer than two years ago. The number of homes for sale fell 18 percent compared to 2017, and new listings are off by nearly 9 percent compared to last year. This has pushed prices up by 7 percent. Add interest rates and you get monthly payments that are substantially higher than have been in a long time, said Bill Weidacher, a Realtor with KW Williams Metropolitan Realty in Bedford.
"This is not sustainable," said Weidacher. "You have six, seven, eight years of appreciation in the high single digits. Wages are not keeping up with the increases."
Hospitality
Wages indeed have been stagnant. Personal income might have gone up — and gone up in New England more than anywhere else — but that doesn't necessarily mean that they are getting paid more, said Thibeault. They could just be working more.
And that seems to be the case, at least in manufacturing. First, more people are working. The state added 2,500 manufacturing jobs last year, matching the increase in hospitality employment as well as job growth in both health and education. The growth in manufacturing jobs even beat out retail trade.
Service job growth "is not a surprise" said Annette Nielsen, an economist with the state Economic and Labor Market Information Bureau. But manufacturing growth is "a more recent trend," she said.
Those who are working are working more. The average manufacturing work week is now 43.19 hours, the most in New England and nearly 50 minutes more than last year. Yet the average manufacturing hourly wage year to date was $21.63, just six cents more than in 2017. At least that year was nearly a buck more than the year before. In other words, workers were getting more money in 2018 by working more hours, not by getting paid more per hour.
Why wages haven't gone up is "somewhat of a mystery," said Annette Nielsen. Certainly there is a scarcity of labor across the board.
Take restaurants. People are still eating out — no complaints there. Tom Boucher, CEO of Great NH Restaurants, says sales are up 4 percent. Since prices only rose 2 percent, that means that either more people are going out or that they are spending slightly more.
"And gift card sales are very good," Boucher said. "That's a good predictor of the future."
Tariffs haven't affected the price of food, which got a bigger price jolt with the recent romaine lettuce scare. And while the cost of construction has gone up, neither that nor the scarcity of labor won't get in the way of Boucher's plans to open another T-Bones restaurant in Concord next year and a Copper Door restaurant somewhere else the year after that.
Hart's Turkey Farm restaurant in Meredith, however, has had to leave some business at the table — no breakfast during Bike Week, for example — because of a lack of labor.
The workforce shortage of the past couple of years "has become the new normal," said restaurant owner Sim Willey.
Actually, it has gotten worst, partially because business has picked up, but also because there is more competition over the same limited number of visas for foreign workers. Last year, Wiley only was able to hire 20 to augment a peak workforce of more than 10 times that much.
Tariffs and trade
But the biggest clouds on the horizon are tariffs and the trade war with China.
Most companies aren't affected by them directly. There has been no big increase in the cost of cars, for instance, said Larry Haynes, CEO of Grappone Automotive Group. Yet certainly the tariffs, and then the dramatic swings on Wall Street, are on people's minds. "There is more of a wait- and-see attitude," Haynes said.
Customers are going for used cars — manufactured certified, to be sure — because of that uncertainty, as well as the rising interest rates, according to Haynes.
Actually, in terms of exports, New Hampshire isn't doing too badly. Trade is up, though by a modest 5 percent, to some $4.4 billion worth of goods. But that increase was a big falloff from the previous year, when exports rose by 24 percent, one of the biggest jumps in the country. This year, New Hampshire lags behind the nation, which has seen a total export increase of 9 percent.
The trade war's impact might be more targeted on where the exports are going.
In New Hampshire, trade with two major trading partners, China and Mexico, both fell about 10 percent, and trade with a third, Canada, has been relatively stagnant. Germany has taken over as New Hampshire's No. 1 trading partner in 2018 and Saudi Arabia has jumped to No. 6, thanks to larger aerospace sales to the former and a huge jump in arms sales to the latter. The state has exported another $240 million worth of aerospace goods to Germany in 2018 so far.
Ireland jumped to be the state's fourth-largest trading partner, and that might continue, thanks to the New Hampshire aerospace industry forging a "trade pipeline" to the Irish Defence Forces, said Dawn Wivell, manager of the NH Aerospace and Defense Export Consortium. This will put the state in a great position with the closest country (in distance and culture) to the European Union, given the uncertainty of Brexit, said Wivell.
Aerospace, she said, "is our fastest-growing industry and it is one of the few where we don't have a trade deficit."
New Hampshire's largest defense contractor and largest manufacturing employer, BAE Systems, now has 6,000 workers in New Hampshire, a third hired in 2018, according to Paul Roberts, director of media relations. But there is also Safran USA, which joined Albany International in Rochester just four years ago, although neither would confirm any large new contract in Germany or Ireland.
Trade zone
Shifting trade alliances can create problems as well as opportunities. Take Boyle Energy Services & Technologies, a Merrimack company that builds power plants, ranging from oil and natural gas, to solar and nuclear all over the world.
"Every single day there is a new problem," said CEO Michael Boyle. "It's getting that nobody wants to work with Americans anymore."
Recently, there were major equipment delays in Mexico, which he suspects is in retaliation for a U.S. tariff.
The Trump administration's hostility toward the U.S. Export-Import Bank dried up financing. "Our market share is declining," said Boyle. "Our revenue numbers are flat. We are stuck in limbo."
There haven't been any layoffs of his workforce of 60, "but we aren't hiring the number of people we were planning on," said Boyle.
The company is attempting to diversify, to get into some new air cleaning technology that might pay off big, but if that doesn't work, "we are seriously thinking of leaving the country. We could buy materials cheaper, we won't have to pay labor as much and the healthcare problems aren't the same as what we have here."
Worthen Industries, an industrial adhesive coatings firm that also depends on exports, is doing well, but some of its customers aren't, thanks to the trade war.
"They are adversely impacted so they don't buy our product," said David Worthen, the Nashua company's CEO. He gives an example of one staple company that can't get reasonably priced materials because of tariffs. "They are moving overseas, so it doesn't make sense for them to use us anymore."
Worthen would like trade to be more fair, but "I don't expect that we will do anything but lose this battle," he said.
There has been a bright spot on trade when it comes to imports.
In November, the federal government permitted a vast expansion of New Hampshire's Foreign Trade Zone, which now encompasses almost all but the northernmost part of the state, as opposed to current, more limited locations (near the Port of New Hampshire, at the Pease International Tradeport and near the Manchester airport). This will make it easier for companies that import materials for export to avoid tariffs, or if selling the product domestically, delay or reduce them. Companies still have to apply, but now it can happen much more quickly and with less paperwork.
"This would stimulate the economy and create jobs," said Geno Marconi, director of NH Ports and Harbors.
So for the most part, the trade war is a distant rumbling, thunder in a distance, the sounds of an economic storm, that most businesses hope will never hit the state. For now, the economic outlook is pretty sunny, and most businesses are basking in it, at least while they can.
Bob Sanders can be reached at bsanders@nhbr.com.