Dutch biotech firm opening first U.S. lab in Keene
Detact Diagnostics signed a two-year rental contract with Keene State to run its lab at the Putnam Science Center
A Dutch life sciences firm plans to launch its first U.S. lab at Keene State College in December, and it envisions the Elm City as a base to cultivate biotech research in the region.
Detact Diagnostics, which focuses on preventing bacterial contamination in medical settings, was scheduled to activate its lab Dec. 15 after finalizing an agreement with Keene State on Nov. 2, according to representatives of both parties. The firm announced plans in May to establish its U.S. headquarters in Keene.
Detact CEO Dr. Joost Gazendam said he founded the company based on his work as a trauma surgeon out of a need to distinguish inflammation, the natural reaction of the body's immune system to an irritant, and infection, which involves the presence of bacteria.
Gazendam said Detact's plans to launch a lab in the U.S. came out of the pandemic, when the firm was developing its own Covid-19 test that used saliva rather than nose swabbing like common clinical and at-home tests. However, when Detact attempted clinical studies with its Covid test, Gazendam said the company couldn't create enough samples to receive FDA approval.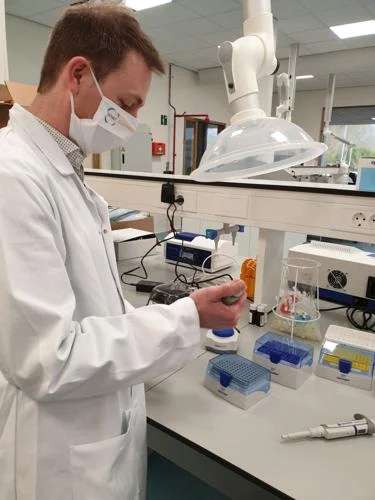 Matthew Burton, chief technology officer of Detact Diagnostics, in the firm's lab in Groningen, the Netherlands.
"A disadvantage for us is that we were a smaller company, and the large companies in the diagnostic market kind of swallowed up that whole (Covid testing) market," he said, adding that this experience pushed Detact to seek its own American lab.
The firm also hopes to receive FDA approval for its product RenoTact, which is meant to detect peritonitis. This condition is a complication of peritoneal dialysis involving inflammation of the lining surrounding abdominal organs, according to the nonprofit National Kidney Foundation.
To apply for approval, Gazendam said, Detact is required either to conduct its own clinical trials in the U.S. or outsource samples acquired in the states. In searching for a location to perform trials in America, the Netherlands-based company discovered the Elm City through its employee Julie Garcia, who is a Keene State alumna.
"Keene is looking for biotech, and we're looking for a place to land in the U.S.," he said, adding, "in Keene, you're not one out of 1,000, so when we need help, we can knock on the door of your mayor or anybody else in the (city) council. Since we're a smaller company, we really appreciate that personal connection."
Working with students
Detact signed a two-year rental contract with Keene State to run its lab on the second and third floors of the Putnam Science Center, according to James Kraly, associate dean of faculty at the college. Kraly said in an email that Detact is leasing the space for $1,500 per month the first year of operation and $2,000 a month the second year.
Richard Harden, Detact's operations manager, said the firm plans to involve KSC students and faculty in lab work, similar to the company's partnerships with universities in the Dutch city of Groningen, where the firm is headquartered.
"Talks (with college faculty) have been encouraging so far, especially with the microbiology department," Harden said in an email. "In our lab in the Netherlands, we regularly have interns cycle through the lab and office. We very much hope we can replicate this with students from KSC."
Harden added that Detact plans to work with Cheshire Medical Center, which will assist in processing and handling lab samples.
Kraly said he'd like students in the college's biology, chemistry, public health and nursing programs to take part in lab functions, but added that federal safety certification is priority for the first year.
While the lab will be operational mid- December and Detact can use the space for some research and development, it must be CLIA-certified for clinical trials. This means the firm will have to receive certification by the Centers for Disease Control and Prevention ensuring the lab complies with the CDC and FDA's Clinical Laboratory Improvement Amendments, which mandate standards for facilities that diagnose, prevent or treat disease.
After that, "we intend to expand the lab in Keene quite rapidly," Gazendam said.
Detact has about 10 employees, Gazendam said, and has hired two area residents to work in the Keene lab in its first few months. He and Harden said employees based in Detact's European offices in the Netherlands and the United Kingdom will make quarterly visits to Keene for operational support. The biotech firm also signed a contract with the Hannah Grimes Center for Entrepreneurship to open an office in the Center, according to Hannah Grimes Executive Director Mary Ann Kristiansen. The office opened in July.
Gazendam said funding for the project comes from within the firm as well as an anonymous Keene financer. Detact previously had planned to have area financial institutions bankroll the initiative and sought to raise $1 million in startup capital, but this proved "a little trickier" than the firm expected, he said.
Kraly said the new lab isn't Keene State's first foray into biotech partnerships, having participated in state programs that support biomaterials and biomedical fields, but he noted it's the first instance of Keene State leasing a lab space.
"The partnership is the right size and scope for KSC," Kraly said. "Available space will allow Detact to establish the CLIA lab." He added that the revenue from the leased space will be used to support undergraduate research in the sciences through the support of instrumentation and equipment for academic instruction.
This article is being shared by partners in the Granite State News Collaborative. For more information, visit collaborativenh.org.