Doing it InDepth
NH nonprofit news website starts to find its footing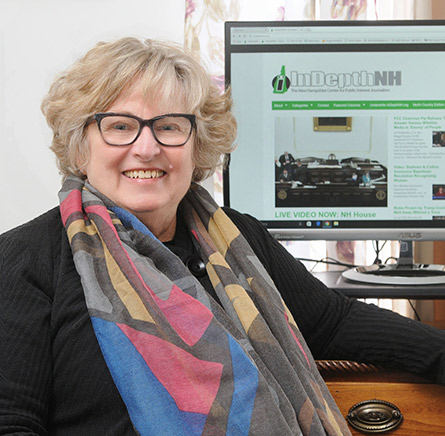 In the wake of digital era disruption of traditional newspapers and media, the growth of nonprofit news organizations is taking hold not only in the country but around the world. In nearby Vermont and Maine, VTDigger and Pine Tree Watchdog are covering their respective state houses with intense focus. In Nevada, nationally known political reporter Jon Ralston recently launched Nevada Independent to cover the state's legislature and politics in the critical swing state.
And in Germany, the investigative news nonprofit Correctiv has taken on the role of debunking false new stories that have exploded on social media in advance of Germany's national elections set for later this year.
New Hampshire is not excluded from this list. Founded in 2015 by longtime NH Union Leader reporter Nancy West, InDepthNH.org has slowly gained a foothold with its reporting and dexterity to survive in a challenging economic environment.
The InDepthNH.org news site is published by the NH Center for Public Interest Journalism. Its mission is to enhance independent journalism, hold government accountable and stir public debate on a wide range of issues.
"The first years in nonprofit news outlets are tough money-wise, but I notice a big change already with increased interest in ads and donations," West said. "This is something very new for New Hampshire, and I know it will take off. People are really starting to understand the need for more in-depth and investigative news, and news outlets around the state are welcoming our stories."
West believes that there is a "perfect storm" caused by the digital revolution, which has transformed how news is produced and financed, and the erosion of traditional newspaper newsrooms. According the American Society of Newspaper Editors, full-time journalism jobs fell from 56,900 in 1990 to 32,900 in 2015, with the greatest rate of decrease from 2010 to 2015. The effect has led to reduced journalistic coverage and less government accountability at many levels. "It's needed more than ever," West said. "Without a vibrant press, democracy is threatened."
Tillotson grant
West settled on a strategy from the beginning that would leverage the strengths of its contributors (many of whom worked at the beginning for little or no compensation) to develop a brand name that could draw sponsors, advertising and private donations.
InDepthNH.org has 501(c)(3) designation that allows all donations to be tax-deductible. "Our big push is on getting tax-deductible underwriters and advertisers like Northeast Delta Dental and big donors," West explained.
West says without hesitation that InDepthNH.org belongs to the people of New Hampshire, and while not all stories are popular, they fill a critical function.
A recent $50,000 grant from the Neil & Louise Tillotson Fund through the NH Charitable Foundation supports the work of reporter Chris Jensen, who covers the North Country. West said that longtime New Hampshire reporter Roger Wood has helped with reporting, podcasts and fundraising while her son Montana has donated his services.
A $50,000 grant from the Neil & Louise
Tillotson
Fund through the NH Charitable Foundation supports the work of reporter Chris Jensen, who covers the North Country. (Courtesy photo)
"He spends weekends and free time making InDepthNH.org easy to read and helps us focus on what the younger generation wants in a news outlet. We are very phone-friendly with about 45 percent of our readers using their cellphones to access InDepthNH.org," she said.
'Tremendous civic value'
It was, however, a startling investigative story late in 2015 by West that helped elevate InDepthNH.org's stature. Due to program restrictions at the NH State Hospital, the public and many New Hampshire lawmakers were stunned to learn the state was housing more than a dozen male and female non-criminal mental patients at the State Prison psychiatric unit for the criminally insane.
"I think you see that's a story that's never going to be a huge draw for advertisers," said Sue Cross, executive director and CEO of the California-based Institute for Nonprofit News. "It's very typical of the work nonprofit news organizations are doing. There's not an economic basis to cover the cause of the mentally ill, but it has tremendous civic value."
InDepthNH.org is a member of the Institute for Nonprofit News, which has more than 100 members nationwide. The INN also assists organizations like InDepthNH.org by providing a wide range of services, including mentorship and accounting services. Cross says the first few years for nonprofit news organizations can be "brutal," but those that do gut it out can find strong support.
"I think Nancy is where many organizations were in 2008-2009, trying to raise money and establish credibility," Cross said. "But VTDigger has proven nonprofit news can grow and thrive. They started very small and now have more than a $1 million budget and many full-time reporters."
In an era of "fake news" accusations by the president of the United States and diluted trust in traditional media sources, Cross said nonprofit news organizations can "build bridges" precisely because they are local and embedded in their communities.
Jon Ralston in Nevada said that after 15 years of doing daily television reporting he was burnt out and wanted to pursue a dream to run his own news organization.
"This was a new challenge, and the hardest part was raising money for our nonprofit," he said. (The website lists every donation, from individuals donating $5 to $250,000 from casino resorts).
Ralston hopes the Nevada Independent will compete with and complement news organizations in the state. "There is a need for in-depth, transparent journalism more so than ever before," he said. "People don't trust the media; we hope we can be part of restoring trust by being transparent and truthful."
Challenges ahead
One of West's challenges is getting the word out that the content is free to all news outlets in New Hampshire.
"We are developing partnerships with a couple of them on joint stories," she said. "The Keene Sentinel, Nashua Telegraph, Seacoastonline, Valley News, Colebrook Chronicle, Conway Daily Sun, Berlin Daily Sun — really, the list goes on and on."
Howard Altschiller, executive editor of Seacoast Media Group in Portsmouth, recently joined the board of InDepthNH.org. SMG has run stories from InDepthNH.org, and Altschiller is interested in the potential for collaboration.
"Within five years, we can have a staff of full-time reporters. I would like to have one covering the environmental issues, family issue and the State House," said West. (Photo by Jodie Andruskevich)
"When Nancy first floated the idea of InDepthNH, I was interested but worried about it being financially viable," Altschiller said. "Over the past year, I have been very impressed with the quality of InDepthNH's reporting, its support of our state's journalists and the progress it is making getting financial support for its work. That said, I know they have plenty of challenges ahead and that's why I agreed to join the board and lend a hand. It's too soon to know exactly how we'll work long-term with InDepthNH but I think there's great potential to work as partners on bigger enterprise stories."
The patience to develop step by step is challenging, but West said it is bearing fruit.
Former Concord Monitor editorial cartoonist Mike Marland has joined the effort (InDepthNH is also looking for a New Hampshire-focused conservative-leaning cartoonist to balance what Marland says are his "flaming left-wing tendencies"). The Neil & Louise Tillotson Fund grant was important, West explained, because it lent credibility to InDepthNH for other funding foundations.
"We just got an unsolicited donation from a newspaper owner for $1,000," she said.
Other grants are in the pipeline, and for the first time she believes she can act on her vision.
"Within five years, we can have a staff of full-time reporters. I would like to have one covering the environmental issues, family issue and the State House," West said. She found it initially hard to ask for money, but it's becoming easier and she is excited about the organization's broadening horizons.
"We are also going to be developing our educational arm in which we will train the next generation of journalists," she explained. "So, we will be partnering with a college to host summer programs for international students and hosting events to get our name out there and to encourage people to become a part of what makes news happen."