Doing business in Dubai
NH tech companies network, make their pitch at 2015 Airshow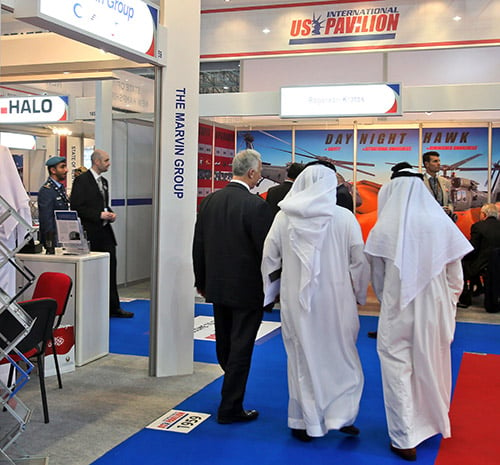 Three innovative New Hampshire companies made the nearly 7,000-mile trip to the United Arab Emirates, earlier this month, to take part in the 2015 Dubai Airshow, the international showcase of aerospace and defense technologies.
The biannual event attracts thousands of organizations from around the world and different industries. Commercial airliners, component manufacturers, scientific institutes and defense contractors all attend to exhibit, network and excite crowds with their flying displays and interactive attractions.
The companies – AQYR Technologies of Nashua, HALO Maritime Defense Systems of Newton, Transupport Inc. of Merrimack – had their displays in the State of New Hampshire exhibition booth, which was located in the U.S. zone of the gargantuan room. The visit was put together by Tina Kasim, program manager of the NH Office of International Commerce, Justin Oslowski, director of the U.S. Export Assistance Center in New Hampshire, and the NH Aviation Defense Export Consortium (NHADEC).
Kasim, whose office is part of the Department of Resources and Economic Development, was enthusiastic about bringing New Hampshire to events like the airshow.
"We have over 300 companies that focus on aerospace and defense and follow it at different points in the supply chain. They're smaller and generally lower-tier, and not OEMs (original equipment manufacturers), but they produce a lot of components that go into the larger parts. And so it means a lot for them to get out to be able to meet different clients," she said.
AQYR Technologies
Mark Wheeler of AQYR Technologies (left) and Ken Foot of Transupport Inc.
Photo by Rory Jackson
Hundreds of national armed forces had delegations at the Dubai Airshow, with the UAE Special Forces taking special interest in AQYR Technologies' offerings: small-scale, flat panel screens and collapsible satellite dishes for transmitting and receiving data and communications.
Originally founded on a grant from the U.S. Department of Defense to create very small "receive" terminals, the company's work was described by Director of Business Development Mark Wheeler: "What we do is provide a solution, so that anybody can set up the satellite terminal, automatically find the satellite, and create communications for you. The name AQYR [pronounced "acquire"] is based on that 'auto-acquire'."
A deployed rucksack SATCOM receiver.
Having been contacted by the UAE Special Forces through a partner, Wheeler arrived at the airshow — with his company's demonstrator products packed in luggage and a carry-on bag — to continue talks, while seeking out other potential partners in the region, including those in oil and gas, exploration, humanitarian aid, disaster relief and first responders.
"We've created something unique," said Wheeler. "It's not unusual, it's just the way we do it and the size at which we do it is extremely unique to us."
He added that a four-page manual, almost entirely made of images, was all the training needed for personnel to assemble and operate his firm's communications suite.
HALO Maritime Defense Systems
At the other end of the booth was HALO Maritime Defense Systems, which moved to Newton from Massachusetts in 2013.
While it might have seemed unusual for a sea-focused company to present at an airshow, HALO's CEO, Paul Jensen, felt otherwise.
Paul Jensen of HALO Maritime Defense Systems meets with a local business partner to discuss critical infrastructure projects.
Photo COURTESY OF DRED
With war raging in nearby Yemen, and not much farther off in Syria and North Africa, the rich Gulf states are looking for cost-efficient, technologically advanced means of protecting their coastal assets from maritime attacks and infiltrations.
HALO, using a combination of proprietary plastics and composite materials, shaped in proprietary designs and mechanisms, offers a series of "sea walls" and marine gates to protect waterside assets. Not only does the gate automatically open and close through a touchscreen panel, but, as Jensen said, "It can stop multiple boats, and it can protect palaces, nuclear power plants, and oil and gas assets."
A photo of the U.S. Navy testing HALO's static wall.
The UAE coast has both considerable petrochemical facilities and expensive waterfront residences on both the mainland and its artificially constructed "Palm Islands."
It might seem unbelievable that a plastic-composite gate could stop a speedboat packed with C-4 plastic explosives, but the product has been tested and verified by U.S. authorities. On a screen above the stall, a test video showing the U.S. Navy testing HALO's static wall and marine gate was on view, displaying how the ingenious structures of both transfer the kinetic energy of an impacting vessel and use the water itself to counteract the attacker's force.
"In the maritime domain, the standard solutions are boats and radar. They're people-dependent, and they're electronics-dependent. Ours is physical security. It doesn't rely on people, it doesn't rely on boats. At the end of the day, when all other systems fail, there's a physical structure in the water." Jensen said, stressing the cost-efficiency and safety aspects of HALO's innovations.
Transupport Inc.
Ken Foote of Transupport Inc., Merrimack, speaks with a customer at the Dubai Air Show.
Photo courtesy of DRED
Between the two in the New Hampshire booth was third-time attendee Transupport Inc. of Merrimack, represented by Vice President Ken Foote.
"It's a great place to be for the region," he noted, "because everybody has shows now. You could spend the rest of your life going to these things every other month; but this one, for the whole region, is just fantastic. Now that New Hampshire has that new organization, the NHADEC, it's a nice one-two punch for the state of New Hampshire and the United States."
Foote's company produces turbine engines and associated components for military helicopters like the CH-47 Chinook, and distributes components like afterburners and fuel pumps for F-15 and F-16 jets on behalf of Connecticut's Triumph Group. The Dubai Airshow was a natural fit for its business, placed in a region upgrading its air forces in the face of transnational violence.
A drawing of a turbine engine built by Transupport Inc. for military helicopters.
"We're a small family business, so it's difficult to get out there and meet people. For us, it's all about who you know, and so every year, you come to one of these shows, you'll always meet somebody different. Connections get better, the business gets better," said Foote, indicating no small appreciation for NHADEC.
According to Kasim, Foote's company is one of hundreds in New Hampshire that could benefit from reaching customers in the less safe parts of the world. And that might mean that a trip to the 2017 Dubai Airshow will be on the agenda of even more tech businesses.