Do we need more energy or more conservation?
Carsey report recharges debate over power supply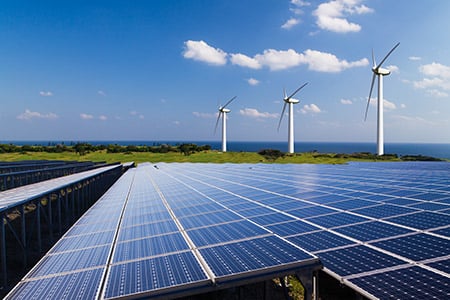 Energy demand is going down, energy supply not so much. So if we commit ourselves to build expensive power projects we won't need, the price of energy will go up.
That's the simple economic idea behind a recently released report by the Carsey School of Public Policy at the University of New Hampshire, yet it flies in the face of conventional wisdom as the state sits on the threshold of a new and complicated energy future.
It comes when utilities and conservationists are duking it out at the state and regional level over whether to devote ratepayer or taxpayer resources to increase supply capacity — which includes everything from gas pipelines to the Northern Pass — or to dampen demand by encouraging renewables and energy efficiency.
What will drive down, or drive up, energy prices? It depends on who you talk to.
Back in the winter of 2014-15, things seemed clearer: The region needed more natural gas badly. Because the use of fracking brought the price down, gas-fired power plants sprouted up all over New England, replacing coal, oil and nuclear for environmental and economic reasons.
Homeowners also switched to natural gas, and they had first dibs on the fuel, since heating utilities locked it up in long-term contracts, while power producers only bought as needed.
Nobody noticed at first, thanks to globally warmed-over winters. The polar vortex in 2014 was a slap of cold truth: New England was at the end of the fracking pipeline and just-in-time power production was precarious. Those gas-fired plants were gasping for fuel, spot prices shot up, and some companies even had to shut down because they couldn't afford their electric bill.
Something, everybody agreed, had to be done — either bigger gas pipes from the Pennsylvania gas fields or bigger transmission lines from Canada — but any project would take years to build. In the meantime, ISO New England, operator of the region's power system and wholesale electricity marketplace, took interim measures by paying power producers to keep extra fuel on hand to support dual fuel facilities. There was some hope that renewables and energy efficiency could help alleviate the problem as well, but that avenue received less official support.
More energy efficiency
However, such "soft infrastructure changes" not only work — argues the Carsey report — but they could continue to work over the long term, and they would be less costly and risky than investing in large power projects.
In fact, the report questions whether the electric grid was really in danger of crashing in the first place. It contends that the problem of price spikes has mainly been solved, that there is plenty of fuel available — though not always at the right place at the time.
The report also says that, while electricity prices in New Hampshire are among the highest in the country, the state has become so energy-efficient that we actually don't spent more on power. It points out that New Hampshire GDP was growing by nearly 10 percent over the decade ending in 2015, yet electric usage fell by roughly the same percentage.
The U.S. GDP grew by 15 percent over the same period, according to the report, but usage only went down 3.4 percent.
As a result, New Hampshire residents spent about 5.5 percent of their income on energy in 2015, a tenth of a percent less than the U.S. as a whole. The average monthly commercial utility bill in New Hampshire was $529, compared to $671 nationally.
So, the report concludes, if you want to keep electric prices down, it would be better to spend ratepayer dollars on filling reliability gaps, dampening demand — via efficiency and renewables — than by going out and getting more fuel.
The report argues, for instance, that every $1 in pipeline cost yields $1.30 in electric savings, while that same dollar spent on efficiency will get you $2.
Falling demand
The reaction to the report reveals the fault line between both sides in a political tug-of-war between supply and demand.
"We can grow our economy here without simply investing in new fuel capacity, but by investing in efficiency, renewable energy and in other technologies that keep our energy dollars right here," says Kate Epsen, executive director of the NH Sustainable Energy Association.
"We can't take this seriously," said Martin Murray, a spokesperson for Eversource, about the report, criticizing it for its "dismissive tone" about the cost of energy, particularly for business, and reliability. Just because there hasn't been a bad winter in the last few years doesn't mean you don't prepare for one, Murray said. "It's like not fixing a hole in the roof because it's not raining. It is so totally counter to what the ISO has said that it has us shaking our head."
But the ISO does agree that demand for electricity has gone down significantly in recent years. In its draft report, released on March 22, the ISO showed that demand has continued to decline. By 2025, in fact, energy demand from the grid is expected to be some 4 percent lower than expected, thanks to a 15 percent increase in solar energy and 11 percent increase in efficiency.
At ISO-NE's last auction, there was enough power to meet demand at the lowest prices since 2013. What is driving prices is not the cost of energy but the cost of transmission.
The ISO-NE winter reliability program has been effective, and the efficiency and gains in renewables have been "impressive," said Marcia Bloomberg, an ISO-NE spokeswoman.
And while a number of coal plants are retiring, there are more than enough gas plants lined up to take their place.
Still, ISO-NE is just as concerned about reliability.
"We are looking down the road at retirement. The proportion of gas generation is growing and the fuel is not coming," Bloomberg said.
According to the Carsey report, there is plenty of capacity in the lines. The lines are often half-empty and it's just a matter of using economic incentives to fill in the few gaps that cause winter price peaks.
But, said George McCluskey, assistant director of the wholesale market section at the NH Public Utilities Commission, "they are wrong."
McCluskey said that the report is based on certain studies but not others that show that there is no surplus in capacity. "To say that we don't need capacity when we do is rather alarming."
"We think their analysis is significantly flawed," echoed Murray of Eversource.
Carsey co-author Cameron Wake, a professor of climate and sustainability at the University of New Hampshire, said he had run the numbers by Eversource, which directed him to talk with a consultant. He did so and told NH Business Review, "we are confident with the numbers."
Wake understands that it is the job of the ISO to keep the lights on. "That's not my responsibility, so we have to take what they say seriously."
But the measures that have already been implemented "are doing a good job," he said, and rather than build new plants, why not keep a few old plants around for those few days?
"There really hasn't been that discussion," said Wake.
Generation contracts
Utilities and regulators have overestimated the need for power before, Wake said. Take a look of the $430 million scrubber, which Eversource argued and regulators agreed, would be needed to keep the coal-burning Merrimack Station power plant in Bow open from a reliability and economic standpoint.
Later, in the final push for deregulation, Eversource decided it would be better to dump the plant (along with the rest of its assets) even though it might only get $10 million for it, if ratepayers picked up most of the tab, which mainly consists of that scrubber.
"We should be careful before we do something like that again," Wake said.
After Eversource's ongoing asset auction, it can no longer invest in physical generation, but it can invest in long-term generation contracts relating to huge projects it has a financial interest in Access Northeast Pipeline and Northern Pass.
Spectra Energy's Access Northeast Pipeline project, a roughly $3 billion project that would connect four existing pipeline systems, in partnership with Eversource and National Grid, is on hold mainly because regulators both in Massachusetts and New Hampshire have ruled that ratepayers shouldn't pay for gas contracts.
Eversource has appealed the NH PUC's ruling to the state Supreme Court. A bill sponsored in the current session of the NH House tried to explicitly forbid the practice, but that was defeated on March 8.
"The only thing we know about the future of energy prices is that we know nothing about the future of energy prices," said Rep. Michael Harrington, R-Stafford, a freshman legislator and former PUC commissioner who supported the bill.
Subsidies for solar
Another measure, Senate Bill 128, would have made the restructuring law more flexible and might have implicitly allowed letting ratepayers pay up-front for gas, but a proposed committee amendment explicitly stripped a provision that might have allowed it out.
The bill, scheduled for a vote on March 30, might ease the way for long-term power purchase agreement (PPA) between Eversource and Hydro-Quebec.
This is not to be confused with the Transmission Services Agreement with Northern Pass, an Eversource subsidiary, and Hydro-Quebec — that's before the NH Site Evaluation Committee. In that agreement, Northern Pass would construct the $1.6 billion project and Hydro-Quebec promises to reimburse it, selling power to whoever it may.
Northern Pass (and New England ratepayers) might retroactively be on the hook for a small portion of the line if was used for reliability, but New Hampshire ratepayers would be exempted.
On the other hand, the purchase power agreement, filed with the PUC last June, would have locked Eversource's New Hampshire ratepayers into a 20-year agreement that would have provided New Hampshire with 100 megawatts of energy, about 10 percent of the capacity of the 1,090-megawatt transmission line. But the PUC nixed the deal on March 27, saying it violated the state's restructuring law.
The exact terms of the contract were redacted, over the objection of the Office of the Consumer Advocate, but Eversource said it is related to the forward market price for energy, and that, if Hydro-Quebec sells it to anyone for a cheaper price, Eversource would get that deal too.
Eversource argued this would have resulted in $100 million in savings in every scenario except for one, not including environmental benefits that could be monetized.
The PUC staff opposed the deal, arguing that what could save money could cost money, and that putting ratepayers at risk was like "self-dealing." If Eversource wants to set up a long-term contract, it should set up a competitive request for proposal, it said. Eversource could seek a rehearing, appeal, or seek a pursue a legislative fix.
Massachusetts is putting out bids for renewable energy, which Eversource hopes to win, and ISO itself is considering a process known as Integrating Markets and Public Policy (IMAPP), whereby a regional entity might bid out Forward Clean Energy Market contracts or charge a "carbon adder" fee for producers that use carbon-based fuels.
That has raised concerns with groups like the Business and Industry Association and the New England Ratepayers Association.
"Our main concern with IMAPP is that it will result in New Hampshire (and Maine and Vermont) ratepayers picking up the tab for the environmental policies of (mainly) Massachusetts and Connecticut," said NERA President Marc Brown.
Indeed, subsidies for solar seem to be the greatest concern of those groups. Take a look at net metering, where the battle isn't being fought over thousands of megawatts but measuring the real-time flow of electrons.
No one complained about net metering for the first 17 years, because the solar industry was so minuscule that it took that long to reach the cap allotted by law — 1 percent of New Hampshire's electrical capacity. But as the solar industry became more competitive and demanded the cap be lifted, the utilities challenged how much credit smaller projects (under 100 kw) should receive for the power they put on the grid.
The utilities, backed by the BIA, argued that this would be "cost-shifting," since solar customers get rebated not just for the energy cost, but the infrastructure cost of the grid that they benefit from. Solar advocates countered that solar energy saves the utility money since it provides power during peak hours and in the areas the utilities serve.
Distribution costs
Both sides agreed to double the cap to about 2 percent until the PUC sets a new rate. Before the PUC has a full hearing on the matter, each side offered a settlement. Both agreed that solar customers would receive less than they before, and both agreed that solar users won't get back stranded costs but they will get back transmission costs.
The difference is over distribution costs, which represent about 21 percent of a typical ratepayer's electric bill.
The solar advocates want to get three-quarters of that cost back at first, then half back, and then by 2021 an undetermined amount after the PUC figures out a new net metering price.
The utilities — backed by the consumer advocate — would rebate no distribution costs back. Furthermore they would use a new multidirectional meter and credit in real time, which would mean a much smaller credit would be netted.
But such a move, argued solar advocates, would encourage more usage at peak — the very opposite of what utilities want to happen, though the utilities contend that this isn't true, particularly during the winter.
The Carsey report does raise the question: net metering might subsidize the solar industry somewhat, but does that investment bring back a better return than investing in a new gas pipeline?
Bob Sanders can be reached at bsanders@nhbr.com.