Distilling an entrepreneurial path
Iraq veteran crafts spirits in Seabrook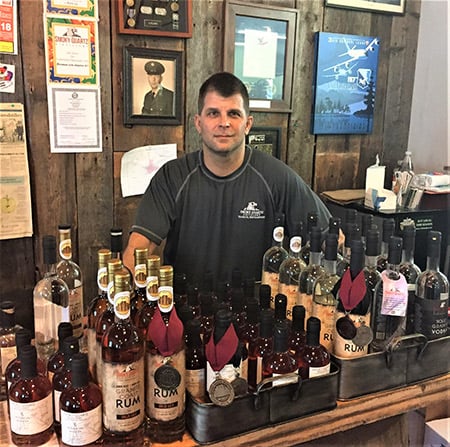 Many entrepreneurs have a distinctive starting point for their idea. But Kevin Kurland's may actually be unique.
The idea for Kurland's Smoky Quartz Distillery in Seabrook came almost a decade ago while he was serving a second tour in Iraq as an intelligence specialist with the NH Air National Guard. Kurland, a 50-year-old mechanical engineering graduate from the University of the New Hampshire, read an article in The Wall Street Journal about the emerging boom in craft liquors – this while his base was under periodic mortar attacks. All things considered, he determined that when he returned home it might be a good way to be his own boss and start a veteran-owned business in a nascent industry.
His dream hardly happened overnight. While working full time as an engineer and serving in the Air National Guard (he retires this month as a master sergeant). Kurland began doing research, took workshops, learned about distillery operations and began formulating a business plan. This level of patience and planning complements the distilling creation process.
"We finally began implementing it in January 2013, found a building in June 2013 and opened in May 2014," Kurland explained with engineering precision.
The "we" is a V5 (veterans team of five) of family members who have helped the business grow from scratch to expected output of 600 cases of craft liquors in 2017: his father Frank Kurland Sr. and uncle Ken Kurland, who installed the intricate piping system; his brother Frank, who handles out-of-state distribution; and his stepfather, Dean Loomis, the distillery's electrician.
New Hampshire gem
The name of the popular V5 Bourbon — which accounts for 50 percent of company sales — is a tribute to the veteran teamwork ethos that Kurland said is the fundamental strength and a point of pride for his business.
"I am concerned about the way veterans are sometimes portrayed by the press and media," says Kurland. "I want the public to realize that, for most vets, their service has been a positive influence in their lives."
"I am concerned about the way veterans are sometimes portrayed by the press and media. I want the public to realize that, for most vets, their service has been a positive influence in their lives and that they wouldn't be the person they are today without that experience," Kurland said.
The Smoky Quartz Distillery and store, located on Lafayette Road in a former warehouse, is named after the official New Hampshire gem, smoky quartz. Kurland said that all Smoky Quartz spirits — Solid Granite Vodka, Granite Coast Rum, Granite Lighting Moonshine and V5 Bourbon Whiskey — are handcrafted in small batches and artfully distilled from only the highest-quality ingredients.
"It's important to me to get locally sourced, organic-certified grains and Grade A molasses grown in the United States. Even our bottle glass is made in the USA," Kurland said.
Smoky Quartz Distillery is part of a fast-growing craft distillery sector with practitioners in every region throughout the state. Though his rum and bourbon have won multiple awards at national and international competitions in the past two years, Kurland said the challenges for long-term success are less about perfecting product and expanding the market than onerous regulations.
"New Hampshire state regulation makes it difficult to have festivals and events at distilleries. Navigating other states' liquor regulation is also a large headache," he explained. "Equally insane is the amount of federal regulation and paperwork concerning labels, bottles, recipes and manufacturing. I must follow the same regulations as Jim Beam or Jack Daniels. The spirits industry also has an extremely excessive federal and state tax burden that is greatly inhibiting my growth. If it wasn't for the regulations, I feel my business would be at least triple in size by now and would employ at least a dozen people."
Brown liquor popularity
Kurland has taken advantage of the access that living and working in New Hampshire present. He thanks the NH Liquor Commission for promoting craft distilleries like his, and in 2015 he contacted the office of senior U.S. Sen. Jeanne Shaheen about increasing access to military exchanges and giving preference to vet-owned businesses.
"After several conversations and meetings, she included an amendment in the defense appropriations bill to promote and supporting vet businesses," he said.
Though vodka was the first product the company released in 2014, Kurland said it doesn't offer a strong "growth platform." But sales of the V5 Bourbon Whiskey — which is aged up to 10 months in specially made small barrels — "are hot because brown liquor has become more popular socially," helped in part by popular television shows such as "Mad Men." Kurland said he hopes to expand his distilling capacity in the coming year and dedicate himself full time to the business in 2018.