DegliAngeli: Times, they are a-changing in Conway
Community 'buy-in' important for new property and zoning proposals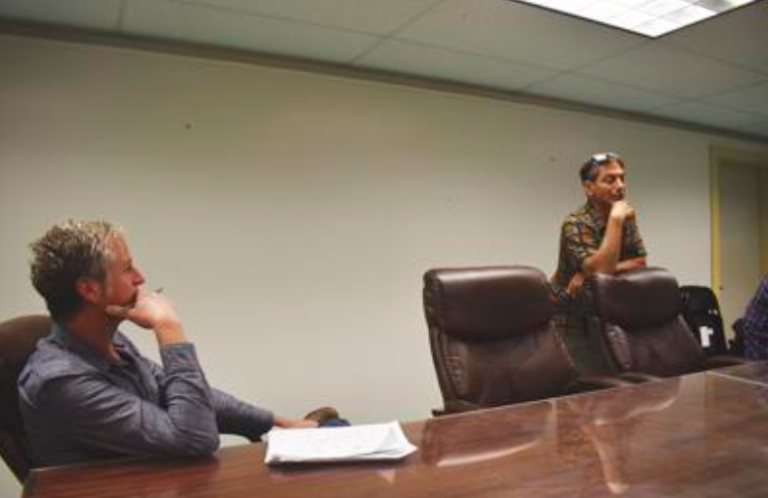 The town is in the midst of reinventing itself on multiple fronts, and now is the time for residents to make their wishes known, said state Rep. David Paige (D-Conway) and Deputy Town Manager Paul DegliAngeli on Monday at a meeting of a Conway Planning Board subcommittee that's examining town ordinances regarding casinos.
The casino committee (aka Appropriate Casino Land Use Ad Hoc Study Committee) — made up of planning board members Mark Hounsell (chair), Erik Corbett and Eliza Grant — met Monday at the Conway Recreation Center's conference room.
The panel was formed in response to an application for a permit to put a sports bar with charitable gaming in the former site of Tiney's Market at Shurfine Plaza in Conway.
In June, DegliAngeli denied a zoning permit to the casino aspect of the project, and now the owners are appealing to the Zoning Board of Adjustment. The ZBA will hear the appeal Aug. 16.
Community buy-in
Discussed at Monday's meeting was the fact that Conway felt blindsided by the Conway Poker Room and Casino application. The committee was formed to update regulations regarding gaming facilities.
Meanwhile, town officials are trying to address numerous other issues.
During the meeting, DegliAngeli referenced staff's "frustration" with elected officials who don't take staff's suggestions.
"The folks who sit on the boards, whether it's the board of selectmen, whatever, here in Conway, lived in this vacuum, like it was a bubble over Conway, and they never traveled anywhere and saw what was coming," said DegliAngeli."So, now we have boards with new blood, doing exciting things. And they're pondering questions that staff has been pondering for over a decade."
An idea DegliAngeli floated is that the town could start requiring commercial developers to build housing when they build a commercial project.
DegliAngeli also suggested extending the hotel construction moratorium another year. The planning board may opt to ask voters for that in April.
"I'm quite certain you can count on planning board members approval for the extension," Hounsell said.
Grant said the justification for extending the moratorium would be that when the master plan is done, the town will still need to work on its zoning ordinances.
Changes are being proposed all at once, said DegliAngeli. Those include rental licenses/inspections, master plan updates, zoning rewrites, a "benchmark" court case on signage (Leavitt's Country Bakery and possibly Settlers) and casinos.
"I actually think we have really good community buy-in for change right now," said Grant, adding there is consensus now that investing in the master plan is necessary.
"The money that goes into things like the master plan and zoning rewrite is actually money that we're going to feel like is well spent in five years when we're not driving by hotel, casino, hotel, casino, hotel, casino, down the strip," she added.
As for the casino, DegliAngeli and subcommittee members expressed the belief that the current zoning regulations do not allow for the Conway Poker Room to be approved.
However, the ZBA may or may not agree, and the courts may also intervene. For example, a few years ago, the town claimed its ordinances prohibited short-term rentals in residential areas, but the Carroll County Superior Court and later the New Hampshire Supreme Court both overruled the town.
DegliAngeli suggested the committee ask members of the public to make their voices heard to the Zoning Board of Adjustment prior to the Aug. 16 hearing.
Hounsell agreed, saying, "We encourage people to reach out to the ZBA."
Casino proposals
The ZBA consists of chair John Colbath, Andrew Chalmers, Richard Pierce and Jon Hebert.
Grant suggested that the proposed casino could be blocked by local zoning.
"State laws about permitting charitable gaming explicitly say that you cannot have a permit and you cannot operate unless you are abiding by all New Hampshire state building codes, local building codes, ADA accessibility laws and all local zoning laws," said Grant.
DegliAngeli said it's possible that Conway could one day be asked to look at another casino proposal and committee members agreed that any new regulations should be as clear and precise as possible in the event that happens.
At the end of the meeting, the committee members and Paige summarized what they felt were the takeaways from the hour-long discussion.
"As a listener in this meeting, I'd say the most important things that came out of this meeting are speak up, and this (the Conway Poker Room and Casino proposal) is with the ZBA," said Paige. "I think that's what's important for people in Conway to know, is who owns the next step and how to make their voice heard."
The general email for town government is conway@conwaynh.org.
Letters to the zoning board can be mailed to P.O. Box 2680, Conway, NH 03818, Attn: ZBA.
This article is being shared by partners in The Granite State News Collaborative. For more information, visit collaborativenh.org.