'Deconstructing Stigma': One piece, and one traveler, at a time
Powerful mental health exhibit at Manchester airport a step toward raising awareness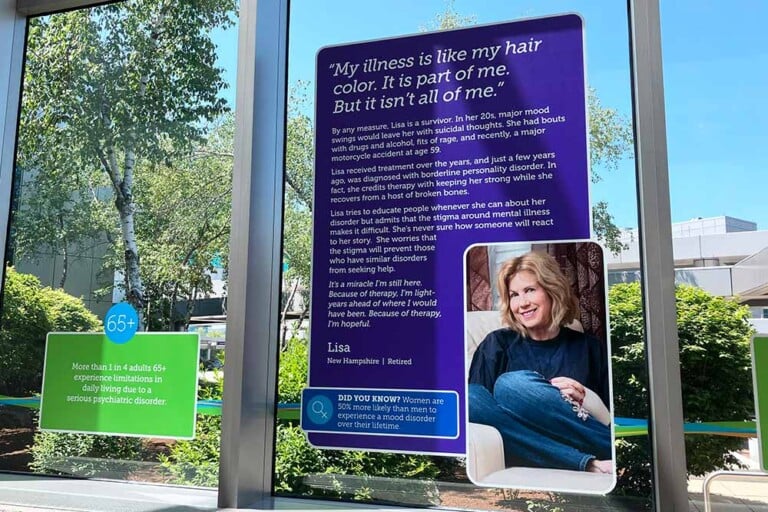 In May, New Hampshire saw the unveiling of the state's first exhibit of "Deconstructing Stigma: Changing Attitudes About Mental Health," which will be on display for the next year at the Manchester-Boston Regional Airport. MHT, McLean Hospital, and the NH Community Behavioral Health Association collaborated to bring this inspirational exhibit to our state and highlight stories of people living with mental illness.
As CEO of the Mental Health Center of Greater Manchester, I am so proud that our city hosts this exhibit, which is part of McLean Hospital's international mental health awareness campaign. The portraits of individuals who have volunteered to share their faces and stories for the exhibit are powerful, moving, and a beautiful way to humanize mental health challenges.
Deconstructing stigma is just one piece of a broader effort to change how we perceive, understand and address mental health challenges. All of us in the community mental health system knows the damaging impact of stigma on the adults and children we serve who need empathy, understanding, and support, not disdain. This is why the NH Community Behavioral Health Association, representing the state's 10 community mental health centers, took a lead role in bringing this exhibit to Manchester.
The MHT exhibit includes the portraits and stories of several volunteers from New Hampshire who attended the opening in May and spoke eloquently about their struggles with mental illness as well as the stigma that still persists around it.
Mental illness touches so many of us in the United States: one in five of us is living with mental illness now, and almost 50 percent of us will experience it at some point in our lifetimes.
Part of the reason that mental illness has increased so dramatically in recent years is the Covid pandemic and the lack of access to care, which can be traced to workforce shortages and other challenges in healthcare systems in general. But a person in a cardiac emergency is not told to wait patiently for care, while someone in a mental health crisis is. That can be traced to stigma.
"Deconstructing Stigma" was initially launched in 2016 with an installation at Logan International Airport. Since then, McLean Hospital has partnered with airports and other public venues worldwide to create similar exhibits.
Why airports and why MHT? There are over 1.3 million travelers who passed through Manchester-Boston Regional Airport in 2022, and the location of the "Deconstructing Stigma" exhibit – across from Baggage Claim 3-5 – is right where passengers and families who come to greet them, and airport and airline employees are most likely to gather.
The exhibit is not intrusive: it fits in smoothly with the airport's design and aesthetic. The portraits of the volunteers are mounted on a wall of glass, but the posters don't compromise the light or the views of the greenery outside. It brings one's eye to the portraits of people who look like you and me – who could easily be you or me – and then draws one in to read their remarkable stories.
How these people overcame stigma to address their mental illness and the other challenges in their lives is moving and an inspiration.
"Deconstructing Stigma" will help to spark interest, inspire conversations, and lead to the realization that we all have a role to play in breaking down stigma and building a more inclusive and supportive society for everyone in our communities. Please visit the Manchester-Boston Regional Airport soon to see this powerful exhibit and talk about it because talking about it is the first step towards ending stigma for everyone.
Patricia Carty is CEO and president of The Mental Health Center of Greater Manchester.