Deal with state clears way for fifth Glen House Hotel
Executive Council OKs long-term lease of Auto Road property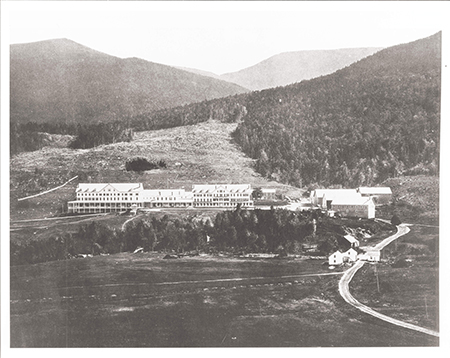 Approval by the Executive Council of a long-term lease agreement between the state and the Mt. Washington Summit Road Company is being seen as a key step in securing $14.3 million in financing to build a new Glen House Hotel.
The 17-year agreement was required in order for the Mt. Washington Summit Road Company – which has been leasing three summit parking areas since 1975 – to obtain financing for the project.
The 67-room facility would be located on an 18.16-acre parcel in Pinkham Notch that most recently had been home to the Great Glen Trails building – a structure that was destroyed in an explosion and fire in 2001.
With the deal in place, it's expected that construction will begin in May 2017.
According to The Berlin Daily Sun, the back of the hotel will face Mount Washington and a first-floor patio will allow guests to enjoy that view. About half of the rooms will have back balconies. The first floor will include an indoor pool, dining room, commercial kitchen, and a small number of guest rooms. The bulk of the guest rooms, however, will be on the second and third floors.
The exterior design calls for a simple New England style hotel with clapboards, painted trim, and the signature chimneys.
The hotel will be the fifth Glen House on the property. The first Glen House opened in 1852. It burned in 1884 but was rebuilt on an even grander scale, including the longest veranda in the world. The second hotel lasted only eight years before fire struck again.
Two subsequent smaller Glen Houses served guests in winter and summer into the 1960s.