David Nixon's death reminds us what we've lost
There was a day when elected leaders were dedicated to responsible governing and had a commitment to the common good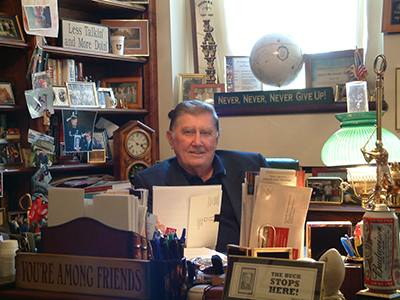 On Nov. 1, David Nixon – father, lawyer, legislator, community leader and, frankly, a man whose contributions to his state, to the practice of law and to ensuring justice could fill volumes – lost his battle with cancer.
I remember the first time I met David. I was 30 years old, pregnant with my second child and had just been elected to the 1984 Constitutional Convention. I was assigned to the executive committee, which consisted of nearly two dozen men and two women – myself and a Seacoast resident named, Catherine O'Brien (who went on to become a legislator and my seatmate in the General Court and, in 1992, took on the title of press secretary for my campaign for governor).
The chair of the committee was the former Republican Gov. Lane Dwinell, the vice chair was the former Republican Senate president David Nixon and Bruce Rounds, the House Republican majority leader, was also assigned to the committee.
As I look back, it was the influence of these three Republican men that changed my life forever.
Lane, David and Bruce role modeled fairness, encouraged leadership, supported participation and were prepared to hand over responsibility to those of us eager to learn and become valued players.
All three men have now died or moved away and yet, unbeknownst to them, I have told and retold the story of my start in politics and my love of them in every conceivable venue.
I am eternally grateful but heartbroken that I waited so long to say thank you. But, I am even more distressed.
In today's world of politics defined by extremism, distortion, unrelenting hostility, intolerance, an unwillingness to compromise, and now reinforced with the toxic brew of unlimited pots of anonymous cash that threaten the very idea of an open, transparent democracy, it is impossible to imagine a Republican governor, a Republican president of the Senate and a Republican House majority leader grooming a young liberal female to become part of the political process.
We deserve elected members who are dedicated to responsible governing and are defined by a commitment to the common good. A pox on us if we have driven them from serving.
The world is in turmoil, the dismal political turnout across the U.S. in the last election suggests apathy at best, but more likely disgust.
Things must change, our democracy feeds off the likes of a Dwinell, a Nixon and a Rounds, but today, it is pathetically clear, our democracy is on life support.
Arnie Arnesen is a radio host and former Democratic nominee for governor and Congress.