Daniel Webster MBA a 'premier' graduate program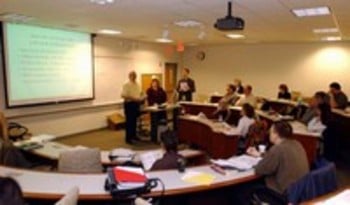 Daniel Webster College in Nashua has long been recognized for its excellence in undergraduate degree programs. Now that recognition can extend to its graduate program as well, with the introduction of a 20-month MBA program.
"We've spent two years developing this program," said H. Alan Goodman, dean of graduate and continuing education studies at Daniel Webster. "We wanted to make our MBA program the premier program in the region."
Designed for today's busy professional, classes meet one night a week for 20 months for a total of 39 credit hours and is fully accredited by the state Department of Education and the New England Association of Schools and Colleges.
With a commitment to quality, Goodman said, "the program is selective and competitive."
Basic requirements include three years of work experience, an undergraduate grade point average of 3.0, a minimum age of 25, two letters of recommendation and an admissions essay. However, said Dean Goodman, "we emphasize the whole person," and some students may be considered on a conditional basis.
Daniel Webster's MBA program is based on a cohort model in which a group of students starting the first class together remains together throughout the program. Students meet one night a week on campus for lectures and discussions, then supplement the classroom with meetings outside of class or on line to work on group projects.
"The cohort model fosters strong team relationships, and students learn from shared experiences," said Goodman.
Classes are divided into six-week modules covering such topics as leadership, marketing, finance and operations management as well as a final project.
A quality master's program depends on quality faculty. While many other intensive MBA programs rely solely on adjunct faculty, Daniel Webster's program is primarily taught by full-time instructors from the college.
Cohorts typically begin in January, April and September at both the Nashua campus and the Portsmouth campus at the Pease International Tradeport.
Daniel Webster also offers a variety of other programs geared toward the working professional, such as the EXCEL degree completion program and Internet-based distance education programs.
For more information about these programs and others, call Daniel Webster College at 577-6000 or visit www.dwc.edu.