Cynthia Read of Granite United Way
2013 Financial Executive of the Year winner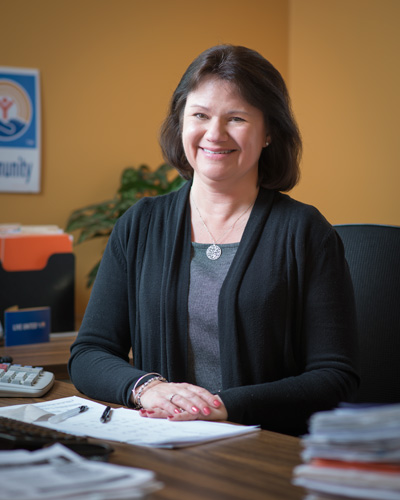 When Cindy Read was in high school, she – like most others at that age – wasn't sure what career she wanted to pursue. So, naturally, she took a short career questionnaire, which told her she'd do well at accounting.
"And I just went with it," said Read.
The questionnaire turned out to be a good career coach for Read, who ended up going on to Bentley University for her bachelor's in accounting and becoming a CPA.
Read kicked off her career as a staff accountant at Nathan Wechsler in Concord – where she met her husband – before joining Liberty Mutual as a benefits accountant. She loved the job, but not the commute, and after having her first child decided to transition to part-time work.
So in 1995, Read began her career in the nonprofit sector as finance director of the United Way of the Merrimack County. The position was such a good fit, she never left.
And, several years ago, when her United Way began the complicated process of merging with other United Ways in New Hampshire, Read was instrumental in the transition, conducting due-diligence reviews, integrating financial systems and reporting, payroll and benefits, among many other duties.
The mergers led to the creation of Granite United Way, which is made up of six former United Ways across New Hampshire.
In recognition of her talents, Read was offered the position of CFO of the new organization, which is more than four times larger than the United Way at which she had formerly worked. It raises nearly $7 million annually, covers 80 percent of the state and provides services to more than half-million people.
The mergers were such a success that the national United Way holds Granite United Way up as a model for other United Ways across the country.
"Cindy's work ethic, expertise, integrity and strong leadership skills were absolutely critical to the success of every merger," wrote Jeremy Veilleux, principal at Baker Newman Noyes and a board member at Granite United Way.
When she's not at work, the Hooksett resident and mother of two is a longtime volunteer at First United Methodist Church of Manchester.
Q. What has been your proudest accomplishment during your tenure at Granite United Way?
A. The fact that I was asked to be the CFO when they first did that merger. That was an honor, and I felt really privileged that I was given that opportunity. The board made it a part of their merger documents that nobody would lose their job, which is fabulous – you don't really see that in mergers and acquisitions to make sure all staff had a place still.
Q. What have been some of the biggest professional challenges you've faced in your career?
A. Being a manager now is a challenge, only because a lot of us accountants like to be behind the scenes just crunching numbers, and now I have a wonderful finance staff. But that's been more of a transition than a challenge. The challenge is communicating financial statements and financial positions in an easy-to-understand but not dry manner to the board and staff. Reading financial statements is not everyone's favorite thing.
Q. What are your hobbies/personal interests?
A. You could label me, I guess, as a soccer mom. My kids have always played a lot of sports, and I try to make every single game – soccer, basketball, track and field. We do a lot of camping with friends and family. We like to be outdoors a lot. I volunteer at church in quite a few capacities — treasurer, and a trustee, and I've taught Sunday school.
It's not really a hobby, but something I'm proud of: Last May I went on a mission trip to Haiti with a group from Manchester, Vision International Missions, that opened an orphanage there. We got to work in the orphanage, and the best part is my sister and my daughter were with me.
Q. Looking to the future, what are some of the challenges and opportunities that you see on the horizon for Granite United Way?
A. Our challenge is to focus even more on efficiencies in internal systems. We have expanded our internal programs to include six volunteer income tax assistance sites; we just started an Emerging Leaders Society, an under-40 group to promote philanthropy; we are working with a large donor on literacy; of course we have the Manchester homeless service center that we partner with; and 211, a United Way program like 911, an information referral system for all the services in the state of New Hampshire.