CVS enlists Kamen's Deka in developing home-dialysis machine
Human trials started for potentially game-changing device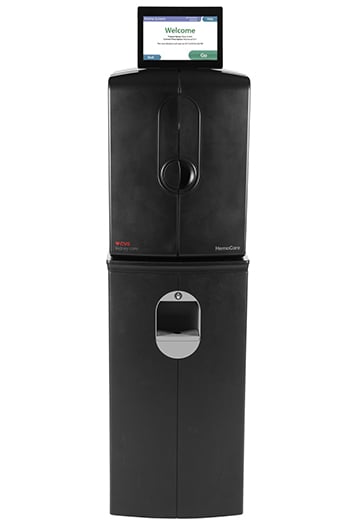 Human trials have begun on a home-dialysis machine designed by entrepreneur Dean Kamen's Manchester-based Deka Research & Development Corp., a major step in what could revolutionize the way people with end-stage kidney disease are treated, according to a report by Bloomberg.
The device, called CVS HemoCare, is being tested by CVS Health Corp., which sees the it as a potential entry into what is a $35 billion market.
Currently, most people who need dialysis treatment visit outpatient dialysis clinics on a three-times-a-week basis.
Bloomberg reported that CVS has been working with Deka since 2017 on the device, which uses a distillation system, avoiding the need for using large amounts of purified water – long a major roadblock in developing home dialysis machines.
According to Bloomberg, the distillation system is the size of an under-counter refrigerator. The top portion of the device does the dialysis and has a touch screen to simplify the setup process.
Another benefit of the device, CVS Executive Vice President Alan Lotvin told Bloomberg, is that it is designed to limit the amount of supplies needed for dialysis. "You don't need whole room in your house dedicated to supplies," Lotvin said.
The 70-patient trial assessing safety and efficacy will be held at as many as 10 kidney centers in the U.S. The Rogosin Institute, a kidney-treatment center in New York, will be the initial trial site,
Bloomberg said CVS's goal is to complete the 70-patient trial and obtain regulators' OK to market the device by the end of 2021.
Kidney care eats up about 20% of the annual budget for Medicare, the federal health-care program for senior citizens, with much of the spending going toward dialysis.