Cushman & Wakefield picked to market Tuscan Village office space
Cross-border marketing effort planned for 1.3 million square feet of office/medical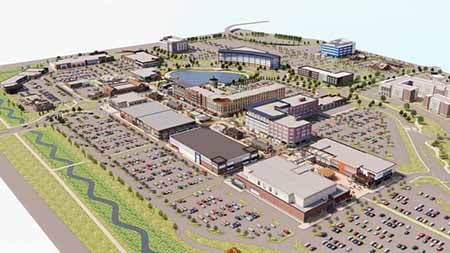 Cushman & Wakefield has been chosen as the exclusive leasing agent for the Offices at Tuscan Village in Salem, part of the massive Tuscan Village mixed-use development taking shape near the Massachusetts border.
All told, the 170-acre Tuscan Village, will total 2.8 million square feet when completed, including 800,000 square feet of retail shops, a health club, two hotels with conference facilities, 800 residential units, an entertainment district and a range of restaurants. The site will also feature 1.3 million square feet of Class A office and medical space.
The project is being developed by Joe Faro of Tuscan Brands.
The project is a low risk, "shovel ready" space solution located in a low tax environment that is ideal for fast-growing companies looking to expand, according to C&W's Manchester-based team of Tom Farrelly, Sue Ann Johnson and Denis Dancoes, who will work Michael Dalton of the firm's Boston office team on the cross-border marketing effort.
"Tuscan Village will be very attractive to Massachusetts companies because of its location just over state lines and its incredible highway access," said Farrelly, the lead broker. "This development will change the face of southern New Hampshire, as it truly is the first of its kind in the region."
Phase I of Tuscan Village, situated on 50 acres, is complete and consists of townhouses, 256 apartments, a Ford dealership, retail shops and a new Market Basket supermarket. Phase II is currently underway with $45 million in road work, drainage and utility work fully approved and financed and completion anticipated in May.