Construction industry suicide prevention effort launched
15 organizations join national initiative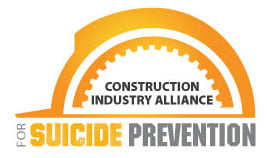 With more than 15 organizations pledging support, the Construction Industry Alliance for Suicide Prevention has launched a broad-based communications and outreach initiative aimed at proactively promoting suicide prevention and mental health awareness.
Established by the Construction Financial Management Association, the alliance has provided the member organizations with resources aimed at educating their memberships about suicide, the specific risk to the construction industry and how to organize suicide prevention summits.
According to the alliance, the segment of the population most susceptible to suicide "dominates the U.S. construction workforce."
A study released earlier this year by the U.S. Centers for Disease Control and Prevention found that construction workers are among those who run the highest risk of dying by suicide.
The study found that fishermen and farmers commit suicide at the highest rate of any profession – 85 per 100,000 workers. That was followed by people who work in construction and extraction, who had the second-highest rate of suicide – 53.3 per 100,000.
Stuart Binstock, president and CEO of the CFMA, said it is "an industry imperative to provide resources to assist construction companies so that they may address this issue which has long been ignored. There is a need for more proactive, prevention-based strategies, solutions, and services to help the construction industry address mental health and suicide prevention."
Various resources, including "blueprints" for companies, posters in English and Spanish for display at workplaces and information and tips on how to plan an education session or suicide prevention summit can be found at cfma.org.
Alliance member organizations include the Arizona Rock Products Association; Associated Builders and Contractors; Associated General Contractors of America; Association of Equipment Management Professionals; BKD; The Carson J. Spencer Foundation; Construction Industry CPAs and Consultants; International Risk Management Institute; Mechanical Contractors Association of America; National Asphalt Pavement Association; National Association of Surety Bond Producers; National Association of Women in Construction; National Electrical Contractors Association; Perspectives Ltd.; Pine Rest Christian Mental Health Services; and Screening for Mental Health.