Connection's business booms as enterprise sales dominate
Second quarter earnings smash previous records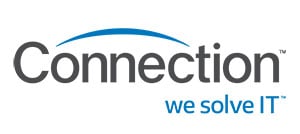 Thanks to large customers, including the U.S. Department of Defense, Connection smashed previous records for quarterly sales and gross profits in the second quarter of 2017.
The Merrimack technology products company's earnings report further vindicates its strategy to transition away from its legacy catalogue sales business, developed under its former name PC Connection, into a company that provides complete technological solutions for large businesses.
Quarterly sales are up year over year by nearly 11 percent to three quarters of a billion dollars, a new record, as was its gross profit of $100 million. Net income was up 9 percent to $13.6 million or 51 cents a diluted share.
That brings total sales for the first half of the year to $1.4 billion, a 13.8 percent increase, with a net income of $21 million (a half million-dollar decline) or 81 cents a diluted share.
Much of this business is from large companies. Sales of enterprise solutions (i.e. large accounts) were up 12.1 percent to $302 million, passing the business solutions (small and midsized businesses) as the company's top sales sector. Sales of networking products led the way among large accounts, growing 60 percent over last year.
In the public sector, growth was modest in state and local government purchases, but federal government spending increased 45 percent. That was primarily driven by defense spending, according to an earnings call following the release.
In terms of "vertical sectors" there was a bit of a slow down in health care.
"The new administration I think, as you know, has been talking about either repealing or replacing the Affordable Care Act," said CEO Tim McGrath, according to the earnings call transcript from Seeking Alpha. "And I think that for right now the health care space is taking a little bit of a pause where they figure out sort of where we go next."
However, there was a 44 percent growth in the large account retail sector, and "good growth in manufacturing and financial" so despite health care, "we are pretty bullish."