Connecting the public with the awe and wonder of the natural world
A lot of IT work goes on behind the scenes at the Mount Washington Observatory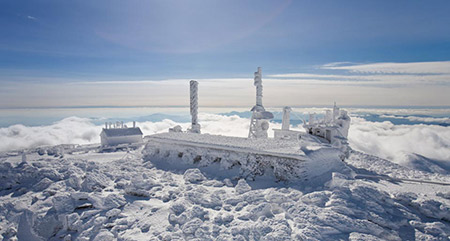 Mount Washington Observatory is a private, nonprofit, member-supported institution with a mission to advance understanding of the natural systems that create Earth's weather and climate. As the lead of technology systems at the Observatory, our team needs to manage a number of tech components in order for our organization to accomplish its mission. We are responsible for maintaining technology in two facilities – a mountain top weather observatory and a remote weather station.
Mt. Washington Observatory conducts research on weather and climate patterns that we can share with key constituents like the National Weather Service. We also leverage that research to bring educational services to students and the general public. In order to make this mission a reality, our facilities rely on an intricate web of technologies and networks that allow us to collect meaningful data and share it with the world.
Mount Washington Observatory's mountaintop weather station (elevation: 6,288 feet) is the core of the institution. Staffed continuously since the organization's founding, it is operated by two alternating crews who live on the summit for a week at a time. The crews take hourly weather observations, perform research and conduct educational programs. With detailed climate data dating back to the organization's founding in 1932, the Observatory maintains what is now one of North America's longest continuous climate records.
Weather observations are reported to the National Weather Service for use in nationwide forecasting models and regional reports, and Observatory scientists produce specialized forecasts for the higher summits of the White Mountains and greater White Mountains region.
As an international resource for weather and climate education, Observatory staff conducts classroom and distance-learning programs; museum workshops and symposia; and educational trips to the summit in summer and winter.
Challenges
In order to deliver the best educational services, the tech team is tasked with ensuring that all of the facilities' technologies are running smoothly and reliably. This poses a variety of challenges based on our location, the unpredictable weather, and our resources as a nonprofit organization.
Geography: Our facilities are fairly remote, meaning our choice of technology service providers is critical to our operation. We tap FairPoint Communications for Internet service and Ethernet Local Area Network (E-LAN) technology that allows us to connect our multiple locations. FairPoint's fiber network infrastructure allows us to maintain high-speed connectivity across our facilities that span 17 miles.
Reliability is absolutely critical for our network. We have a contract with the National Weather Service to provide weather data every hour on the hour. We are also expected to deliver quality educational services to our base facility and classrooms across the state through our distance-learning initiative. Our connection to the outside world is the key to conducting research and creating educational content to benefit our members and the broader community.
Climate: With extreme and unpredictable weather patterns, every day poses a unique technology challenge. Our team has enough trouble keeping the weather gear and measurement tools up and running during the winter. We can't be worried about the network failing or other key communications systems going down.
Back-up plans are a must at the summit. An ice-storm or severe winds can easily take our satellite services offline so we must leverage our data network to maintain communications.
Budget constraints: Financial resources for a nonprofit like ours are tight. We get most of our funding from annual fundraising events like the outdoor Seek the Peak event, which we run each July. Every dollar of our budget and every hour of my team's time matters; and we need to be able to prioritize managing our key data collecting systems that create benefits for our members. Technology is the lifeblood of our organization, connecting us to the rest of the state, country, and the world, and ensuring the success of our important mission.
It may seem like Mount Washington is an inhospitable place, ill-suited for the high tech measuring tools that we need to operate our weather station. But our technology systems allow us to overcome this challenge to provide essential data for meteorologists, and create meaningful educational programs to advance understanding of the natural systems that create Earth's weather and climate.
Peter Gagne is IT manager at the Mt. Washington Observatory.