Concord criticized over lack of diversity on city committees and boards
While the city published an equity and diversity policy, no committee or council appointments are being made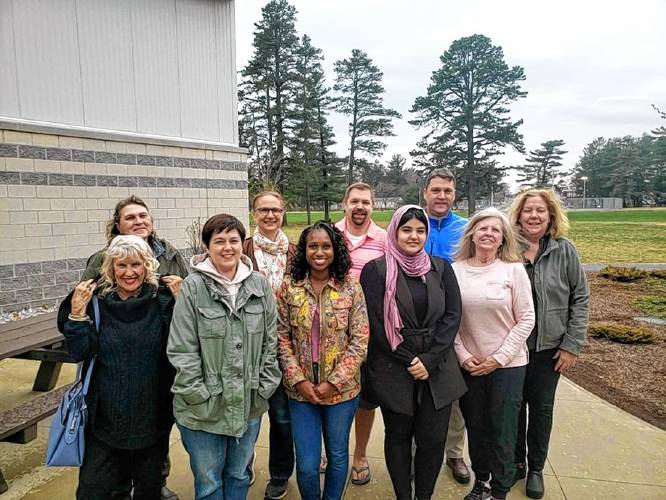 When Kevin Porter had an idea for private management of public timberland in Concord, he turned to the city's Conservation Commission. As the owner of a tree farm, he thought his idea would protect the land, lead to healthier forests and help the city.
The 10 appointed members of the Commission rejected his proposal. Frustrated, he dug deeper and discovered they had little to no professional experience in agriculture or timber production.
He quickly began to focus on an issue that has little to do with trees: the overall lack of diversity on Concord's boards and committees. 
"There is a complete lack of imagination on the Conservation Commission, which stems from a lack of diversity," he said.
Members of Concord's immigrant community see the lack of diversity too and want city leaders to quickly become more inclusive.
"What we need is not food stamps or anything like that. We need to understand the system and be part of it," said Fisto Ndayishimiye, a 2019 graduate of Concord High School.
Porter took his concerns to Stacey Brown, the Ward 5 City Councilor who sits on the commission. After their conversation, Brown encouraged him to write a public letter to the city council. 
At Monday's meeting, Porter's letter was included in the agenda. 
"The City of Concord has published a purported equity and diversity policy, but at least as far as appointed commissions and committees go there appears to be no actual action being taken around this policy," he wrote. "This is misleading and counterproductive and is at best lazy and at worst a manifestation of the legacy of past practices and systemic issues that maintain the status quo for those in power." 
Porter, who moved back to the Concord area eight years ago, said he was told information about the racial, ethnic and occupational diversity on city boards and committees is not tracked. 
"Serving on city commissions and committees brings with it business opportunities, resume-building, connections and access," he wrote. "They are also often a stepping-stone to running for elected positions. There are innumerable and long-lasting ripple effects when historically underrepresented groups continue to not be appointed to these institutions."
In the letter, he also shared the experience of his wife, who attended Concord High School years ago as a non-white student. She was told that she was only accepted into a selective college because of her skin color, he wrote. 
She was salutatorian and honor society president at the time. 
When Brown heard of Porter's concerns, she began to look into the diversity of city commissions and committees herself. She found only three people of color across the city's 59 committees and commissions. 
The committees vary in procedure, power and scope. Some have term limits. Some have designated seats, like the Recreation and Parks Advisory Committee which has a reserved seat for a Concord school district representative. 
Some, like the Energy and Environment Advisory Committee, are appointed by the mayor. Others, like the Regional Planning Commission are nominated by the planning board and appointed by the city council. 
 At Monday's meeting, Brown proposed the creation of a new committee to look at the diversity of established boards. Although Mayor Jim Bouley did not think an adhoc committee was necessary, he recognized her concerns.
"It is always a challenge to do appointments," he said. "I'm always looking for new people."
One voice he thinks is missing from city commissions is that of a renter on the planning board, he said. 
Bouley did not respond to a request for additional comments. 
Now, Brown is looking through each committee on her own and using vacancies as an opportunity to suggest more representative voices to fill seats. 
"What makes a difference is having representation at the decision-making table," she said. 
The Board of Ethics, for example, has six seats. Currently, five of them are vacant. 
Diverse voices
For New American residents in Concord, the lack of diversity in the city's committees and commissions means they often miss out on decisions made and the process behind it, said Clement Kigugu, director of the Overcomers Refugee Service. 
"We are in this city, we are also taxpayers, we deserve to know those details and information, even if it is small," he said. 
It also means less advocacy for issues specific to the New American community – like making sure communication is accessible from the dates on court papers to signs for parking meters, which are a struggle for many residents. 
"They have some challenges and barriers that really need people to be there to present what is needed in the community," he said. "I really encourage the city to find a way to integrate the New American community to be a part of the decision-making and the community." 
Kigugu recalled a few years ago when there was an issue with New Americans driving without a license in Concord. After meeting with city and state officials, they were able to hire a new driving instructor specifically to teach New Americans. This is an example of finding solutions when New Americans are involved in the conversation, he said.
For New Americans growing up in Concord, it is disheartening to see a lack of representation in the city's leadership. 
"What I came to understand is that we have leaders who don't understand what New Americans need," said Ndayishimiye, who is from the Democratic Republic of Congo, and was recently selected to be a member of Leadership Greater Concord. The program will allow him to learn more about civic engagement in the Capital Region through meetings with the governor, mayor and Concord police. 
When Ndayishimiye learned about laws in the United States, there were clear differences from his home country, which presents a learning curve for New Americans, he said.  
He believes city leaders could do a better job helping the New American community as they adjust to life in Concord. 
"It is our leaders' responsibility to come in and learn about New American needs, learn about what we need and our culture," he said. "Understand who we are." 
When he sees the city's all-white leadership, it's reflective of the country's history. 
"We have leadership that is systemic racism," he said.
Due to her involvement in the Multicultural Festival, Jessica Livingston often finds herself as a liaison to connect people to the New American community, she said. She hopes that isn't necessary as the city becomes more diverse. 
"If they are really committed to diversity and equity then they should be fostering those relationships on their own," she said. "The city is very homogenous in terms of leadership and decision-making but the city residents are not homogenous, we are very diverse." 
According to the 2020 U.S. Census, 8.9 percent of people in Concord are not born in the United States. Census data also shows that The Heights neighborhood in Concord is one of the most racially diverse in the state. Only 66.1 percent of people identify as "white only." 
"Our city has changed so much. Our whole society has changed so much. But yet the makeup of the city council hasn't changed much and the way that the city is run," she said. "They are not being intentional with engaging with the community and doing the outreach within the community." 
Going forward
Although the city has an official diversity and inclusion statement, and city council members underwent diversity equity training at the end of last year, Brown feels the Council should be more intentional in their recommendations for committee appointees. 
A recent article in New Hampshire Municipal Association's Town and City Magazine, "Pursuing Racial Equity Through Intentional Community Engagement," provides a road map for Brown, she said. 
The author, Haruka Margaret Braun, discusses the importance of normalizing conversations about race, including historically underrepresented groups in conversations and creating long-term solutions supporting racial equity. 
Increasing representation on committees is the first step to influencing conversation and decisions, Brown said. 
"We want to hear from people to encourage community in Concord and if we're just focusing on people who love golf or people who play hockey, we are missing so many other community members," she said. 
She was not considering becoming a city council member until someone recommended she did so, she said. Now she hopes to recommend people for other positions. 
Ghana Sharma Dahal was recently appointed to the board for the City of Concord Public Library Foundation, where Brown is an administrative assistant. Sharma is a Bhutanese New American, who has lived in Concord since 2009. 
Brown reached out to him to join the board to add a new voice to their decisions. This is what she hopes to do with city commissions. 
"This can make it better, our community makes us stronger," she said. "It is what makes Concord livable. We want it to reflect all the different needs of our community."
This article is being shared by partners in The Granite State News Collaborative. For more information, visit collaborativenh.org.