Company workers give Nashua girl a day fit for a princess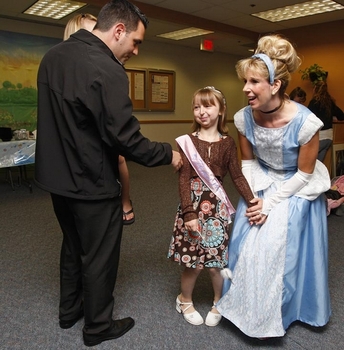 NASHUA – Last fall, Skylah Grandmaison fulfilled a dream by going to Orlando to meet her favorite Walt Disney princess: Cinderella.
On Tuesday, it was Skylah's turn to be princess for a day.
The 10-year-old Nashua girl, who has a rare genetic disorder, walked a red carpet, wore a tiara, waved a wand, smelled some roses and attended a pizza party in her honor – all courtesy of a local company that wanted to stretch her dream out a little longer.
"It's just amazing how wonderful people are and how happy it must make Skylah," said Jessica Lambert, Skylah's mother.
On Tuesday morning, Lambert joined the employees of United Healthcare in watching Skylah and a local Cinderella – played by Kim St. Jacques – wind around the company grounds in a white, pony-pulled, pumpkin-shaped carriage.
The ride was the finishing touch on a morning for Skylah entirely funded by United Healthcare employees.
Each year, New Hampshire branches of that company partner with the Make-A-Wish Foundation to sponsor the big hopes of two children, kids who typically have life-threatening medical conditions.
Skylah was born with an extremely rare genetic disorder called Hallermann-Streiff syndrome, which is characterized by skull and facial malformations and especially eye problems. It seems to be caused by a mutation of the genes and occurs randomly.
Skylah, who is going to be in fourth grade at Charlotte Avenue Elementary School, has the most difficulty with her eyes, Lambert said. She is legally blind and has had three surgeries to relieve pressure.
Still, family members said, Skylah is bubbly, friendly and loves to ride her bike and to roller skate.
Two years ago, Skylah's grandmother, Diane Parent, of Windham, heard about the Make-A-Wish Foundation and sought more information.
"I thought, 'You know what? Skylah's been through a lot,' " Parent said.
As the process moved forward, the family talked about what Skylah might want for her big wish. She settled on a visit with Cinderella.
Last year, United Healthcare donated $6,500 for Skylah's wish: a family trip to Disney World.
Parent said they all "had a blast."
"I went on a roller coaster, and I got wet – soaking wet," Skylah said. "And I went on a playground, and there was a waterslide that went wicked, wicked, wicked fast."
She met Disney princesses Ariel, Aurora, Jasmine, Snow White, and of course, Cinderella.
Then recently, the United Healthcare employees wanted to go a step further for Skylah, said Kelly Galan, regional site director. They wanted to give the girl another special day with all the princess trappings.
For the last few weeks, employees held bake sales, an auction and bought "dress-down" days to raise money for Tuesday's event.
In addition, the employees raised $1,700 for Skylah's needs.
The whole thing sprung tears in Parent's eyes.
"As bad as things are, they still come up with this," she said. "It's unexplainable. She's overjoyed."