Community, school rally around sick boy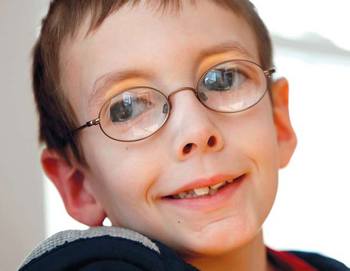 NASHUA – He loves baseball and collecting rocks.
In most ways, Ryan Cavanaugh is your typical 10-year-old boy. He's a straight-A student at Charlotte Avenue Elementary School, where he is in the fourth grade.
His favorite subject is math and he has a passion for drawing.
"I really like to draw bugs and spiders," he said, as he showed off some of his recent work.
But next week, Ryan will have to go through something most people, let alone children, never have to experience. Ryan will undergo open-heart surgery to replace two heart valves and his aortic root.
Ryan has been afflicted with Marfan syndrome, a genetic disorder of the connective tissue, his entire life. He already had open-heart surgery once when he was 21 months old.
He has had surgeries on the lenses in his eyes and he suffers from scoliosis. But his family said they weren't expecting this surgery. The news came as a complete shock, said Angela Cavanaugh, Ryan's mother.
"It's just been emotionally overwhelming," she said. "It's hard. It's taken a toll on all of us."
They haven't had much time to let it sink in. The family found out only within the past few weeks, after a recent MRI. Doctors said the surgery would have to be scheduled as soon as possible.
The family is now in the process of making preparations to stay in a hotel as Ryan is scheduled for the surgery at Children's Hospital Boston on March 12. Cavanaugh said she and her husband Mark are expecting to stay in Boston at least two weeks.
But with all of the hectic preparations and nervousness leading up to the surgery, what has made it easier for the family has been the support of their friends, family and the community at Ryan's school, Cavanaugh said.
Students, parents and school staff are organizing a bake sale and spaghetti dinner to raise money for the family. The spaghetti dinner is scheduled for Thursday evening, with seatings at 5 and 6 p.m.
Nicole Dane, a parent at Charlotte Avenue, said when she heard about Ryan needing the surgery, she talked with the principal and other parents about doing something to help the family.
"I put myself in her place," Dane said. "If my kid was going through something like this, I can't even imagine how I would feel."
Dane said Bob's Pizza is supplying food for the event at a reduced cost and people from the restaurant are coming to the school to cook free of charge. All of the proceeds from the dinner will go to the family.
Ryan had to stop going to school after learning about the surgery to avoid catching any illnesses. Ryan said he is looking forward to going back to school after the surgery.
Angela Cavanaugh said Ryan's teacher has offered to provide tutoring to keep him up to date on his schoolwork.
Kelly Gauthier, Angela's sister, has been at the house helping out. Family and friends have offered to watch the family's two younger son, Liam and Luke, when the parents are in Boston.
"We just wanted to say thank you," Cavanaugh said. "We feel really grateful for all of the support."
Because of his condition, Ryan is not able to play baseball in the city's youth league, even though he begs his parents to play every year.
"It breaks our heart," Cavanaugh said. "He wants to play so badly."
They are hoping to allow Ryan to help coach a team when his younger brother Luke starts playing. Ryan said his favorite Red Sox player is David Ortiz.
Cavanaugh said the family is still working on paying off medical bills to deal with Ryan's condition. But they received some assistance after applying for and receiving Medicaid, she said.
Those wanting to wish Ryan well can send him a message through www.carepages.com or can reach Angela Cavanaugh by e-mail at angelabc@earthlink.net.
The family is well aware of the risk involved with the procedure. Cavanaugh said that while her son isn't fully aware of what next week's surgery will entail, she has felt him become more anxious since learning about it.
Although she's hopeful this will be the last open-heart surgery Ryan will need, Cavanaugh said it's impossible to know.
"We didn't think we'd be going back for this one," she said. "I just think we'll all be breathing better afterward."