Community health centers face uncertainty
ACA repeal efforts, Trump budget plan add to unease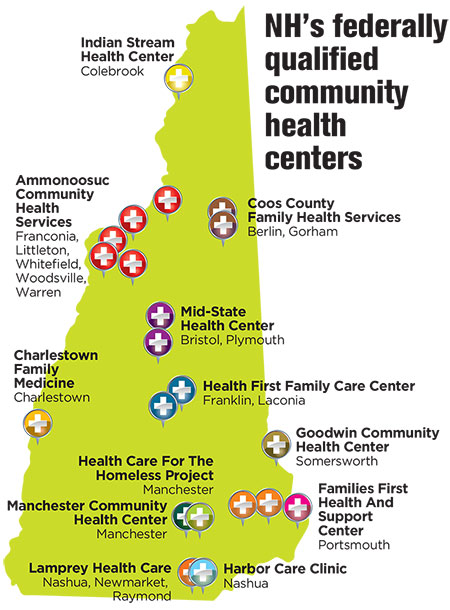 Like many in the health care sector, New Hampshire's 12 community health centers are suspended in a planning limbo due to uncertainty in Washington, D.C.
The combination of Republican congressional efforts to repeal and replace the Affordable Care Act and proposed budget cuts by the Trump administration – which calls for a reduction of $1.5 trillion in Medicaid spending over the next 10 years – could affect the health care system at every level.
But they would have a disproportionate impact on community health centers, which are chartered by federal law to serve any patient regardless of insurance status who walks through their doors and who mostly serve low-income families and individuals.
In particular, according to CHC advocates, the cuts could curtail gains made in the past few years through the ACA's Medicaid expansion in New Hampshire, which
has added more than 53,000 low-income residents since enrollment began in 2014.
And, besides providing primary care services to thousands who didn't previously have it, CHCs have been on the front lines of dealing with the state's opioid crisis.
"It would really be unfortunate to lose the ability to help," said Helen Taft, president of Families First Health & Support Center in Portsmouth.
Taft said that 85 out of the center's 100 most recent substance abuse patients were on Medicaid — coverage that has allowed Families First to increase staff and behavioral health programs to meet the demand. Overall, Taft said, Medicaid expansion has provided coverage to 2,500 Families First patients who previously didn't have insurance. All told, Families First has seen a 57 percent reduction in uninsured clients.
"We have seen a really big increase in preventive care screening, and these patients have been able to have follow-up labs and access specialty care. This only improves outcomes and reduces costs," she said.
State funding doubts
"I've talked to my board about preparing for possible multiple threats of decreased funding," said Jonathan Brown, CEO of Indian Stream Health Center in Colebrook, which serves almost 4,000 patients in New Hampshire and Vermont.
Brown is concerned about not only a decrease in federal funding for CHCs but also decreases in state grants, overall Medicaid funding and a further drop in the complicated Medicaid reimbursement rates. (Republican health care proposals have included capping Medicaid per patient funding and/or creating a block grant mechanism for the states.)
Brown said that audited figures from 2013 to 2016 show the measurable impact that Medicaid expansion and the ACA have had at Indian Stream.
Medicaid reimbursement revenue rose 144 percent due to a 20 percent increase in Medicaid patients, with a 66 percent decline in uninsured patients. Indian Stream, which has an annual budget of about $7 million, has more Medicare patients than the typical CHC due to the North Country's older population.
"Increases of revenue or decreases of expenses have been used to build cash reserves, have strategic capital expansions and adding support and provider staff," Brown said. "We employed seven providers in 2013 and now have 13 and have had a significant expansion of mental health services as well as adding substance misuse. But if these cuts happen, we will have no choice but to reduce services and staff."
Medicaid expansion
Human and Health Services Secretary Tom Price, who visited New Hampshire and talked to Gov. Chris Sununu in May, said in a recent CNN interview that any Republican congressional bill to replace Obamacare and accompanying Medicaid cuts were "absolutely not" going to lead to millions losing coverage.
But the nonpartisan Congressional Budget Office wasn't so charitable in its analysis, which predicted that the Senate Republican leadership's Obamacare repeal bill would increase the number of people without health insurance by 22 million by 2026.
New Hampshire's all-Democratic congressional delegation has opposed both the House and Senate health care plans as well as Trump administration budget cuts.
Freshman Sen. Maggie Hassan, who as governor led the implementation of Medicaid expansion in 2014, told NH Business Review that "thousands of Granite State residents receive their health care — which can include mental health and substance use disorder treatment — through local community health centers, which often rely on payments through Medicaid to stay open. In the midst of the heroin, opioid and fentanyl crisis, we need to increase resources to support treatment, prevention and recovery efforts — and massive cuts to Medicaid would be devastating to these efforts."
In the spring of 2016, Hassan signed legislation to keep New Hampshire's Medicaid expansion in place through December 2018, setting up a potential legislative fight next year. Governor Sununu has expressed both support for what Medicaid expansion has done for the state and has expressed, but has not said whether he supports congressional health care efforts.
Integrated approach
If CHCs are the ground zero of the American health care system, they are also showing how to keep overall growth of health care costs down through their integrated approach to treating the most vulnerable and often most costly segments of the population.
According to the federal Health Resources and Services Administration, 25.8 percent of patients at community health centers in New Hampshire in 2013 were covered under Medicaid, and 33.9 percent were covered under Medicaid in 2015, after Medicaid expansion was implemented.
New Hampshire's uninsured rate dropped by 37 percent from 2013 to 2015 from 10.8 percent to 6.8 percent and, according to the State Health Reform Assistance Network, New Hampshire now has one of the lowest uninsured rates in the country, due in large part to Medicaid expansion.
"Every health center clinician and staff member can attest to the difference having health insurance makes in the lives of patients — in terms of their personal and family security, access to specialty care and likelihood to seek the cost-saving, primary and preventive care services we offer," said Tess Kuennig, CEO of the Bi-State Primary Care Association, which advocates for CHCs in New Hampshire and Vermont.
Kuennig cited a 2016 study by the American Journal of Public Health of 13 high- and low-population states that found CHC Medicaid patients had 24 percent lower total costs of care when compared to similar patients cared for in other settings. Researchers found that health center Medicaid patients had lower utilization and spending than non–health center patients across all services studied, including:
• 22 percent fewer specialty care visits
• 33 percent lower spending on specialty care
• 25 percent fewer inpatient admissions
• 27 percent lower spending on inpatient care
"This record of success is due largely to the unique health center payment, a bundled payment designed by Congress to ensure health centers can fully treat the whole patient, while not diverting other federal investments intended to support care for the uninsured," Kuennig said.
In part because of the ACA and Medicaid expansion, demand for services at Families First in Portsmouth is at an all-time high for its 6,600 clients (of whom 25 percent are homeless) and its 97 employees.
Those services include health and dental in Portsmouth and at a new satellite clinic in Seabrook and through mobile vans in the greater Seacoast region, as well as substance abuse and mental health, parenting and family groups, child care and home visiting.
According to figures from Families First, the organization saw a dramatic increase in Medicaid patients (61 percent), private insurance (162 percent) and Medicare (258 percent) from 2011 to 2016. The increase in Medicare population, which still only accounts for 15 percent of the client profile, is due to the ongoing retirement of Baby Boomers.
Taft, who has been with Families First since 1989 and will retire later this year, said making the most of the center's annual $6.2 million budget has been a constant goal, with 85 percent of revenues going to direct client services. Even then Families First donated almost $4 million in uncompensated care and services to the community in 2016, she said.
But, Taft said, she has never seen as much uncertainty over what CHCs face in the coming years.
"It's hard to predict what's going to happen, and we're in a hard place to make major decisions," Taft said. As a hedge against possible future cuts, Families First announced a merger in May with Goodwin Community Health in Somersworth. The merger came after a three-year planning process.
And, while any proposed federal or state health cutbacks will likely not be implemented immediately, Jonathan Brown said he's preparing Indian Stream for a wide range of contingencies: "Crossing our fingers and hoping for the best is not a sound business strategy."