College Pulse gets $1.5 million in seed funding
Data analytics firm a DALI Lab, Accelerate NH alumnus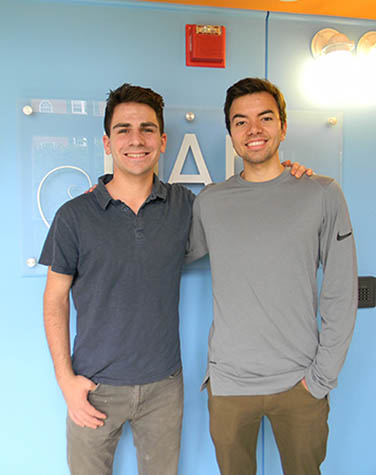 College Pulse, a survey research and data analytics company founded by two Dartmouth College alumni, has closed on a $1.5 million round of seed funding.
The company, started by Terrin Klein and Robin Jayaswal in 2016 at Dartmouth's Dartmouth Applied Learning and Innovation (DALI) Lab, is developing a real-time analytics platform to track and predict the opinions, interests and buying behavior of college students. It was a member of the 2017 cohort of AlphaLoft's Accelerate NH.
This time, the funding came after College Pulse participated in Y Combinator, a Silicon Valley accelerator. Investors included Madrona Venture Group, Norwest Venture Partners, and GSV Accelerate, and angels, including Y Combinator founder Paul Graham.
GSV Accelerate has previously backed companies like Chegg, Course Hero and Masterclass.
"College Pulse is making huge strides to tackle the $50 billion market research industry. The fact that such a young company has already partnered with organizations like the Knight Foundation and McKinsey & Company is truly exceptional," said Matt McIlwain, managing director at Madrona, which led the investment round.
The newly raised funds will contribute to growing College Pulse's student opinion data platform and expanding its data analytics and predictive insights capabilities to better serve clients, said Klein, who's the CEO of College Pulse.
"Most leading brands don't fully understand college students as effectively as they could," said College Pulse CEO Klein. "Our vision is to provide the most reliable, up-to-date insights into what college students think about brands, hiring, purchasing and social opinions."