Cleaning business is nonprofit's latest for-profit venture
Families in Transition launches new commercial cleaning service as a source of revenue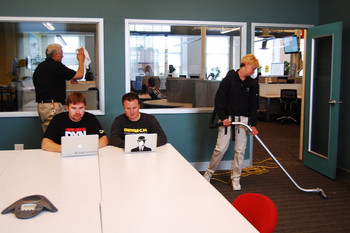 Almost 10 years ago, when Families in Transition decided to open the first of its thrift stores, the move was made largely out of necessity. So much stuff was being donated to the nonprofit, which provides housing and supportive services to homeless families and children, that "we could have filled the building with stuff and not be able to get out of the door," said Maureen Beauregard, the founder and executive director of the nonprofit.
So with funding from the Great Bay Foundation, Families in Transition took a chance and opened a thrift store in Manchester, selling some of the clothing, housewares, furniture and books that were regularly pouring in. And it worked — the store proved so successful that it spawned a second location in Concord, a boutique that quickly outgrew its small space and recently traded up to a new home in a large Victorian on North Main Street. All of the sales revenue from the stores — which comes to more than $150,000 annually — is pumped right back into the nonprofit.
The stores fit in with its mission too, because all of the participants of FIT are given vouchers to the store to purchase basic living necessities when they enter the program.
Some organizations would be happy to stop there, but not FIT. With two successful stores on its resume, one of New Hampshire's most entrepreneurial nonprofits is taking yet another step into the for-profit world with the launch of FIT Cleaning Solutions, a commercial cleaning business serving companies in greater Concord and Manchester (where it is based).
Already it has signed one company as a customer, and has quotes out to a couple more.
While FIT is new to running a cleaning company, by no means is it new to cleaning. The nonprofit cleans all of its own buildings — which now total 14 — and has done so for the past decade and a half.
"It's something we've been doing for a very long time — we're our first customer," said Beauregard. "And we're like, 'What if we could harness that and turn that into a profit center?'"
The decision to start the cleaning business comes as the nonprofit adjusts to cuts at the federal, state and city levels, after which "we started to look internally to see what else can we do to bring our own income and be less reliant or dependent on other resources," said Michele Talwani, FIT's director of economic development and marketing.
National shift
FIT's brand of entrepreneurial thinking has helped not only to drive its success in the communities it serves, but is also sign of a growing shift in the nonprofit sector as it adapts to the new economy in the wake of the recession, said Mary Ellen Jackson, executive director of the New Hampshire Center for Nonprofits.
"It's a very entrepreneurial-thinking organization, and we're seeing this across the country," she said.
The reasons for the shift are twofold, said Jackson. For one, nonprofits are taking on more today than they ever have, tackling really complex issues like climate issues and disaster relief. But while they're taking on more work, funding is down — a particularly pronounced problem in New Hampshire, which, according to IRS statistics, has the dubious distinction of being the least charitable state in the union.
"You add those two things together, and I would say there's a heightened acceptance now and interest in more entrepreneurial thinking," said Jackson. "At the center, we rolled out a nonprofit resource platform, and we did it with a for-profit company. I think it's totally the future."
In fact, said Jackson, there are many nonprofits in the state already earning income through business-related activities. For example, there's the Currier Museum in Manchester, which has a gift store and café; the Music Hall in Portsmouth, which opened the Music Hall Loft in 2011 as a performance venue; the Hannah Grimes Center in Keene, a nonprofit business incubator that has a for-profit shop on Main Street in Keene; the Mount Washington Observatory, which runs a gift shop at the summit; and the New Hampshire Audubon Center in Concord, which rents its space for weddings.
There are also nonprofits that will get good at running a training program and then begin offering it to a for-profit audience, like Monadnock Family Services, which "established a very cool, cutting-edge program called In SHAPE, and now they are marketing that across the nation for other behavioral health centers," said Jackson.
In fact, when FIT was preparing to open its first thrift store, it went up north to the Upper Valley to scope out the Listen Thrift Stores, which are run by the Lebanon-based Listen Community Services. That nonprofit — which runs self-help programs to help low-income participants in areas that include including food, fuel, housing and crisis counseling — also raises revenue for its mission through its three thrift stores, one each in Lebanon and Canaan and another in White River Junction, Vt.
'A business first'
While it can be a steady revenue source in an unsteady time, Jackson said, there has been some controversy around the idea of social entrepreneurship, stemming from a "resistance that nonprofits need to be all about caring and charitable work."
While FIT is certainly a charitable organization, it stands out among nonprofits in that it very much sees itself as a business first and foremost.
"No matter what we do, if we're not a business first, we won't be around to complete our mission," said Talwani.
That mission was born 20 years ago, when Beauregard, a former kindergarten teacher, started FIT. Back then, she said, it was just "five women, their children and myself."
In the years since, the organization has grown exponentially. It now owns more than 180 apartments, has a $4.6 million budget and employs about 70 people.
To save on rent, FIT owns all of its apartments, which are rented at a low cost to homeless families. The rent charged to the participants is purposely low, but in the meantime other housing costs have all risen, from fuel to electricity to property taxes.
"Everything has gone up in operating these buildings except for the rent that we can charge," said Beauregard.
Thus the cleaning company was born to help offset the increase in housing costs.
Its first client is Dyn Inc., which has its 30,000-square-foot headquarters and a corporate café in the Manchester Millyard. For Gray Chynoweth, Dyn's chief operating officer and a FIT board member, using FIT's cleaning service was a no-brainer. For one, the company met market price for its cleaning services. It's insured and bonded, and unlike some other cleaning companies, all of FIT's cleaners are full-time employees with the same benefits that all other FIT staffers receive. Plus, all the income generated goes back into housing and services for the formerly homeless.
"Not only is our money going to a quality service, it's going to make people's lives better," said Chynoweth. "You write a lot of checks as a business owner, and any time you write a check to FIT, you feel really good because you know those dollars are going so far."
FIT hopes to have at least five clients by the end of the year, and can add more cleaners as it grows.
While starting a business can certainly be risky for a nonprofit, FIT is doing it strategically by starting a scalable company that doesn't require major up-front costs, said Beauregard.
"The thing about FIT, entrepreneurship is in its DNA," said Chynoweth. "They are looking to teach people to fish and learn how to fish themselves, and I think that's really a great example of where nonprofits need to be looking over the next 50 years."
While Beauregard receives a lot of credit for the nonprofit's success, she is quick to credit a staff and board of directors that is willing to take on new challenges.
"They're not afraid," she said. "I think that sometimes businesses can get into the fears — the fear of what if I try it and it doesn't work? But what if you don't — what happens if we don't try this cleaning company, what happens if we didn't try the thrift stores? Nothing is guaranteed for us, but we have everything to gain and nothing to lose by trying."
While it makes sense for FIT, for-profit ventures are not for every nonprofit, cautioned Jackson.
"Not every nonprofit can roll out a cleaning business, nor should they, but it makes sense if your nonprofit aligns with a real sensible earned-income strategy," said Jackson. "But it's not for everybody, and for some it could cause mission drift."
In the future funding world for nonprofits, she said, social entrepreneurship is "not the answer, but it's one of the answers."
It's certainly been one of the answers for FIT. And, said Beauregard, FIT Cleaning Solutions "might not be the last thing you hear about" when it comes to the organization's entrepreneurial endeavors.