Clean record
For over 85 years, the Fieldsend family has run Exeter's Blue Ribbon Dry Cleaners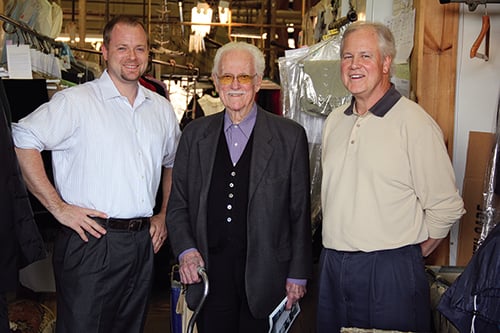 Blue Ribbon Dry Cleaners at 97 Portsmouth Ave. in Exeter "is the oldest dry cleaner in New Hampshire," says Brian Fieldsend, one of the owners of the business.
The business was started by his great-grandfather in 1929 in downtown Exeter. "It was then passed on to my grandfather and then to my dad. Now it's my sons and mine. We are five generations."
Blue Ribbon services include drop-off, pickup and delivery. Their customer base is the Seacoast area, but also goes as far north as Littleton, with customers who mail in their laundry to have it serviced.
Dry cleaning is not an easy business. There is a fair amount of competition, and the service is still viewed as a bit of a luxury. The Fieldsends are proud of their work, and from the beginning have always been hands-on with at least one family member working while production is going on.
"My grandmother always told us that, no matter what, we needed to maintain the quality of our work," said Fieldsend. That, in addition to understanding the clothing industry, makes a difference in how they do business.
"We know what we're dealing with. We've been around and have seen the silks, the rayons and the polyesters." he said. "What we see now is sometimes troubling since the quality of the garments is so poor. Some companies have great fabrics and terrible workmanship. Some of them will respond if I have questions about a garment, others don't."
With casual Fridays and telecommuting, work attire is much more relaxed. Yet that has not changed how the Fieldsends dress for work.
Fieldsend, his son and his dad dress more for a desk job as opposed to eight hours on their feet helping to clean, steam and press clothes.
"We are in the industry — that's our job," he says.
See more photos below