Child-centered innovation
Pediatric Device Consortium helps entrepreneurs fill medical needs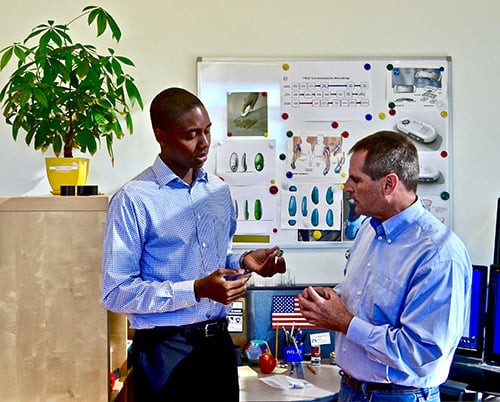 An associate professor of engineering at Dartmouth College, Kofi Odame was looking for a problem he could solve with his expertise involving low-power electronics.
"Broadly speaking, I recognized any kind of device that needs to be very small and unobtrusive but needs to be on all the time, for a long period of time, would be something I could contribute to," said Odame.
After doing some research on the challenges of self-management of chronic diseases, Odame settled on developing a pediatric asthma monitoring device that incorporates a lung sound algorithm.
"The idea is to help patients keep track of their asthma condition so, whenever they go for their checkup with their primary physicians, they can tell their doctors with some level of accuracy how they've been doing over the last several months," explained Odame.
The prototype device, which is the size of a bandage strip, attaches to the chest of the patient. Inside the strip is a contact microphone that measures and records the patient's breathing, which is sent to a connected smartphone that runs machine learning algorithms to detect if the patient is coughing or wheezing. Machine learning algorithms are used in speech recognition, such as Apple's Siri, said Odame.
"Think of it as a stethoscope of sorts. When the patient is breathing or coughing or wheezing, these sounds are propagated through the chest and they cause the chest wall to move, and this mechanical motion is picked up by a contact microphone that converts the mechanical motion into an electrical signal and that is digitized and processed," said Odame.
The outer casing for Odame's asthma monitoring device — developed by Justice Amoh and Thayer School undergraduate Samantha Modder — is set next to a quarter to provide a sense of scale.
(Courtesy photo)
"I got really excited when I heard about Kofi's device because if you're able to listen to breath sounds in unique ways, there will be a diverse set of clinical applications in both the in-patient and out-patient settings," said Dr. Ryan Ratts, a physician at Dartmouth-Hitchcock and the Children's Hospital at Dartmouth-Hitchcock (CHaD), who is particularly interested in separating the different breath sounds and lengths.
Serving on the technical advisory board of the New England Pediatric Device Consortium (NEPDC), based in Lebanon, Ratts recommended Odame reach out to the nonprofit foundation to receive advice on his next steps toward commercialization.
Different challenges
Supported by the U.S. Food and Drug Administration's Office of Orphan Products Development, NEPDC is one of nine consortia across the country developed to provide expert advice and seed funding to help commercialize technologies for pediatric clinical care.
There are several steps and potential hurdles to developing any medical device – prototyping, gaining approval from an institutional review board to perform tests involving humans, filing an application to the FDA for market approval – but even more challenging is the small size of the pediatric market, especially for rare diseases, which makes the financial reward modest.
"Most people tend to think devices for children are just scaled-down adult devices, and that's not true," said Dr. Rick Greenwald, NEPDC's co-director. "Pediatric devices have their own set of challenges and specifications that are much different than just making an adult device smaller."
Different technical challenges and a smaller market size means entrepreneurs in the pediatric space must be more practical, said Greenwald.
"If you have to do a $5 million [clinical] trial to realize $1 million of revenue, that's probably not going to fly in terms of investment. Giving an early warning to that company by sitting down, plugging in the numbers, and offering a realistic financial forecast is one of the services we would offer," said Greenwald.
NEPDC provides two phases of grants – an initial amount of up to $10,000 and 40 hours of in-kind service with the possibility of later being granted up to $40,000 and 200 hours of in-kind service.
That is typically not enough to go from concept to fully commercialized device, so NEPDC will often point entrepreneurs to additional government funding, such a federal Small Business Innovation Research grant.
This year, NEPDC teamed up with the Center for Translation of Rehabilitation Engineering Advances and Technology (TREAT), which is part of the National Institutes of Health Medical Rehabilitation Research Network, for a grant opportunity centered on pediatric rehabilitation.
In September, NEPDC and TREAT awarded $150,000 in grant funding and over 400 hours of in-kind services to its four 2016 Target Challenge winners, whose products address pediatric rehabilitation. Although both of the organizations are based in Lebanon, they serve entrepreneurs and startups across the nation.
Network of expertise
One of the Target Challenge winners was UNYQ Align, a scoliosis brace designed by San Francisco-based UNYQ.
"They are revolutionizing the pathway for getting kids fitted with a scoliosis brace, and it's a more lightweight, more aesthetically pleasing scoliosis brace than what's on the market," said Cassie Brugger, NEPDC program administrator.
UNYQ Align, an adolescent scoliosis brace incorporating 3D printing, received funding from the NEPDC as a result of the 2016 Target Challenge competition held this year and co-sponsored by TREAT. The project was featured at the White House's Human-Centered Design event in September.
(Courtesy photo)
"If it wasn't for the government priming the pump, then there would be no commercial incentive or other incentive for others to take on the task," said Jake Reder, a TREAT advisory board member and CEO of Celdara Medical, a Lebanon-based company that works with select institutions to commercialize academic research and technologies. "But providing some of those initial funds, you can get world-class people like Rick involved who can then go and develop a service model for a whole network of entrepreneurs. Here he can help not only specific innovations for people who need them, but train the next generation of entrepreneurs in how to launch a company in a difficult space."
An entrepreneur and biomedical engineer, Greenwald stresses the importance of NEPDC's network.
"What makes NEPDC unique is the amazing collection of expertise that ranges from clinical expertise, business development, regulatory and reimbursement expertise, technical engineering development, market analysis and customer discovery – areas that are needed to help understand the pathway to commercialization," said Greenwald. "And given that not every company has that expertise in-house, we set out at the beginning to make NEPDC a very cross-disciplinary group."
NEPDC's other co-director is Dr. Tina Duhaime, director of the Pediatric Neurosurgery Department at Massachusetts General Hospital in Boston.
Mass General Hospital for Children is a member organization along with The Dartmouth Institute for Health Policy and Clinical Practice, CHaD, Simbex (a product development company led by Greenwald), the Institute for Pediatric Innovation and the Consortia for Improving Medicine with Innovation & Technology, a nonprofit consortium of Boston's hospitals, universities and labs founded by Mass General, Brigham & Women's Hospital, MIT and the nonprofit Cambridge, Mass.-based laboratory Draper.
"Having clinical insight into problems that are important for pediatric medical devices, and pairing that with business and technical expertise, allows you to look at a problem 360 degrees and determine pitfalls" before a company runs out of money, said Greenwald. "We're evaluating from the get-go all of the avenues and figuring out where are the stressors in their model that may be weak points."
Regulatory process
Entrepreneurs and startups approaching NEPDC are usually beyond the conceptual stage and somewhere along in their product development toward commercialization.
Odame received $10,000 that he's using for market research, performing customer interviews and producing some prototyping.
"I just generally don't spend much time on how I would make this thing real in a commercial sense, so they helped me think through a lot of these questions," said Odame, who recently held another meeting at NEPDC. "The next step would either be looking for potential licensees or actually starting a venture and going through the regulatory process with the FDA and consumer protection certification."
When asked about the regulatory process, Odame admitted, "It is daunting. The difference between now and before I worked with NEPDC is I have a much better sense of what it's all about so I can make a more informed decision about what direction I want to go in."
"We've helped a lot of projects move down that pipeline from concept to reality, achieving one of those hurdles in the process to get more funding, and some of those products are now reaching the marketplace," said Ratts.
Some NEPDC supported products on the market include Circadiance's SleepWeaver Advance Pediatric soft cloth CPAP mask, which provides pressure ventilation therapy to children without causing facial sores and ulcers, and the ROHO Dry Flotation Isolette, a pressure relief overlay sized for infants, intended for those at high risk of ischemic ulcer development.
"As a clinician I didn't go into medicine thinking about how to make money, but rather how to improve the value of health care," explained Ratts, who added that since adult devices are often used in pediatrics "in very inappropriate ways," particularly when it comes to safety and effectiveness.
"The value comes from improving patients' quality of life and medical experience, and improving outcomes," Ratts said. "Unfortunately, with that in perspective, there is a little bit of a reality in getting people to manufacture and investors to invest in a device. For them, reality often dictates a need for some commercial gain at the end. How do you balance that reality for rare diseases or limited population sizes where that market doesn't exist?" That realization has "really changed my perspective as a clinician," he added. "I took for granted many of the devices we use every day in medicine, like peripheral IVs and IV pumps, and now I think very differently about them."