Charging ahead
NH localities, providers line up for state EV charging station initiatives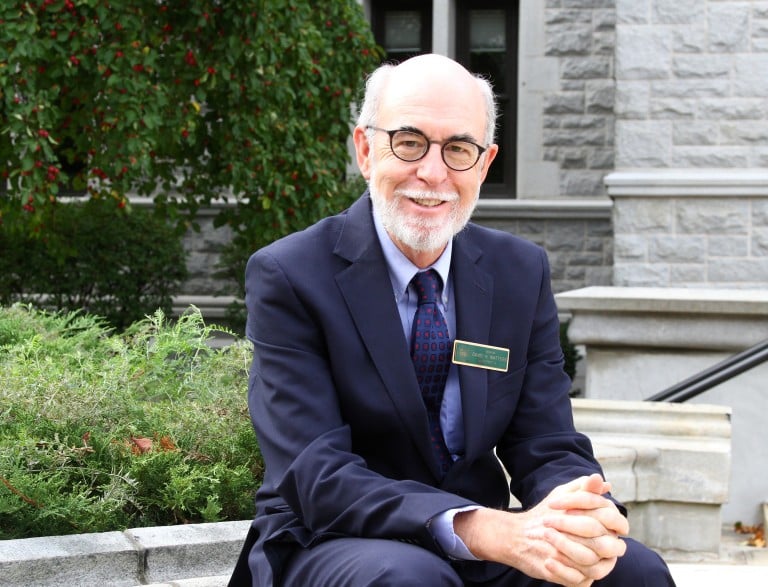 Most motorists already know the term "road rage." A new breed of motorists — electric vehicle owners — are becoming familiar with another term, particularly if they are traveling in New Hampshire: "range fear."
It's the anxiety EV owners have when they set off on a road trip, wondering if they have enough juice in their batteries to get to their destination and back again, fixating over whether there might be a charging station somewhere along their route.
Jessyca Keeler knows the angst. She's a new owner, as of July, of an electric car.
She is the president of the Ski NH trade group that represents ski resorts in the state. She talks the talk and walks the walk. She is a new electric car driver and proponent of EVs as a way to reduce the carbon emissions that threaten the future of skiing in the state.
New Hampshire is known alternatively as a "charging station desert" or "doughnut hole" or "missing link," because the states around it — along with Canada to the north — are better equipped with charging stations.
"I think there's a risk or a threat to our industry if we don't get our act together and start having charging to help with people who have that range fear, which is a real thing; I can attest," said Keeler.
State Sen. David Watters, D-Dover, agrees that the Granite State lags behind others when it comes to an EV road trip.
"You have to plan very carefully," said Watters, the owner of a hybrid gas-electric vehicle and a legislative proponent for expanding EV options in the state.
While there are some charging station options for Tesla vehicles along some of the state's major routes, particularly Interstate 93 in Hooksett, generic charging stations for other EVs can be few and far between.
The state is trying to catch up, using money from two sources at the moment.
One is the Volkswagen Environmental Mitigation Trust fund, which is worth about $31 million or more to the Granite State. About $4.6 million has been set aside specifically for electric vehicle support.
The other is about $17 million contained in the National Electric Vehicle Infrastructure program funded by the federal government's recently approved bipartisan infrastructure bill supported by New Hampshire's congressional delegation and signed by President Biden.
There is movement now on the VW trust money. On Oct. 19, the Executive Council approved what Gov. Chris Sununu and other state officials hope is the first of several contracts for EV charging station grant contracts totaling $4.6 million. The first grant award of $132,350 went to the Errol General Store in Errol, serving the Route 16 corridor.
Awarding the contracts is based on responses to a NH Department of Environmental Services request for proposals to provide electric vehicle supply equipment to sites along the state's most traveled corridors, as follows:
• Route 3 from the junction with Route 2 in Lancaster to the Quebec border
• Route 2 from Lancaster to the Maine border
• Route 16 in its entirety
• Route 302 from I-93 to the Maine border
• Interstate 93 from the Massachusetts border to the Vermont border
• Interstate 89 from Concord to the Vermont border
• Routes 11/103 from New London to Claremont
• Route 9/Route 202 from the intersection with I-89 south to the Vermont border
• Route 101 in its entirety
The NHDES list of 43 sites includes proposals from existing energy companies, such as Irving Oil, which has offered four charging stations in Hooksett, two in Ossipee, two in Warner, two in New Hampton, one in North Conway and two in Bretton Woods. Cumberland Farms, known for its convenience store/gas stations, offers charging stations in Claremont.
Another proposed large-scale supplier is ReVision Energy, an energy company with an expertise in solar installations. It proposes charging stations in Colebrook, Concord, Dover, Epping, Claremont, North Conway and Gorham.
Norwich Technologies, which also is primarily a solar installation company, wants stations in Gorham, Woodstock, North Conway, Plymouth, Rochester and New London.
Skyrocketing demand seen
The story of how the VW trust fund came to be goes back to January 2016, when the federal government filed a complaint against Volkswagen alleging that approximately 580,000 model year 2009 to 2016 diesel vehicles manufactured by various Volkswagen entities contained so-called "defeat devices" that took the form of computer software designed to cheat on federal emissions tests.
In October 2017, the Justice Department and Volkswagen signed a $15 billion settlement, a portion of which — $2.9 billion — is being held in an Environmental Mitigation Trust to be shared among U.S. states, based on the number of violating vehicles registered in each.
New Hampshire was allocated a trust share total of $30,914,841. Up to 15 percent of that — the $4.6 million — is going to the EV charging effort. Some money is also being used to help, for example, school districts replace gas-using school buses with electric buses.
"Almost every vehicle manufacturer today offers EV options, and it is important for New Hampshire to be a leader in supporting these vehicles while providing economic stimulus to our businesses through these public-private partnerships," said Sununu.
There are really two components to the charging stations: the actual plug-in devices and the infrastructure that brings power to these devices.
The charging stations will be installed by private contractors — a contract determination that will ultimately be made by the Executive Council. The backbone of the EV charging infrastructure is left to the electric utilities that service the state. And that involves review by the state Public Utilities Commission (PUC).
None of that $4.6 million from the VW fund can be used by utilities to update grid infrastructure for EVs, which is an obstacle in some areas that hope to install chargers.
The demand for electricity for EV vehicles is expected to skyrocket over the next several years, raising the question of whether the supply of charging stations and their infrastructure can keep up.
According to the New Hampshire 10- Year State Energy Strategy released by the Department of Energy in July, New England-wide demand for electricity for transportation purposes is projected to increase to 3,554 gigawatt-hours by 2030, up from only 47 gWh today. New Hampshire, the report said, will see an increase to 199 gWh by 2030, up from 7 gWh today.
The report noted that electricity for transportation purposes makes up roughly a quarter of the total demand increase anticipated.
Catching up
The Legislature encouraged facilitation of EVs through Senate Bill 131, written by Watters and passed in 2021, which requires the state to implement various programs and funding related to electric vehicle charging infrastructure.
The legislation notes that the availability of EV supply equipment is critical to facilitating development of the overall EV market and will support the state's tourism-based economy. It noted in particular the need for direct current fast chargers along major travel corridors in the state.
An Eversource proposal — called a "make ready plan" — was approved by the state PUC in August.
According to the PUC's decision, "while approval of the $2.1 million make-ready program will directly benefit less than a dozen public charging station customers, the costs of which shall be spread across over 540,000 Eversource customers, the indirect benefits will inure to all customers, as well as the State itself, as the program will advance the benefits of the policy objectives endorsed by the Governor and the Legislature, as stated in SB 131, to 'enable travel within and through the state, promote tourism, generate jobs, and support consumers, businesses, and automobile dealers and manufacturers.'" "We're hoping the additional funding will help support the state in its effort to make best use of the VW settlement fund," said William Hinkle, Eversource media relations manager.
An infrastructure plan submitted by Unitil, another of the state's power providers, was rejected by the PUC. The Commission in May said that the four fast-charging stations it proposed, which would be subsidized by ratepayers, would only benefit Unitil's wealthier customers, and it expressed concern that the utility's charging stations could compete with those built by businesses or municipalities.
How the state will spend the $17 million in federal funds is laid out in an Aug. 1 document from NH Department of Transportation Commissioner Victoria Sheehan. That document anticipates all EV charging stations in the plan will be ready for use by June 30, 2026.
It also notes that, at present, there are 56 existing charging stations scattered throughout the state.
The $17 million in federal funds will be doled out over a five-year period.
"The funding will enable growth of EV infrastructure development throughout the state by serving as a resource for a comprehensive EV charging infrastructure network that is intended to equitably support the needs of the state," the plan states.
Slowly but surely, the state is catching up, according to Watters, who chaired the Electric Vehicle Charging Stations Infrastructure Commission, which was created by legislation he penned in 2018.
"Our proposal lays out a plan over the next three years for a much larger network that will be in coordination and along with the Volkswagen settlement," said Watters. "Unfortunately, it will still be four or five years before we see all this getting done, but it is going to be happening."
Watters is optimistic that, within the next several years, the "doughnut hole" will be filled, the range fear reduced.
"I would definitely get an all-electric car now," he said.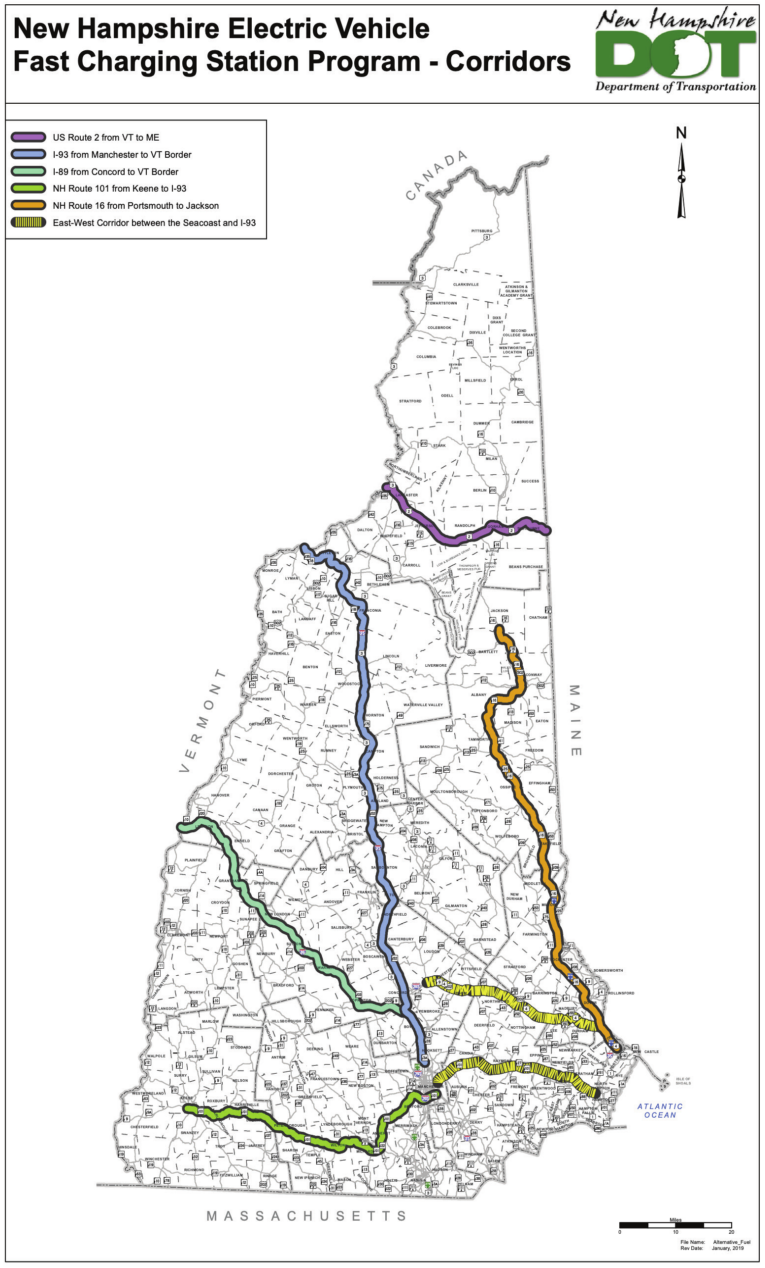 Tourism economy necessity
According to Sam Evans-Brown, executive director of Clean Energy NH, the actual number of charging stations that will come out of all this depends on a variety of factors.
One is the region in which they are located. Locations with a more robust electrical grid will be less expensive to outfit with charging stations than more remote areas with fewer transformers, switching stations and transmission lines.
Another factor, he said, is just how fast a charging station can charge a battery. Level 2 chargers charge at a rate of 12 to 80 miles of range per hour, filling most EVs from empty within 4.5 hours. Fast charging stations, Level 3, provide an 80 percent charge in 30 minutes. At both levels, cold weather can lengthen the time required to charge.
Level 2 charging uses alternating current (AC), while Level 3 charging uses direct current (DC), making it a more expensive endeavor to install.
According to Evans-Brown, the VW fund provides for Level 2 chargers while the federal fund provides for Level 3.
"Volkswagen is funding 50 Kw chargers (50 kilowatts), and the ISA (the national Infrastructure Security Agency) is funding 150 Kw chargers," said Evans-Brown.
"They're supposed to be four of them colocated so that's a 600 Kw load on that one site. That is a huge, huge demand, and so those are super-expensive stations."
Evans-Brown added, "I would bet that we're not going to get more than 10 but probably somewhere in the neighborhood of eight for that $17 million, but we won't really know until people start sharpening their pencils and submitting proposals and determining how much those upgrades are going to cost."
Most homes have Level 1 chargers, fully capable of charging up an EV overnight. Those cars will leave each trip with a full tank, so to speak. For the New Hampshire family, a day trip north to ski, for example, shouldn't induce much "range fear."
It's the visitor from out of state that New Hampshire needs to catch up with when it comes to EV charging stations, according to Evans-Brown.
"Because New Hampshire is a tourist economy, these fast chargers are very important for New Hampshire but they're not super important for New Hampshire EV owners. They're much more important for our tourist economy," he said.