CEOs help spread the word about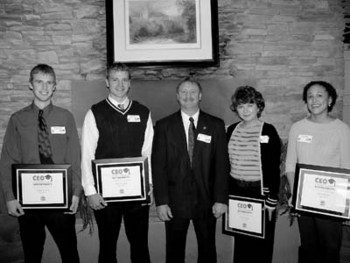 Can you imagine seeing a photograph of some of the Granite State's most well-known business leaders gathered together sporting the sweatshirts of their alma mater? One higher education professional did just that, sparking the development of a new program geared toward motivating young people into seeking a college education.
College Equals Opportunity, or CEO, began in the spring of 2004 as a program of the Center for College Planning of the New Hampshire Higher Education Assistance Foundation — or NHHEAF — Network Organizations in Concord.
"It was just one of those things that came to me. I thought, what a great picture it would make to have all these CEOs wearing their college sweatshirts on the cover of a business magazine. Underneath we could have their year of graduation and what they are doing now," said Tara Payne, senior director of college planning at the agency. "It was great timing because we knew we wanted to do a public awareness campaign promoting the importance of a college education and what opportunity it brings."
While CEO is that campaign, it is only one of many special projects supported by the Center for College Planning, including Destination College, a statewide college convention for high school juniors and their parents, Discover U, which introduces the importance of a higher education to 8th graders, and College is Possible, which targets even a younger population.
The Center for College Planning itself is, in many ways, an extension of a high school guidance office. Boasting an extensive library of college catalogs and financial aid information, it offers, free of charge, complete college and career counseling, helping students and their families with everything from college selection and application to reviewing college essays and financial aid applications.
The center also is big on community outreach, bringing its praises of higher education to area businesses and local libraries.
Role models
For Payne, the photo of local business leaders in college sweatshirts has not yet materialized, but the vision did evolve into the idea behind CEO — bringing together a network of New Hampshire business leaders willing to share college stories with high school students, telling of the impact the experience made on their lives and how their college path led them to where they are now.
"We wanted a way for successful business leaders to serve as role models for the importance of higher education," said Payne, a graduate of Saint Anselm College in Goffstown.
That was just over a year ago. Today the eight-member roster of CEO volunteers reads like an abridged Who's Who of the New Hampshire corporate community, including Alyson Pitman Giles, president and CEO of Catholic Medical Center, Scott Bacon, president and CEO of TD Banknorth, and Tom Raffio, president and CEO of Northeast Delta Dental
Each of the volunteers appears on CEO's new Web site, NHCEO.biz — another of the first-year accomplishments Payne and marketing and communication specialist Allyson Brehm are proud of.
While all of the volunteers are invited to speak at a variety of events hosted by the Center for College Planning, Payne said the Web site serves as the perfect venue to get the message of success across.
A photograph and brief biography of each volunteer along with an interview is posted on the site. Each volunteer addresses questions like, "When did you start thinking about going to college?" and "What was the greatest challenge associated with attending college?"
When asked to offer some advice to high school students contemplating college, Alyson Pitman Giles answers, in part, "Any education that enables you to make a living and take care of yourself gives you freedom. The opportunity for higher education is so great. It opens up the world to you."
It is this type of advice that Payne and Brehm hope will entice high school students to commit to earning a college degree. "There is so much value in the stories these people have to tell," Payne said.
'A huge boost'
In addition to making the Web site an effective tool by contributing their stories and words of wisdom, the volunteer business leaders made the first-year anniversary of CEO even more momentous. The occasion was celebrated in May with the group's first Scholarship Breakfast, where CEO awarded five $5,000 scholarships to students entering their junior or senior year in college.
"This scholarship was a huge boost for me," said nontraditional student Cheryl Kitsis, 39. A single mother of two, Kitsis is attending New England College and working toward a degree in European history. "Usually scholarships are given to younger students just starting out, so this was really great."
The scholarships were made possible through the initial donation the volunteer business leaders make when they agree to work with CEO, Payne said. Granite State Management and Resources, a member of the NHHAEF Network Organizations, then matches those funds.
According to Payne, GSMR has agreed to continue matching funds up to $50,000 annually. Payne and Brehm are optimistic that the scholarship program will thrive as more business leaders come forward to volunteer to take part in the program.
For Payne, Brehm and the others of the Center for College Planning, promoting higher education is imperative to the citizens of New Hampshire personally and to the state of New Hampshire as a whole.
"Your own personal and professional growth depends on a great foundation, and college can give you that," Payne said, adding that "studies show that college-educated people are often more likely to contribute to their community, and that's important to all of us."
Payne said the primary goal of the fledgling program is to bring more business leaders on board, allowing more students to be reached and adding to the scholarship fund. But Payne and Brehm both agree that the program is still so new they have only begun to think about the future.
One thing is for sure, though — neither has forgotten about getting the CEOs into their college sweatshirts for that cover photo.
For more information about the CEO program or the Center for College Planning, call 800-525-2577, ext. 119 or visit nhheaf.org.