Catholic schools looking to lay people for leaders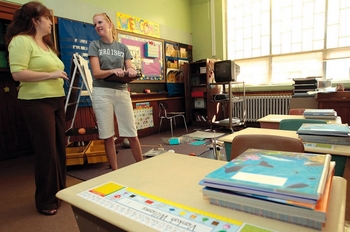 NASHUA – As a new principal, it's never easy replacing someone who was a longtime leader in the building.
For Estelle LaFleur, the challenge is twofold.
LaFleur was named principal of Infant Jesus School this summer and has been preparing for the start of the school year by meeting with parents and teachers. She is replacing Sister Marie Henault, principal of the school for 15 years.
LaFleur said she isn't planning any major changes or initiatives for her first year. Her first priority, she said, is to make the transition in leadership as seamless as possible.
"I'm a new entity, a new person in the building," she said. "I have to make people feel comfortable."
But aside from being new to the school, LaFleur is also not a member of a religious order, unlike her predecessor. But LaFleur said that doesn't mean she will be any less focused on ensuring the school is keeping its religious foundation.
"We will be maintaining that Catholic identity," she said.
She said her experience as a student of Catholic schools and teaching at St. Louis School in Lowell, Mass., provides her with a solid background.
"I feel like I'm home again," she said, after having worked for Girl Scouts for a year before coming to Infant Jesus.
Marta Nisson, director of advancement for St. Christopher School, another Catholic school in the city, said it's becoming more common for Catholic schools to hire lay people as principals.
There are simply fewer administrators available who are members of a religious order, she said. It is also becoming rarer for sisters to be in Catholic schools at all, she said.
"It's a transition that the church as a whole is going through," she said.
This summer, St. Christopher also hired a new principal – Jack Daniels, who was principal at Fairgrounds Middle School for 16 years. Like LaFleur, Daniels is a lay principal, but he said he attends church at St. Christopher parish.
After retiring as principal of Londonderry Middle School, Daniels has spent the past four years as principal of Villa Augustina School in Goffstown, a Catholic elementary school.
Daniels said he sees the role of principal much like a conductor.
"You have to ask yourself how do you bring various players together working toward the same goal," he said.
Daniels replaces Luan Nugent, who was also not a member of a religious order.
Nisson said that in the cases of both LaFleur and Daniels, the schools were able to find qualified candidates who also had Catholic backgrounds.
Tom Kelleher, who is in his third year as principal of Nashua Catholic Regional Junior High School, said even though he isn't a member of a religious order, he made it a priority to continue to instill education through religious principles.
"That's one of my primary goals," he said.
Daniels said he would be setting aside a time during an upcoming Sunday Mass to introduce himself to parents. He already knows many of the school's parents through the church.
Infant Jesus had announced earlier this summer that Kevin Stone, previously an assistant principal in Brookline, was hired as its new principal. It's not known why LaFleur replaced Stone.