Cashing in on cannabis
Tuck School grads score with line of edible products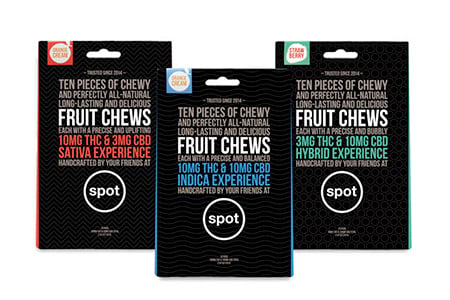 Chris Abbott was living in Seattle in 2012, when cannabis was legalized in Washington state. Tim Moxey, his friend and a fellow alumnus of Dartmouth College's Tuck School of Business, was living in England and came to visit with the intention of talking about this change in law.
Abbott, who had a cutting-edge wine storage business, and Moxey, his own line of fitness drinks, instantly saw an opportunity that was compelling enough for Moxey to uproot his family and relocate to Seattle.
The result of that conversation is their company, BotanicaGLOBAL, a brand of cannabis-infused edible products.
For Abbott, the concept for the company was almost a no-brainer.
"If you want to develop a packaged good, you need to figure out how to get it into the store, how to narrow the category to slowly get it on the shelf and then slowly widen the shelf," said Abbott during a conference call with Moxey from the company's headquarters in Seattle.
"With cannabis it was the opposite. There was $1 billion worth of demand because Washington state was about to legalize it and stores were going to open up with no brands there."
Another significant insight of theirs was that while only 15% of the population smokes tobacco, 70% drink alcohol.
"Cannabis was smoked traditionally," he went on. "All the benefits you seek in alcohol are in cannabis without the risks. That's why we started with edibles. They are a safer, health-driven option to consume cannabis. Plus we could be very precise about what's in it," giving consumers "control over their consumption."
Cannabidiol
BotanicaGLOBAL, which began as BotanicaSEATTLE in 2014, was the first company licensed to sell cannabis-infused edibles.
The partners' goal was to form a cannabis products company that would "challenge perceptions of how cannabis and hemp could help consumers live healthier, happier and better lives," supported by their product tagline: "It's legal now — you deserve the best."
Cannabinoids are active chemical compounds found naturally in the seeds, stalk and flowers of cannabis plants.
Cannabidiol, also known as CBD, is among the most abundant of all the cannabinoids. It's found in all varieties of cannabis but dominates the makeup of hemp plants and is known for its calming effects. As a product, it's commonly seen in oil form.
Scientific studies suggest that cannabidiol may hold a wide array of potential wellness benefits, from reducing pain and healing skin to soothing anxiety and aiding sleep disorders.
While tetrahydrocannabinol (THC) is the psychoactive cannabinoid in the cannabis plant and is found in both cannabis and hemp, it's mainly found in cannabis. A license is needed to sell products containing cannabis.
"CBD brings you to homeostatis and THC brings you away from your center," said Abbott. "CBD alone is nice, and with a little THC it's better — they play off each other."
As of 2014 it is legal to sell, purchase and consume hemp-derived CBD products in all 50 states.
"With the opening up of CBD, it will be many's first experience with a cannabis product," said Abbot.
Edible producers can infuse products with up to 10 milligrams of cannabis, but BotanicaGLOBAL's focus is on the low end of that scale, called microdosing.
"There are time-tested ways of making a brownie or cookie, but for the cannabis part, we had no one to key off of for help," said Moxey. "We had to figure out what was going on — it was an interesting bit of research."
The two came up with recipes and formulations they felt had the right levels of cannabis.
"It puts the control in your hands and allows you to decide," said Abbot.
Testimonials were used to create their products.
"The consumer insight we brought to our formulation is how we've been able to break out of the pack," said Abbott. "The taste and experience had to be amazing to make the product work."
Expanding markets
The four BotanicaGLOBAL cannabis and CBD-infused product lines are Spot, hand-crafted fine chocolates and fruit chews; Mr. Moxey's Mints, CBD and cannabis-infused mints made with therapeutic herbs; Journeyman cookies and other sweet treats (the newest line); and Austin and Kat, CBD wellness products for pets.
"Pet products are what got us excited about CBD," said Abbott. BotanicaGLOBAL was one of the first companies to add CBD to products in Washington state. It is also the first to introduce legal cannabis-infused chocolate and fruit chews.
The company sources hand-picked, sun-grown cannabis from organic farmers in Goldendale, Wash.
All products are clearly labeled with quantity, variety and potency, so consumers can experiment comfortably with dosages and types until they find what most appeals to them. "Adventure blend" chocolate, for example, with 10 milligrams of THC and 3 milligrams of CBD, offer a "clear and uplifting high" while "Vacation blend" with 10 milligrams each of THC and CBD is perfect for a "chill and relaxing high."
Future plans including new herbal ratios in Mr. Moxey's Mints and a line of skin salves containing herbs, essential oils and CBD/THC blends.
One of only a few companies to first delve into the legal cannabis edibles market, today BotanicaGLOBAL is one of the largest producers of cannabis edibles in Washington (there are now 75 edibles producers in the state) and Oregon, and Mr. Moxey's Mints are the best-selling cannabis edible on the U.S. cannabis legal market, now available for purchase online.
The company's first manufacturing and distribution facility is in Seattle with the second in Oregon (the third state to legalize cannabis). It has secured licenses with outside parties to manufacture in Colorado, Arizona and California and will soon be doing the same in Florida and Massachusetts. There is no legal cannabis edibles brand sold in more U.S. territories.
"It shows we have a brand," said Abbott. "People are bringing us into their space and manufacturing our products for us."
Abbott is currently working on strategy for entering the market in California, which is the largest state in which the company manufactures and sells products.
At the end of 2018, the company's name was changed to BotanicaGLOBAL when Mr. Moxey's Mints became available for sale in the United Kingdom.
"It's an incredible trajectory to be on," said Moxey of the business.
Abbott appreciates how long of a road it's been to change perceptions of cannabis.
"We grew up with the whole idea of, 'This is your brain on drugs' with an image of an egg frying in a pan," he said, referring to a decades-old public service announcement. "It's a hard thing to shake as a culture. It was hard to tell our parents what we were doing, even in 2013. But I think our culture will accept things quickly if you demystify it for them. As people embrace [edible cannabis products], I think we will see federal legalization. It's really fun to think about how quickly this is changing."