Carpenters at work
A day in the life of Stratham-based Oxland Builders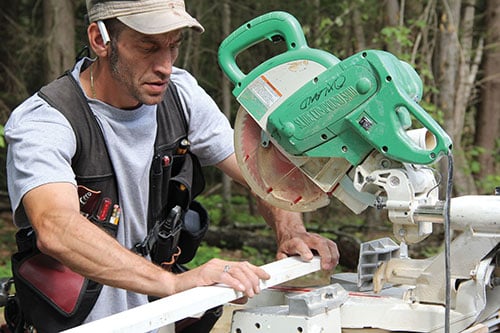 Brad Sawler owns Oxland Builders, a home building and remodeling business in Stratham.
"I'm a carpenter-turned-business-man. It's about the satisfaction of seeing the final product and working with your hands. That's what it has always has been for me," he says.
His carpenters enjoy working for him, saying he's a "good guy." Sawler knows the boss's reputation in his trade isn't always the best, but from the beginning, he wanted to be different.
In his first job after graduating from the University of New Hampshire's Thompson School of Applied Science – this was after playing rock and roll for a couple of years – he worked for a company that showed him possibilities.
"They showed me it's OK to take your time, to do a good job, to be a nice guy and to have good customer relations with your clients and with the people on site. So that's what I try and instill in these guys. They all do a great job at it. They all have a little bit of ownership in their projects."
"These guys" include: Patrick McCusker, lead carpenter, and Scott Gilmore, carpenter's assistant, on a job in Hampton Falls; and Allan Hayward, lead carpenter, and James Wright, carpenter's assistant, on a job in Exeter.
All four carpenters learned their skills on their own, taught by family or other guys on the job. As craftsmen, lead carpenters McCusker and Hayward have worked in the trade for years; Gilmore and Wright, are the
new guys.
So what does it take to be a great carpenter? Sawler wants people that can work hard, are willing to learn and have no ego. You also need patience and teamwork. But most of all, you've got to love to build.
Because in the end, it's about the joy of seeing the final project: using your hands to create something where once there was nothing.