Brainium: the team for extraordinary events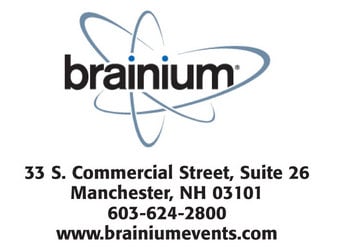 "Brilliant thinking for extraordinary events" is what Brainium Inc., the Manchester-based corporate events agency, provides clients in the United States and abroad.
Brainium works with companies "to deliver memorable experiences along with key messages, to be more dynamic in the way they communicate," says Kathryn Conway, the client relations brain.
Coordinating that message with a client's overall marketing theme is critical.
"So many events are disjointed and just don't capitalize on all the efforts a company has already put into its marketing and advertising campaign," said Pete Lecours, the chief events brain. From Web site announcements and ads of the event to invitations and registration and the presentation itself, Brainium creates a consistent theme to reinforce a client's message.
Whether the event is an executive conference, a stockholders' meeting or a product launch, Brainium provides the planning, the design and the logistical support. No detail is overlooked, from finding the right venue to food and beverage management to transportation to and from the event.
Planning for events can be both long range and long distance, as Brainium's overseas work demonstrates. British clients include SEEDA, the South East England Development Agency and the Thames Valley Economic Partnership.
Once an event is over, Brainium helps a client measure its success and to plan for the next conference, convention or awards banquet.
"It's nice when you reach that final moment when the event is over and you know it's been a success," said Lecours.
The NHBR Business Profiles section contains content provided by New Hampshire Business Review advertisers.