Brady Sullivan proposes housing units at Keene retail-office complex
Variance sought to build 90 apartments at Colony Mill Marketplace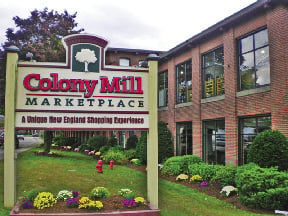 Manchester-based Brady Sullivan Properties, owner of the Colony Mill Marketplace retail and office center in Keene, has plans that would convert part of the refurbished textile mill into residential space.
According to The Keene Sentinel, Brady Sullivan is seeking a variance from the Zoning Board of Adjustment to allow for the construction of 90 multi-family apartments or condominiums in the three-story building.
Retail space would remain in the building, according to the company's variance application. The variance is required because the property is zoned for retail and office space, but not residential or mixed use, the Sentinel reported.
Brady Sullivan purchased the Colony Mill and the abutting Center at Keene, now called The Center at Colony Mill, for $4.5 million in 2014.
According to the variance application, "by allowing a residential component in the building in addition to the business component it allows the building to be used to its fullest potential and will help to enhance the surrounding area as well."
They added that having a mixed-use building of residential and commercial space would help attract new businesses to the area "to compete for the business of new residents."
The newspaper reported that the zoning board hearing on the variance is scheduled for 6:30 p.m., Monday, Nov. 7, at Keene City Hall.