Bovill Brothers Logging: where less is more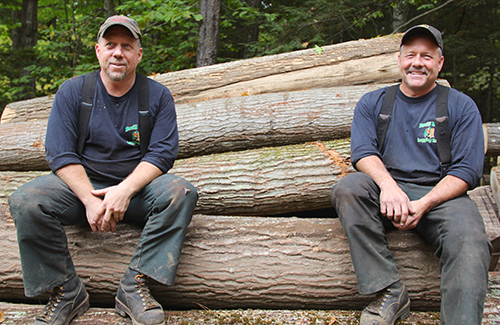 Bruce and David Bovill are brothers. They own their own logging business out of Moultonborough, NH.
As a two-man team, they work with their hands using a chainsaw, as opposed to sitting in a cab with a "joystick." "It's how we got started," says Bruce. "This is our niche."
Logging is a way of life for them. Growing up in Colebrook, the brothers have been farming or logging since 1981. As the logging business declined in the late '80s, they moved to Merrimack, working construction around the Boston area for 22 years. If they weren't working construction in the winters, they would come north to do logging.
In 2004, they decided to start their own business. It was time to be their own boss.
The tools of their trade include a chainsaw, a 540 John Deere cable skidder and a Mustang kid steer. They pride themselves on running a simple and neat operation: the less machinery they have, the more they are able to control their work and the end product. When they are done, it's their goal to leave a job "immaculate."
Which, in part, is why they were nominated and received the 2014 New Hampshire Outstanding Logger Award from the New Hampshire Timberland Owners Association. Three judges walk the jobs of those nominated and make decisions on the aesthetics of the work area, how the equipment looks and what the final job looks like.
"We always have a shiny skidder," says Bruce. "Our friends laugh at us and think we are crazy." Make no mistake about it though, the Bovills are proud of this honor.
"We started this business wanting a reputation for doing a good, quality job. We've now got that. We know how to work hard; our folks taught us well. This award shows that the little guy can win," says Bruce.
See more photos below