Book offers business debt advice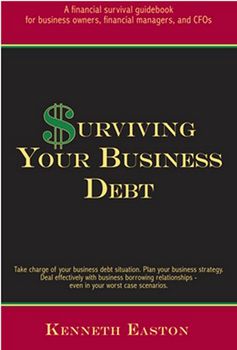 A new book by Hooksett resident Kenneth Easton is aimed at giving advice and comfort to business owners saddled by debt.
"Surviving Your Business Debt" provides financial survival strategies to business owners who are in financial trouble or face such possibilities on the horizon, says Easton, who has over 38 years of experience in business finance, including stints at G.E. Capital, Fleet and Shawmut banks, Digital Federal Credit Union and Textron Financial Corp.
The book, he says, "will help borrowers to recognize, understand and cope with difficult debt situations which may seem insurmountable. From managing a current borrowing situation on a day-to-day basis, to developing and executing strategies in a worst-case scenario, businesses can find help in resolving their current and future financial concerns.
In the book, Easton says, he gives advice on how to recognize borrowing danger signals and initiate immediate remedial actions. He also provides specialized borrowing techniques and strategies, daily action tactics and guidance in approaching lenders from a position of strength that he says he has personally learned through years in the "trenches" of small business finance as well as the "ivory towers" of commercial finance companies and major banks.
The goal of his book, says Easton, is, "I want businesses to survive, and ultimately prosper, from the way they handle borrowing."
For more information about the book, visit www.survivingyourbusinessdebt.com.