Board shoots down gun photo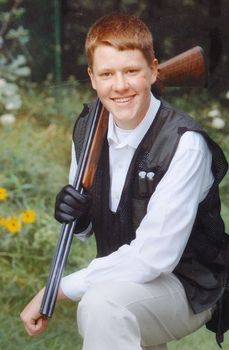 LONDONDERRY – The Londonderry School Board voted unanimously Tuesday to ban a photo of a pupil posing with a shotgun from the senior photo section from the Londonderry High School yearbook.
The five-member board backed a compromise offered by the school that would allow senior Blake Douglass to have the photo published in a "community sports" section and to have a new photo – without the gun but featuring other elements of skeet and trap shooting – taken for the seniors' section.
Penny Dean, Douglass' lawyer, immediately requested a motion for reconsideration, which was denied. Dean said she intends to file a complaint in U.S. District Court. She said the National Rifle Association had pledged to back the case in court financially.
The hearing revolved around a photo Douglass wanted to have published as his senior portrait. It featured Douglass in traditional sportsman's' pose, wearing an oxford shirt, navy vest and smiling, holding a broke-open 20-gauge shotgun over his shoulder.
Last month the school's yearbook staff, adviser, principal and superintendent voted to bar the photo from the yearbook, saying it was inappropriate because it displays a firearm.
During the hearing, Douglass, 17, said little.
"I don't see anything wrong with the picture," he said. "I just want my senior picture in the yearbook," he said.
Dean argued that the photo did not violate any written school policy. She cited a Londonderry School Board policy manual's statement on student publications: "We encourage the use of school sponsored publications to express students' points of view. They shall be free from all policy restrictions outside the normal rules for responsible journalism."
Dean also showed four years' worth of high school yearbook photos, one of them featuring two girls swigging from bottles. One of the bottles was wrapped in a brown paper bag and the caption for it read "most likely to succeed."
She argued that the school's informal fairly targeted Douglass because of his hobbies, skeet shooting, trap shooting and hunting.
"The problem we have in this entire thing is we have no written policies of anything," Dean said. "There just doesn't seem to be a reason other than that these individuals don't care for firearms."
School Superintendent Nathan Greenberg said the photo's context, not its content was the issue. He said that placed in the seniors' section, the photo risked misinterpretation and mischaracterization that the school endorsed guns.
He said placement in the community sports section provided necessary context expressing Douglass's dedication to his sport.
"What we're doing is setting the context of the picture in its appropriate format," he said.